Chalk it up to coincidence.
Shortly after the Giants announced David Baas' season would end on injured reserve, Jim Cordle, previously second on the depth chart at center, trotted out to practice wearing No. 64.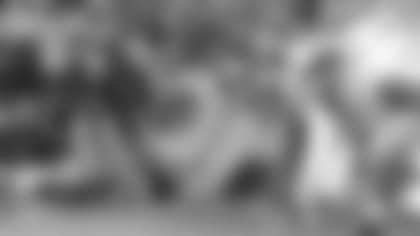 Know Your Opponent: Eagles roster It would have made sense four years ago when he wore that number at Ohio State. But on the Giants, that number belongs to Baas, a Michigan man.
The name on the back of the white jersey (defense wears blue and quarterbacks wear red) also read 'Baas' in red letters, but all that slipped by Cordle as he just threw on his gear and went out to practice like any other day.
"I put on my jersey," Cordle recalled. "As I'm walking out there, [offensive lineman Brandon] Mosley said, 'What's up, Baas?' So I didn't even realize it until I was out there. Then I was like, 'Oh, you know what, I'll pay tribute to him for a little bit.'"
The first portion of practice is open to the media, and so it stirred some conversation about what was going on.
Apparently it was just an accident.
Wednesday was the first practice since their win over the Minnesota Vikings on Monday night, and the two linemen's jerseys ended up in opposite lockers at the Quest Diagnostics Training Center. Their lockers are close, but the numerals are even closer. Once the media left, Cordle had a staffer grab the right one with No. 63 on it.
"In four years, that's the first time I haven't had mine in my locker," Cordle said. "The same day he goes on I.R. – I mean, I don't know, maybe it wasn't an accident."
Cordle and Baas joked about it with each other during the open locker room session with the media, lightening a heavy day for both men.
Baas, who had just returned to the field last week after missing the previous three games with a neck injury, will end this season playing fewer than 11 games for the first time in his nine-year NFL career.
Meanwhile, Cordle is the next man up. He has started three games in his career – all this season – and now is staring at more to come.
"It is an opportunity," Cordle said. "Right now we're just trying to win one game at a time, so that's all I'm thinking about – the Philadelphia game – and I was happy to get the opportunity that I had. I thought Dave would come back and be healthy and be the guy, but he went down again. So I feel good about it this time and I've been playing and the team's confident in me. So that helps."