EAST RUTHERFORD, N.J. – Judge's Chambers, Giants.com's weekly interview with coach Joe Judge:
Q: On Kickoff Weekend, the NFL will observe the 20th anniversary of the 9/11 terrorist attacks. Where were you on 9/11? What are your memories of that morning?
Judge: "I was a sophomore in college (at Mississippi State). I was actually in the weight room in Starkville, Mississippi. We're finishing up our workout and we had a nationally syndicated show on the radio that the strength coach had on. They started talking about something happening here around the country. Actually, all the information was wrong at first, you couldn't understand what was going on. Then eventually, they cleared it up and they said that a plane has hit the World Trade Center. You couldn't tell what the situation was, if it was a commercial accident, or whatever it was.
"At about that time, I was leaving the weight room and driving home. I remember walking in the house we lived in and I had five roommates standing in the living room staring at the T.V. The second tower had just been hit. It was a situation where you just freeze in time and you kind of realize what's going on. You spend the first couple of days looking for answers and watching a lot of T.V. trying to figure out what's going on. I remember the initial shock of realizing that, look, this is America, we don't get attacked. I've talked about it before. You grow up and you learn the history of Pearl Harbor. You know it's a very significant event to the world and definitely the country, but you don't have that emotional attachment to it because it didn't happen when you're alive. To you, it's more of a passage in a history book you read. This happening at that time, I think, woke everybody up.
"The thing I remember most was how it brought everybody together. One of my roommates was in the ROTC program. I remember immediately thinking, 'Is Greg getting shipped off? How's this going to work?' My brother was one of those guys who a couple days after it happened went out and signed up for the military and enlisted right away. You start realizing there's a lot of very immediate attachments you have and wondering what's going to happen next. I think about all the things that have changed in day-to-day life since then. From traveling in airports to clear bags at stadiums and different things that have happened, it's something significant that changed everybody.
"But the thing I remember most about it was obviously the action of being attacked, but then even more so the reaction of everybody coming together. I remember playing games the week after. We played South Carolina on Thursday Night Football on ESPN. I remember the stadium being full, having the big American flag on the field, and people singing the national anthem. You remember everyone staying together with it. There was definitely a lot of emotion with it. There was a lot of support throughout the country for the first responders and everything going on. To me, that's something that shaped my beliefs and the way I see things, in terms of my images of first responders, the military and the impact they have. Before that in my life, other when I was younger and the first Iraq war, it was really generally a time of peace."
Q: The 9/11 commemorations are always emotional and in this area they're particularly poignant. What will it mean for you to be on the field Sunday with the first responders and the people from the families who lost loved ones? I assume you'll wear an NYPD or an FDNY hat.
Judge: "Absolutely, we all will as a team. I think it's going to be emotional. I think that a lot of our players were very young when this happened and don't really have a memory of it. They know about what happened, but they don't have a distinct memory. We're going to take some time as a team, and we're going to talk about 9/11 and educate them, so they understand on Sunday exactly what it was, exactly how it impacted not only our country, but specifically this area. This is obviously New York and it's a little bit different here than anywhere else, and it should be that way.
"But to be on the field with the first responders and people who were in those towers, I think it's going to be an emotional feel for everybody on both teams, I would imagine. To be in there with the skyline of New York overlooking the stadium and to have someone singing the anthem, you remember the date and you celebrate how everyone came together 20 years ago."
Q: When we play Denver on Sunday, it will be your first game with fans in the stands in MetLife Stadium. How important is that to you, and what do you want to see from the fans on Sunday?
Judge: "Be themselves, that's what I want. They buy a ticket and they have the right to be themselves. Coming out there, we've got to earn their respect. It's obviously exciting for us to go out there and play in front of fans. That's something we've missed now for over a year. Obviously, we had a taste of it in preseason. But to go out there in the first week with the stadium truly full with emotion and the adrenaline pumping, that's something we missed. As coaches and players, that's something you really work for, your reward is gameday. You put in the work and the preparation so you can go out there and enjoy that three-to-four-hour period on Sunday afternoon. There's going to be obviously a lot of energy. We've got to make sure that we control our emotions early in the game, especially when the adrenaline is pumping high. We've been working a lot this week on communication on all sides of the ball. We always do, but this week it's definitely been heightened because we're expecting more noise than we've had now in over a year. We've got to adapt to that circumstance and make sure we're on the same page."
Q: Last year, you were new, the staff was new, you basically had no offseason, no preseason games. You did have one preseason game with the starters this year. Entering the opener this year, do you have a better handle on your team and what you're capable of and how you'll play, more than you did a year ago?
Judge: "I think every year you're truly starting over. Every team is truly unique. We've got guys on this team right now that we've claimed or signed in the last week that weren't even in training camp with us. You're ever evolving with the roster, you're never repeating a year. There are some familiar faces back, but it's truly a new team. As coaches, we have to get in the sync of calling games in regular season. As players, they have to get in that rhythm of playing through the regular season. We've got to get on the same page. I've always believed that first part of the year in September, you're still trying to find out who you are as a team. You go through training camp, but there's so much change post-training camp with your roster. You've got to truly find out through the first three-to-four games what your team's identity really is. Now, along the way, you compete to win. You do what's necessary to play the opponent you're playing. But you really want to go ahead and enter that second quarter of the season with a sense of who you truly are, and how you've got to play it on through. Along the way, as you're finding out who you are, you have to compete and play with good fundamentals. You have to give yourself a chance to be successful. You've got to stay on course to have a successful season."
Q: You've said many times you're not interested in the past, but this is a team that has not started well recently. I was surprised that four times when you were in New England you started 2-2. You don't want to put yourself in a hole, and good teams win at home. Have you emphasized that to the team? Also, you're playing a Broncos team that has lost eight straight September games and they're going to come in with the same mindset: we've got to start fast.
Judge: "The point we always stress is this is a completely new team. The history of what's happened has no effect on what's going to happen for either team on Sunday. All that matters is that 60 minutes of execution and how we play in that window of time. In terms of emphasizing home versus away, we're trying to play our best game every week. We definitely want to give the fans something to be proud of. But whether that's on T.V. or in their home stadium, it's the same level of preparation. It's the same level of performance we're always aiming for right there.
"In terms of you referencing back to some of my time in New England and starting out 2-2, again, I think that reflects back onto the roster turnover and finding out who you are and how you play games. The important thing to remember is that it's a long season and you want to improve consistently throughout the season. A lot of teams come out fast, and they go ahead and burn out fast. They come out of training camp, and they've got everything exactly where they want to be and they're all lined up, but as teams improve around them, they've already peaked. You want to keep improving as a team week-by-week. That means coaching, you've got to keep improving your level of preparation and getting the team in the right situations. That comes down to knowing your roster, figuring out the strengths of the players. As players, you want to get yourself in that season mode of truly being in full game shape. No one has played a full game yet, not one team has played a full game yet. We want to make sure that throughout September, we keep emphasizing the improvement to get to where we want to be as a team. Then, we've got to hit our stride in the season at some point, and we've got to start playing our best ball.
"We did that last year for a period of time. As we built up and improved, we were able to limit some mistakes, and that's where you want to be. You have to make sure you're not costing yourself opportunities as you play through the games. But at this point, you can't get overly consumed in this league with the week-by-week. It's a one-game season every week, and you've got to make sure that you're in there for the long haul. You just make sure you keep the players on track, physically healthy, mentally engaged, always improving. As coaches, you make sure your team is improving on a week-by week-basis, and at the end, you have a much better product. Ultimately, if you do that, you'll have success."
Q: I don't know that I've ever seen a player return from an injury and have his teammates be so excited about it than your team is with Saquon Barkley. There seems to be a buzz just because Saquon is coming back. Do you sense that as well?
Judge: "I think people are excited for Saquon because they know how hard he's worked to get back. That's the excitement I have because when you see someone who's worked really, really hard, you want to see the fruits of their work. This is a guy, from the moment he was injured last year, he could have gone in the tank. He could have made a lot of decisions to go ahead and say, 'Poor me, woe is me. What am I going to do?' He made a decision to fight back and do everything he could to get healthy. It's been a long road, as it is for all these players that go through a significant injury like that. But Saquon has really done a good job of coming in every day with the right attitude, demonstrating leadership, doing the best thing for the team, and working his butt off. When the team knows that and the team knows that you put the team first, and you're working your hardest, that's what leadership is. That's why I think the team is more excited for him. They're really more excited for him because we all want to see him be successful."
Q: Regarding Daniel Jones, you often talk about his second year in the system, his preparation, the leadership. I'm curious about his more tangible attributes - the decision making, the arm strength, his accuracy. Are you seeing those from him as well?
Judge: "To me, it's all about the efficiency of the offense and how he facilitates the ball to the players around him. One thing Daniel has done, through his understanding of the offense, is he's in a position to make the right decisions and distribute the ball to whoever is open and taking the profit at the right time. That's really what we want from our quarterback, to go out there and facilitate the offense, and keep us moving in a positive direction, and get the ball to the guys who make plays for us."
Q: Nate Solder is listed as the first-team right tackle on the depth chart. You were with Nate in New England when he was a cancer survivor and when his son, Hudson, was diagnosed with cancer. Nate opted out of the 2020 season. You repeatedly praised him in training camp. On a personal level, how do you feel about Nate's comeback?
Judge: "I'm excited for Nate. There's a lot of things that I referenced with Saquon a minute ago. Nate has gone through a lot. He's gone through a lot personally, he's gone through a lot with his family. They're a great family, they're a very strong family, a very faith-based family. You watch him fight through a lot of things and put himself in position to come back and work for the team and do what's best for the team. Nate doesn't complain, ever. He comes in with the right attitude. He comes in and displays leadership. He comes in to play his role. He's improved every day within his role.
"We plan on playing really all of our linemen that are at the game. We plan on them playing every week, that's just the philosophy we have here. But for Nate especially, I'm excited that he's back. He could have made a lot of decisions, and neither one of them would have been wrong, if he decided to be done playing. He decided to come back and give it a go, and he's put 100 percent in, and he's seeing a return on his work."
Q: Why were you eager to have (safety/special teams standout) Nate Ebner (who re-signed this week) return?
Judge: "He's been a good player in this league for a long time. He's a guy that we've obviously had around for a long time. He was a key part of this team last year. He was a captain and was a leader on this team. He was one of the better players in the kicking game for us. He plays a key role for us within the special teams units as a signal caller and as its cover specialist. We had to wait. Obviously, he went through an injury in the offseason. We were really just waiting for him to be healthy and be physically cleared and make sure he was good for the season. It just so happened that he's at a point right now where he's moving well enough, and we brought him back."
Q: The Broncos' offense is interesting to scout from the perspective that you have obviously seen (offensive coordinator) Pat Shurmur's offense, you know (quarterback) Teddy Bridgewater, but you haven't really seen Teddy Bridgewater in Pat Shurmur's offense. He only threw the two passes the year they were together (in Minnesota). Does that make it a unique scouting situation?
Judge: "There's some glimpses of them in preseason, so you get a little bit of an idea of what they're going to do, or what they want to do with him. I think you've got to know the history of the player. I think one thing about the NFL, and we talk about it with our guys all the time, it's a people league. Jerseys may change, but the players don't. The players are who the players are, so you've got to know who Teddy is as a player. He's a very dependable quarterback. He's very consistent. Decision making and accuracy are really where he really facilitates an offense. He can push the ball down the field. He's athletic and can extend plays.
"But in terms of how Pat is going to use the offense, we'll find out Sunday, specifically against us. But you would imagine it's a lot of what Pat has done in the past. The quarterbacks have similar skillsets, he's had a number of them, in terms of having those older quarterbacks to put more decision making on his shoulders and facilitating the offense. I expect to see what Pat does through his history against both Pat Graham as a (defensive) coordinator and different schemes within the system. But ultimately, it's going to come down to the players on the field and how they play."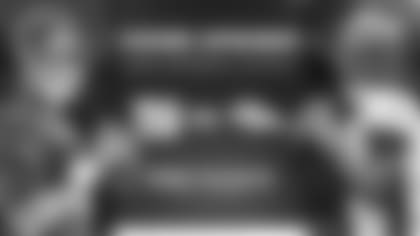 Limited Tickets Available for Giants vs. Broncos
Limited tickets are available for the Giants' home opener vs. the Broncos on Sunday