If the toughest position to coach in football is the one that the head coach was responsible for before he became head coach, how hard is it to be that guy who plays the same position the head coach played?
Jon Halapio is finding that out.
"He puts a little bit more pressure on the centers than any other position, which is understandable, and I like that about him," Halapio said of coach Pat Shurmur, who was a three-year starting center at Michigan State and a co-captain for the 1988 Rose Bowl champions. "It's cool too because if there is something that I'm struggling with, I can not only go to [offensive line coach] Hal [Hunter] for it; I know coach Shurmur can give me some pointers on that, too. It's pretty good to be under Pat knowing that he played center as well."
With that support system in place, Halapio has gone from a backup guard with an uncertain future to snapping to Eli Manning as the starting center for the New York Giants. Halapio told the story of the time he was struggling with run-blocking out of the shotgun formation, and he went to Shurmur for some pointers. On a regular basis, though, Hunter is in his ear teaching him lessons from his 35 years of experience on the collegiate and professional levels.
"He's a tough guy, a tough coach," Halapio said of Hunter, who is in his first season with the Giants after coaching future Hall of Fame tackle Joe Thomas and the Browns' offensive line in 2016. "He gets it, he understands it, and he relates to us in his coaching points. He finds your strengths and he tries to stick to that. He doesn't try to like shape a player … or like create a player for him to fit his blocking schemes. He tries to find your strength and mold around that. It's the best way to describe Hal Hunter."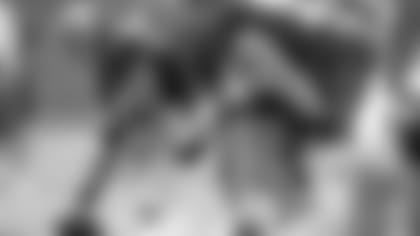 From pushing tables together in the cafeteria to Shurmur arranging the locker room by position, the lean-on-me approach is in full force at the Quest Diagnostics Training Center. The games have not counted yet, but Halapio already sees its effects. He is anxious to get an extended look at the unit in the third preseason game on Friday night against the Jets.
"There is definitely good chemistry going on in our room and we've just got to keep on building it throughout the season," Halapio said. "It's definitely good to sit together and get to know each other and even get to know the other teammates in other positions. At the end of the day, we have to rely on each other and trust each other during the games, so why not do it off the field as well?"
Dave Gettleman set out to build this type of culture when he took over as general manager at the end of last year. He has repeatedly used his 2015 Panthers that went 15-1 and made it to the Super Bowl as the prime example, knowing that things off the field affect what happens on the field.
A microcosm of that is Halapio working with rookie Will Hernandez.
"The first game, he had some nerves going pretty early, which is understandable," Halapio said of the second-round pick lining up to his left.
"He's a rookie, and he's been doing really good. He's been staying at my hip asking all these questions, even coming into my hotel room the night before the game just to make sure we're on the same page on certain things that he's a little struggling with mentally.
"The thing about Will is he cares. He really does care. He really wants to be great at his position. He works at it. He's a smart guy, a bright guy, and he knows the answers to his questions, but he just wants to make sure. And that's really good to see that he wants to be on the same page as me and ultimately with everybody else."
View the best photos from Giants practice on Monday