Kadarius Toney's eye-opening stats
Rookie wide receiver Kadarius Toney has shined over the past two games. During last week's matchup against the Cowboys, Toney caught 10 passes for 189 yards. This came one week after he reeled in six passes for 78 yards against the Saints.
Toney's 189 receiving yards in Dallas broke the Giants rookie record for most receiving yards in a game, topping Odell Beckham Jr.'s previous mark of 185 yards set in 2014. It was the most yards in a game by a rookie wide receiver this season, and tied for the third-most receiving yards by any player in the NFL this season. Toney did this while playing 37 offensive snaps (54 percent) and running just 24 routes.
"Toney's 4.5 receiving yards per route run since Week 4 (267 yards on 59 routes) leads all players with at least 40 routes run over that two-week span," PFF's Ben Linsey writes. "He's forced a league-high eight missed tackles after the catch in his past two outings (most in the NFL), highlighting just how elusive he is in the open field. The Giants need that kind of presence in their offense."
Heading into Week 6, Toney's 76.9 receiving grade on the season ranks 21st among wide receivers. In Week 5, the rookie earned an elite 92.4 overall grade, which included an impressive 93.3 receiving grade. This was the highest receiving grade among all WRs last week.
Toney's receiving grade, along with his 7.88 average yards per route run, were both top-5 single-game marks among rookie wide receivers since 2010.
Daniel Jones moves closer to playing vs. Rams
Daniel Jones today moved closer to taking his familiar place in the starting lineup on Sunday when the Giants host the Los Angeles Rams in MetLife Stadium.
The Giants' third-year quarterback practiced on a limited basis, a day after he was listed as a non-participant. Though Jones must still complete the remaining steps in the NFL concussion protocol, including clearance by an independent neurological consultant, he is on track to face the 4-1 Rams.
"I'd say at this point, everything looks positive," coach Joe Judge said.
Jones was limited because he is prohibited by the protocols from having contact in practice.
"For him, it's really always non-contact, anyway," Judge said. "Obviously, we'll make a point of the certain drills he'll partake in, but he's good to go today, in terms of what he's allowed to do non-contact."
Judge, however, hedged when asked if he "thinks (Jones) is going to start."
"I can't give you a guess right there," Judge said. "Look, the one thing about these injuries is it's fully out of our hands. This isn't like some kind of soft tissue or a joint issue where the coaching staff and medical staff can talk and make an assessment on gameday. This is independent doctors; it's got nothing to do with us."
The NFL concussion protocol includes five steps.
"He's got a couple still more," Judge said, "a contact practice, a passed test by independent doctors, and things of that nature."
Saquon Barkley rehabs 'frustrating' ankle injury
For the third time in as many seasons, the Giants' back has been forced off the field with a lower body ailment. This time, it's a sprained left ankle, which he suffered in the 44-20 loss on Sunday in Dallas. Last year, a torn ACL in his right knee cost him the final 14+ games of the season. And in 2019, he missed three games after spraining his ankle in Week 3 at Tampa Bay.
"I'll be honest, it's frustrating," Barkley said today. "It doesn't make sense why it's happening, but obviously when you get hurt you have those one or two days when it's an ankle sprain. Obviously, when it's a knee injury, it's probably a little longer. You have those days to reflect and feel bad for yourself and have that 'why me?' mentality.
"But you can't keep that mindset. Having that mindset, you're not going to get anywhere with it. You've just got to look on the brighter side. Everything happens for a reason. This could slow me down to help me out in other ways to get myself ready and whenever I'm going to get back on the field, just get back to playing the sport that I love and to get back to contributing to help the team."
🎥 10th Anniversary Celebration: Top 5 plays from 2011
The Giants will honor the 10th anniversary of the 2011 championship team during Sunday's game against the Rams in a special halftime ceremony.
Check out the video below for Giants.com's top 5 plays from the 2011 team, which resulted in the Giants bringing home their fourth Lombardi Trophy in franchise history.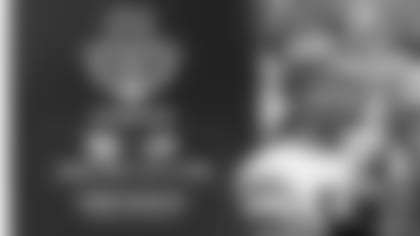 Tickets for 2011 10th Anniversary Celebration
Limited tickets are available for the 2011 10th Anniversary Celebration game