---
RELATED NEWS
View updated Roster
View the updated Giants roster heading into the Final preseason game...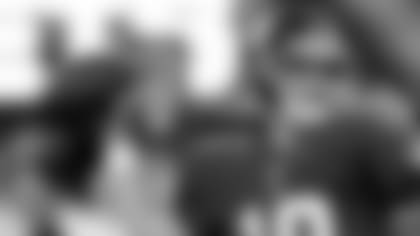 View Updated Depth Chart](http://www.giants.com/team/depth-chart.html)
Wide receivers Brandon Collins (who faces a four-game NFL suspension at the beginning of the season) and Terrence Sinkfield
Tight ends Jamie Childers and Chase Clement
Offensive linemen Michael Jasper and Austin Holtz
Linebackers Jake Muasau and Etienne Sabino
Defensive tackle Frank Okam
Defensive Backs Laron Scott, Junior Mertile and Alonzo Tweedy.
Curry, the fourth overall selection in the 2009 NFL Draft by the Seattle Seahawks, was trying to revive his career with the Giants. He played in just two games last season for the Oakland Raiders. Curry had slipped behind Kyle Bosworth on the depth chart as the second-team strongside linebacker. Bosworth had seven tackles and two quarterback hits in extended action vs. the Jets.
The only other veteran in the group of released players was Okam, who had played in 25 games with six starts for Houston and Tampa Bay from 2008-2011.
The Giants will take the current 75-man roster to New England for the final preseason game Thursday night in Gillette Stadium. All NFL teams must reach the regular-season 53-man roster limit by 6 p.m. eastern time on Saturday. [