The Giants don't face the Washington Redskins for another two weeks, but Mark Herzlich is getting a head start on the competition.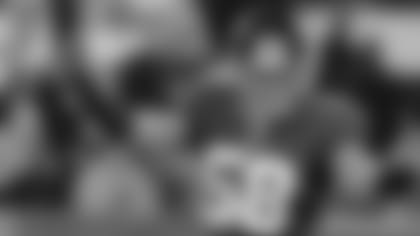 Know Your Opponent: Packers Roster In a "winner-cuts-all" fundraising campaign, the New York linebacker competed over the past month with Washington wide receiver Pierre Garcon to benefit childhood cancer research through the St. Baldrick's Foundation. The winner of the Wahl Head-to-Head Challenge would shave the loser's head.
Herzlich got to keep his hair, albeit a mohawk.
On live TV during a filming of "Fox & Friends," the victor shaved Garcon's head as a show of solidarity with the more than 175,000 kids who will be diagnosed with cancer during this year alone.
Herzlich, a bone cancer survivor himself, received a large amount of support from his fans during the competition, including a significant donation made in memory of late Giants owner Wellington Mara, according to the Wahl Clipper Corporation.
"I was inspired to take part in the Wahl Head-to-Head challenge by my own battle with cancer," Herzlich said. "Because I understand the pain and devastation cancer can have on your life, it means a lot to me to be able to fight back. I want to thank my supporters for helping me fund research to find a cure."
Since 2005, the St. Baldrick's Foundation has awarded more than $127 million to support lifesaving research as the largest private funder of childhood cancer research grants. In this year alone, more than 57,000 volunteers have gone under the clippers at 1,300 signature head-shaving events.
Now professional football rivals have been added to the ranks.
"We are honored to have Mark and Pierre on our St. Baldrick's team, helping to tackle kids' cancer and raise money for lifesaving research, so that children affected by cancer have a chance to live out their hopes and dreams," said Kathleen Ruddy, chief executive officer of the St. Baldrick's Foundation. "These guys have shown their big hearts throughout the entirety of the campaign and we hope all those out there fighting cancer appreciate their and their fans' contributions to the cause."