Pinning a backup quarterback on the seven-yard line for his first series in relief is a good situation to be in for a defense.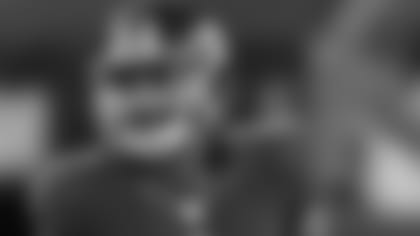 View Gameday Photos from Week 5 But nothing is automatic in the NFL, especially against a player who was in a two-man competition this offseason for the lead role and started six games the last season.
That was the case for Philadelphia quarterback Nick Foles, who replaced Michael Vick (hamstring) on the final drive of the first half against the Giants in MetLife Stadium. Foles led the Eagles on an 11-play, 75-yard drive that ended with Alex Henery's 36-yard field goal as time expired for a 19-7 Philadelphia lead heading into the locker room.
"I always thought he was a good quarterback," linebacker Spencer Paysinger said. "I know exactly what type of quarterback he is. I know what he can do. Just because Vick went out doesn't mean that the Giants should automatically win."
That proved to be true in the 36-21 loss that dropped the Giants to 0-5 to start the season.
Foles finished 16 of 25 for 197 yards and threw two touchdowns in the fourth quarter to take control of the game. Foles and Vick competed throughout training camp for the starting quarterback job, but first-year NFL coach Chip Kelly ultimately went with the 12-year veteran.
Before Sunday, Foles, who was the Eagles' third-round draft choice in 2012, had thrown just five passes in two Eagles' losses this season. After a week of preparation for the dynamic Vick, the Giants defense was presented with a changeup in the less-mobile Foles.
"(Vick) not being there changes our game plan a little bit," Paysinger said. "We know there's not a big threat of a run when you have Foles because he's not so much a mobile quarterback. He can do it, he can get those couple extra yards…but that's not the type of quarterback he is. So it changes up your game plan a little bit when he comes in."
The experience Foles gained from six starts as a rookie helped as well. It proved to be valuable in his victory as the Giants faltered again in the second half.
"It's frustrating," said Paysinger, who played against the former University of Arizona quarterback during his college days at Oregon. "I'm not going to lie to you and say it's not frustrating. You play your heart out, this is your profession, and the fact that it doesn't go your way, as a team, it just feels like we didn't play a complete game. It kind of stings a little bit, but you have a short mindset because now we have to go into Chicago. We've got a short turnaround. Tomorrow we've got to come in, probably watch this film a little bit and then turn our minds off of this and switch them on to Chicago. It hurts today but tomorrow's a new day and you have to be ready."