EAST RUTHERFORD, NJ - How long has it been since a Giants running back led the NFL in rushing? Look at it this way. Harry Truman was president the last time it happened.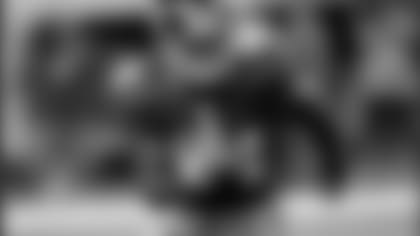 It was 1951 and Eddie Price, then a second-year pro from Tulane, topped the 12-team league with 971 yards for the second-place, 9-2-1 Giants.
Yes, it's been a while. As the Giants enter their bye week with a four-game winning streak and a 5-2 record, Ahmad Bradshaw leads the NFL with 708 rushing yards. That is 24 more than Minnesota's Adrian Peterson, the league's 2008 rushing champion, and 46 more than Tennessee's Chris Johnson, who won the title in 2009. The Vikings have already had their bye, so Peterson has played one less game than the other two players in the top three.
Bradshaw, a first-year starter, is not at all shocked to be in such impressive company.
"There are a lot of great backs in the league," Bradshaw said today. "Adrian's been playing great and Chris Johnson - they're all great backs. Just to be in the mix with these guys, it's a good thing for me. I can't say it's surprising just because I know what I can do, but like I said, these guys are great backs and it's a joy to be up there up with them.
"It's something I really worked hard for. Just having this opportunity to be a starter and being able to be at the top of the list is a big achievement for me right now."
After strafing the Dallas Cowboys for 126 yards in the Giants' 41-35 victory Monday night – his third 100-yard effort in the last four games - Bradshaw is averaging a bit more than 101 yards per game. He's on pace to finish with 1,618 yards, which would be the third-highest total in team history. And it might make him just the third Giant in history to lead the league in rushing. In addition to Price, Bill Paschal was first in 1942 and 1943 with 572 and 737 yards, respectively.
Not bad for a running back who is listed at 5-9 and 198 pounds and prior to this season had started exactly one NFL game. But Bradshaw's production has surprised no one who watched him closely in his first three seasons.
"I've always thought that Ahmad could be a very good runner for us," offensive coordinator Kevin Gilbride said. "The key has been – we've thrown the ball very well, people have to defend and honor that, and it's opened up some running game possibilities for him and he's going to take advantage of them. He's an explosive back and he's kind of representative of what we're talking about – he's one of those explosive guys, we've just got to curtail the miscues, but in terms of toughness, determination, a guy that is going to give you everything on every play, he is certainly emblematic of what you're looking for."
"I think what we've seen out of Ahmad is what we've always seen out of him," running backs coach Jerald Ingram said. "He's hard running, tough, determined. He's always been a hard runner. … The things that he has progressed on are learning how to protect the quarterback, being on the same page as Eli (Manning) and those kinds of situations and areas. We always knew he had the potential, and the more carries you get as a running back, the better you are. He just now took it to a point to where he wants to be fed. He wants that on his back, and he wants to be the guy that makes a difference in what he does and he wants to win."
Because of his size, Bradshaw was widely typecast as a third down scat back when he arrived. But he has regularly demonstrated his power and strength in running through defenders this season.
"I think my legs are very explosive at times, and running backs are supposed to run with their legs," Bradshaw said. "I've had a couple of times where I fumbled the ball this year, and I just try to make a lot of big plays and I just have to tuck the ball and use my legs at times.
Bradshaw joined the Giants as a seventh-round draft choice in 2007. He spent most of that season as the No. 3 back behind Brandon Jacobs and Derrick Ward and ran for 190 yards in 12 regular season games – 151 in a game at Buffalo – and his 208 yards led the team in the four-game postseason that ended with the Giants' victory in Super Bowl XLII.
The following season, Jacobs and Ward each rushed for more than 1,000 yards and Bradshaw contributed 355 yards to the Giants' league-leading total. Last year, Ward was gone and Bradshaw was the top backup. He ran for a career-high 778 yards despite missing most practice days during the season because of cracked bones in both of his feet, as well as a bone spurs in his ankle, all of which required surgery following the season.
"After what he experienced a year ago, I don't know many tougher individuals than him physically," Ingram said. "The guy played every game last year with what he had, which most individuals couldn't do, and he did it every single week. There aren't many people around or on this team as tough as that. He'll do whatever it takes to be out there, to win and help the team."
In training camp this year, Bradshaw displaced Jacobs as the Giants' starting running back. Jacobs, who scored on a 30-yard run in Dallas, has rushed for 282 yards and a team-leading five touchdowns. With 990 yards, Bradshaw and Jacobs are the most productive duo of backs on the same team in the NFL.
"Me and Brandon, we're different backs and we have different styles, which make us both unique," Bradshaw said. "Just to have that change of me and him, it helps our team out tremendously."
Jacobs has had injury issues in the past and he's 6-4 and 264 pounds. Bradshaw is seven inches shorter and 66 pounds lighter, so perhaps the key question is how will he hold up over the final nine games of the season?
"The size is not a problem," Gilbride said. "The injury concern is certainly something that had to be taken into account, there's no question. It's still there. He's as tough as they come to overcome the problems that he's had with the surgeries on his ankles and his feet from last year. I'm still holding my breath; hopefully, he's going to be able to last the entire year. Right now, knock on wood, he's playing great football for us.
"I think he gives you an inspirational quality because of how hard he plays – he blocks hard, he runs hard, everything he does is with great determination and effort, so I think that it's hard for his teammates to look at him and not be affected in a positive way, so that's a good thing. That's not to disparage the other guy (Jacobs) because the other guy has gotten better and better and has played very good football for us and showed some of the speed that you don't expect a big man to have – when he turned that counter play for a touchdown for us (in Dallas). That was a huge play. He's played very well. I just think that in the long run it's nice to have two guys that you can count on because history has shown that one of them has been banged up and missed time, so it's nice to have both of them."
Bradshaw is confident he'll be as strong and productive in December and January as he was in September and October.
"I feel good, man," Bradshaw said. "The trainers did a great job with me and they continue to do a great job working with me just to keep me ready for each game. I feel great. My feet feel great. My ankles feel tremendous."
"I feel confident. I want as many carries as I can grab, as many as they give me. So as long as I keep the confidence, I think I'll play great for the rest of the year."
Maybe good enough to become the first Giant in almost six decades to lead the NFL in rushing.
*With Bradshaw and Jacobs leading the way, the Giants have rushed for more than 100 yards in all seven games this season, their longest such streak since they did so in 10 consecutive games to start the 1993 season.
*While the Giants' rushing attack is ranked fourth in the NFL (145.4 yards a game), the run defense is ranked third (85.4). None of the Giants' last four opponents rushed for at least 65 yards. According to the Elias Sports Bureau, this is the first time the Giants have allowed fewer than 65 rushing yards in four consecutive games since the stats were first kept in 1933.
*The Giants had five offensive turnovers while forcing only two in Dallas Monday night. It was their first victory in a game in which they had a turnover differential of minus-three or worse since Dec. 2, 2007, when they won in Chicago despite having four turnovers without forcing any.
*Hakeem Nicks is tied for second in the NFL with 45 receptions. His eight touchdown catches lead all wide receivers and ties him with San Diego tight end Antonio Gates for the NFL lead. Nicks scored three touchdowns in the opener vs. Carolina, two in Houston and two in Dallas. He is the first Giant with three games of at least two touchdown catches in a season since Earnest Gray in 1980.
The last Giant to lead the NFL in touchdown receptions was Homer Jones in 1967 with 13.
*Deon Grant's sack of Jon Kitna in Dallas was his first since Nov. 6, 2005, when he played for Jacksonville against Houston.
*The Giants will next play on Nov. 7 in Seattle against the Seahawks, who are 4-2 entering their game Sunday in Oakland.