Francis Adames and Nestor Rosario are known for animated play calls and a vibrant approach to broadcasting. But beneath the surface, the duo's dedication to their Latino fanbase paints a picture of passion turned profession.
In partnership with Univision – the Giants' official Spanish language flagship radio station – Adames (analyst) and Rosario (play-by-play) are in the midst of their ninth season as the "Giants en Español" broadcast team. The two have worked closely since 2014, so it's no surprise that they can all but finish each other's sentences.
Rosario spoke about his first encounter with football. Growing up in the Dominican Republic, baseball was his initial passion. He grew to love basketball as well and eventually came into commentating. He laughed, describing his niche childhood hobby – play-by-play commentary of backyard pickup games. Nonetheless, Rosario first pursued a career in baseball, broadcasting professional games in the Dominican Republic.
Now a football fanatic, Rosario also recounted his relationship to the sport. Unlike baseball and basketball, which retained strong footholds in Dominican culture, football was more intangible.
"When I was a kid, I heard about football, football, NFL," Rosario said. "I thought, 'What is that? I don't understand.'"
Determined to amass a command of the sport, Rosario watched NFL games weekly in the 1990s and again tried his hand at commentating. Nestor paused, trying to articulate what it was like viewing his first televised NFL game – a matchup between the San Francisco 49ers and the Dallas Cowboys.
"Love at first sight," Adames interjected.
Unlike his counterpart, Adames originally hails from the United States. His introduction to football came at a young age, but a passion arose much later.
"I knew football since I was probably five or six (years old); it was the first time I came close to the game. I just didn't understand football," Adames said. "So, my interest in football came in high school. I went to Emerson High School in Union City, and we had a rivalry between Emerson and Union Hill around Thanksgiving. That was that was the game of the year. And that brought in a lot of attention, so I started learning the sport."
Adames' morning commute took him past Giants Stadium, and he recalled his aspiration to work for the flagship franchise.
"It's amazing (that I was) a kid with a passion and a desire to work with the Giants, and it came through in 2014 when we were hired to do this – the play-by-play analysis for the New York Giants in Spanish," Adames said.
Though Adames' and Rosario's interest developed in different ways, the duo's mutual passion never wavered.
"Once you know how the game is played, you fall in love immediately with the sport," Adames said.
When the Giants and Univision came together in 2014, neither Rosario nor Adames had fully immersed themselves in the football landscape yet. Rosario was in his fourth season as the New York Mets' Spanish language play-by-play voice, and Adames periodically joined Univision as a basketball, baseball and football analyst. Though they've straddled numerous sports throughout their career, they carry a continuous mindset with them.
"You try to bring what you see to our listeners and put a picture of the action that's going on in front of you," Adames said.
For both men, stepping into their role with the Giants and immersing themselves in football was reflective of something much larger. To many Spanish-speaking fans, football is convoluted. Adames and Rosario were once acquainted with similar challenges themselves, and their work aims to rectify the disconnect.
"Our fans can visualize what we're talking about," Adames said. "We can explain better to people. There's a lot of listeners for us either driving cars, taxi drivers, Bodega owners, and they say, 'You know we listen to you at home, at barbershops.' So, we try to explain what's going on and what happened, why it happened."
The Giants' recent Latino Heritage Month celebrations have expanded their role. The two host La Esquina Gigante, a weekly podcast that centers around the aspects of football that they can only scratch the surface of each Sunday.
"Football is so exciting because every 20 seconds, 30 seconds there's a play," Adames said. "And everything happens so fast. We can talk about what's going on. Nestor does a great job describing and bringing the action to the listeners – putting it into picture. But that's a play, and then you move on to the next play."
Adames added: "To me one of the best things about doing a podcast is that we can take a play that we saw and talk about it for five minutes. And then I can put in my two cents, and then Nestor comes in and puts in his perspective of what happened and what he liked about the play, what he didn't like about the play, what his opinion is about the play. We sit down and say, 'Alright, we've talked about it during the game for 20 seconds. Let's talk about it here.'"
After years of working together, the two reflected what their success means to them.
"If somebody told me five or 10 years ago, 'Hey Nestor, you're going be the first Spanish broadcasters for the New York Giants,' I wouldn't have believed them," Rosario said. "I think nobody in Spanish media has done it before. Still, I feel like I'm dreaming."
From Eli Manning's retirement to the legendary one-handed Odell Beckham Jr. catch, neither man could point to just one defining moment from the previous eight seasons.
In the immediate future, Adames and Rosario are setting their sights on the team's remarkable start to the season. The two have experienced both triumph and loss in their nine-year Giants tenure, but they admit this year feels especially unique.
"The first game I called (this season), I said to Francis, 'This is a new era. This is the new era with Brian Daboll,'" Rosario said.
"I think the sky's the limit for Daboll and Schoen," Adames said.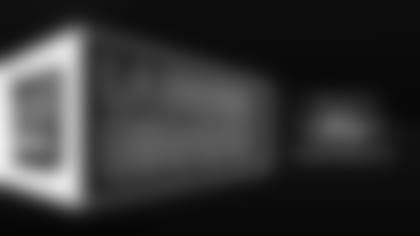 La Esquina Gigante
Suscríbete a "La Esquina Gigante" en tu plataforma de podcast favorita o disfrútalo cada semana en Giants.com, la aplicación de los Giants y YouTube.
Apple | Spotify | iHeartRadio | Google