Two letters and a period don't weigh much on the back of an NFL player geared up for a game in primetime. But they will carry a lot of weight for Louis Murphy on Sunday night.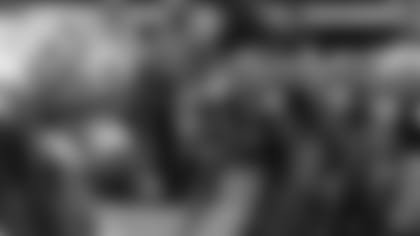 Breaking down the Cowboys](http://www.giants.com/news-and-blogs/Game-Preview/article-1/Insider-Breaking-down-the-Cowboys/80d5a00a-5156-40af-a9c1-b0e1baf475e5) Aside from donning a new uniform, the wide receiver will make his Giants debut with the addition of "JR." following his last name on the jersey, something he has never worn on his rise to the professional ranks.
If you look back at old photos and highlights from his former teams, you won't see it on his orange and blue from the University of Florida, the silver and black from the Oakland Raiders, nor the blue and silver from his Carolina Panthers days.
But now Murphy, a new father himself, felt it was time to add the extra fabric in his first season with Big Blue.
"I just decided to put my name on the back because I have a daughter now," Murphy said Thursday. "And what about if I have a son? I'm probably going to name him the third. So [it's] just to carry on the legacy of my family's name."
The distinction of junior usually honors the father, but in this case, it's also for his mother, Filomena, who passed away from cancer in 2007 shortly after he won the first of his two BCS National Championships with the Gators.
It was she who named Murphy after his father, a pastor of a 5,000-member Baptist church in St. Petersburg, Fla. And when Murphy's daughter was born five months ago, he repaid his late mother by naming her Filomena.
Around that time Murphy started to think of more ways to honor his heritage, which is Samoan on his maternal side.
"When my dad told me, he said, 'I didn't name you after me, your mom named you,'" he recalled. "I knew that growing up, too, that my mom named me, but I was just thinking about it. I was thinking of doing a Samoan last name because you know a lot of guys like [Steelers safety Troy] Polamalu and [Bengals linebacker] Rey Maualuga – those guys have the last name and everybody knows the hair. Nobody really knows [about my lineage].
"I have this Samoan tattoo in remembrance of my mom, so I just decided to add the junior because my mother named me when I came out. My dad said, 'What do you want to name him?' She said, 'Let's name him L.J.' Everybody calls me L.J. back home -- Louis Jr. So I just went ahead and did it."
So when you see Murphy Jr. on television under the lights in Dallas, look above the No. 18 on the back of his right shoulder for the two letters and a period.
"My dad was in tears when I sent him a picture," Murphy said of the jersey. "He couldn't believe it. So it's just about being a tight-knit family."