Winning six of your first seven games would be considered a fast start in anybody's book, but not Mike Kafka's. The offensive coordinator spent the off-season focused on how to open even faster.
"We did as a team last year, but as an offense specifically, I think we can get off to a better start there," Kafka said recently on the "Giants Huddle: Front Office Edition" podcast. "That was a big-time study for us as a group, as a staff, when we went and talked with the players throughout the [offseason program] phases here. That's been a huge emphasis."
Although they made up for it with the fifth-most second-half points (214), the Giants scored just 39 points in 17 first quarters, the fewest in the NFL and well below the league average of 70. That led to the team being 38 points in the hole by the time the second quarter began, the worst differential out of the 32 clubs.
The Giants showed their grit in overcoming those slow starts en route to their first playoff appearance since 2016 and first postseason win since Super Bowl XLVI. But they know that is not the formula for sustaining success.
The best way is to turn variables into constants, which they have done.
"I think anytime you integrate a new staff, a new offense and you're working through those things … and getting on the same page from a communication standpoint, that's always the challenge," Kafka said. "So, I think going into Year 2, things are a lot more smooth. We're able to jump in and out of meetings a lot quicker and get to the point. We know where the bones are buried on certain things already and can anticipate what's coming ahead."
Another way the Giants addressed faster starts is by adding, well, faster players.
In addition to veteran newcomers like Parris Campbell, who had an NFL Combine speed of 4.31 seconds in the 40-yard dash, the Giants traded up in the third round to select Biletnikoff Award winner Jalin Hyatt. Of his 108 catches at Tennessee, 52 went for 10+ yards, 30 for 20+ yards, 21 for 30+ yards and 12 for 40+ yards.
"He's a tremendous kid, loved meeting with him," Kafka said. "[We] got an opportunity to have him on a [top] 30 [pre-draft] visit and really got to understand how he sees the game. He's a smart football player. He's a tough kid. From a skillset standpoint, he can run routes. He has vertical speed. He has catch-and-run [ability]. So, there's a lot of aspects about his game that I think fit with the offense. And then now it's about finding a role within the offense that he can contribute."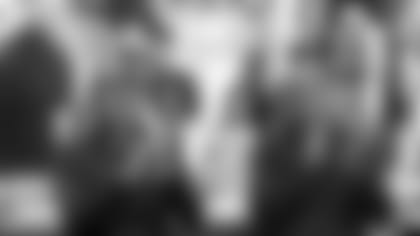 There is also the addition of Darren Waller, a dynamic tight end who won't pigeonhole the offense into being about one thing.
"He makes you defend really all the depth of the field and width of the field," Kafka said. "He can get over the second level and work second-level defenders. He can get into the third level because he has tremendous athletic ability and speed. He's a really good blocker too, so you can get him in the mix in the run game. He adds an element that gives the offense a little bit of an edge to move him around and mix and match them with different matchups."
Kafka added, "I think any time you have flexibility in your scheme, it gives you an advantage being able to move pieces around, put guys in the backfield, out of the backfield, spread the field tight and condense it. It just adds more, whether it's gaps in the run game, adds more space in the field for defenders to defend. That just gives you multiplicity in the offense."
The Giants practiced what they preached in Year 1 of the new regime. They had the eighth-highest rush percentage (48.7 percent run to 52.2 percent pass). The sixth and seventh teams were the Eagles and 49ers, who advanced to the NFC Championship Game.
"I think you kind of see you're seeing a little bit of a transition just because the college game is so influential to the program that you're trying to fit the players you're getting from college into schemes that they're familiar with and that express what they do really well," Kafka said. "And so you inherently just see more spread offenses. I think defenses have seen that these last several years, and they're adjusting, right? They're adjusting their different personnel grouping so they can get more speed on the field. And so, yeah, it's that cat-and-mouse game of they go light, we go heavy, they go heavy, we go light. Just kind of the back and forth that you're looking for to manage and then create those matchups with the people you have on your team."