EAST RUTHERFORD, NJ - Notes and statistics from the Giants' 31-7 victory over the Washington Redskins.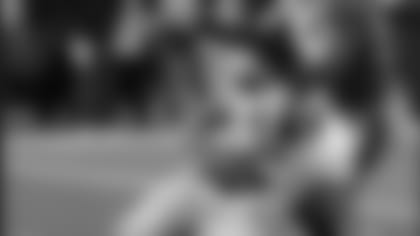 *The Giants won their second game in a row and improved to 8-4. They are tied with the Philadelphia Eagles for first place in the NFC East.
*The Giants have won five in a row and eight of their last nine games against the Redskins.
*The Giants rushed for 197 yards, tying their second-highest total of the season. They ran for 200 yards at Dallas on Oct. 25 and 197 at Seattle on Nov. 7.
*All four of the Giants' touchdowns were on the ground, two apiece by Brandon Jacobs and Ahmad Bradshaw. It was the first time the Giants rushed for four touchdowns in a game since Oct. 31, 2004 at Minnesota, where Tiki Barber and Mike Cloud each scored twice.
*Jacobs and Bradshaw have each rushed for seven touchdowns this season.
*For both backs, it was their second two-rushing touchdown game of the season. Jacobs ran in for two scores vs. Detroit on Oct. 17, while Bradshaw did it at Seattle on Nov. 7.
*Eli Manning was not sacked for the fifth consecutive game, a Giants record. The Giants are the first team since the 2008 Tennessee Titans to not allow a sack in five consecutive games. Manning has thrown 165 passes since he was last sacked – three after he was brought down by DeMarcus Ware in the fourth quarter at Dallas on Oct. 25 and 162 in the five games in which the Giants have kept him upright.
*The Giants forced six Washington turnovers (four fumbles and two interceptions, including one on the game's final play). That was their highest number of takeaways since Sept. 19, 2005, when they had six vs. New Orleans (three fumbles and three interceptions) in a New Orleans Saints home game that was played in Giants Stadium because of Hurricane Katrina.
*Jacobs scored on an eight-yard run just 3:34 into the game for the Giants' first opening possession touchdown of the season. They had last reached the end zone on their first drive in their previous game against the Redskins, last Dec. 21 in Washington, where Bradshaw scored on a three-yard run. The 13-game streak without a first-possession touchdown was the NFL's longest. Under Tom Coughlin, the Giants are 19-8 in regular season games in which they score a first possession touchdown.
*The Giants also scored a touchdown on their second possession when Bradshaw crossed the goal line on a four-yard run. It was the first time the Giants scored touchdowns on each of their first two possessions since the game in FedEx Field almost a year ago. In that game, the second touchdown was also a four-yard Bradshaw run.
*The Giants' 21-0 halftime lead tied for their second-largest of the season. On Oct. 10, they led after two quarters at Houston, 24-3. Their biggest halftime lead of the year was at Seattle, 35-0.
*Washington was the third opponent this season that failed to score a first-half point vs. the Giants, joining the Seahawks and the Chicago Bears, who trailed, 3-0, on Oct. 3.
*The victory was the 131st in the regular season for Giants Coach Tom Coughlin, who tied Hank Stram for 21st place on the NFL's career list.
*Jacobs rushed for 103 yards on only eight carries, a 12.9-yard average. It was his first 100-yard game since Nov. 9, 2008, when he ran for 126 yards in a victory at Philadelphia.
*Jacobs now has 10 career games in which he's rushed for more than 100 yards. The Giants are 9-1 in those games. The 10 100-yard games ties Eddie Price for fourth in Giants history.
*Jacobs increased his season total to 573 yards. He is the fourth Giant with at least 500 rushing yards in four consecutive seasons, joining Joe Morris (1984-88), Rodney Hampton (1991-96) and Tiki Barber (2000-2006).
*Jacobs raised his career total to 4,032 yards. He is the fifth player to rush for 4,000 yards in a Giants uniform, joining Barber, Hampton, Morris and Alex Webster.
*Jacobs' two rushing touchdowns increased his career total to 47. That is fourth in franchise history, one behind Morris and two less than Hampton.
*Jacobs' 39-yard run on the second snap of the game was his longest of the season and the third-longest of his career. He had a 38-yard run at Seattle on Nov. 7. His career-long 44-yarder was against the Seahawks on Oct. 5, 2008. Jacobs also had a 43-yarder at Buffalo on Dec. 23, 2007.
*Bradshaw rushed for 97 yards on 25 carries. He increased his season total to 1,013 yards to become the ninth player to rush for 1,000 yards in a season.
*Bradshaw's seven rushing touchdowns tie the career high he set last year.
*The Giants sacked Washington quarterback Donovan McNabb four times – two by Jason Pierre-Paul, and one apiece by Osi Umenyiora and Justin Tuck. The Giants have 35 sacks this year, three more than they had the entire 2009 season.
*Pierre-Paul, the Giants' first-round draft choice this year, had his second consecutive two-sack game.
*Umenyiora's 9.0 sacks are the third-highest total of his career and the most he's had in a season since 2007, when he finished with 13.0. Tuck has 8.5 sacks, also the third-highest total of his career and the most since he had 12.0 in 2008.
*Terrell Thomas and Corey Webster had the Giants interceptions. It was Thomas' fifth of the season, tying the career high he set last year.
*Former Redskin Devin Thomas, claimed off waivers from Carolina by the Giants two weeks ago, had a big game on special teams in his Giants debut. He had two tackles, including a hard hit on Terence Austin on a kickoff return, he downed a Matt Dodge punt at the Washington five-yard line and he blocked a Hunter Smith punt in the fourth quarter.
"(I wanted) to do it against them, make them look at the film and say, 'Man, why did we let him go?'" Thomas said. "That's something I definitely was looking forward to doing, just coming out here and making plays."
*Derek Hagan had a game-high and season-high seven catches for 64 yards.
*Washington Coach Mike Shanahan lost the game's only replay challenge with 4:19 remaining in the second quarter. Donovan McNabb threw a pass to Anthony Armstrong, who gained 11 yards before he was hit by Thomas and fumbled. The ball was recovered and returned 10 yards by Keith Bulluck. Shanahan challenged the call, claiming that Armstrong was down by contact before he fumbled. After review, referee Walt Coleman confirmed the call on the field. Giants opponents are 2-3 this year and 19-31 in the Coughlin era in replay challenges.
*The Giants' inactive players were wide receivers Hakeem Nicks (lower leg), Steve Smith (pectoral) and Duke Calhoun; offensive linemen David Diehl (hip/hamstring), Shaun O'Hara (foot) and Shawn Andrews (back); cornerback/return specialist Will Blackmon (chest); and defensive tackle Linval Joseph.
The game captains were Kevin Boss and Terrell Thomas.