EAST RUTHERFORD, NJ - Notes and statistics from the Giants' 38-31 loss to the Philadelphia Eagles.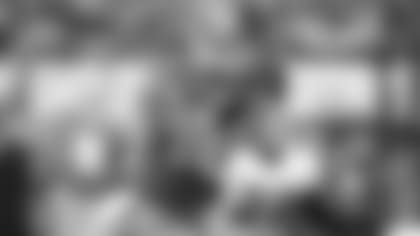 *The Giants had their three-game winning streak snapped and fell to 9-5. Despite the loss, if the season ended today they would still own the sixth and final NFC playoff berth. The Giants can win the NFC East title only if they win their final two games (at Green Bay and at Washington) and the Eagles lose their last two (home against Minnesota and Dallas).
*DeSean Jackson scored the game-winning touchdown on a 65-yard punt return on the game's final play. According to the Elias Sports Bureau, Jackson is the first player in NFL history to score a game-winning touchdown on a punt return on the final play of the fourth quarter.
*The Giants finished their first season in New Meadowlands Stadium with a 5-3 home record. They were 4-4 at home in 2009, their final season in Giants Stadium.
*The Giants lost their sixth consecutive game to the Eagles (five regular season, one postseason). That is their longest losing streak to Philadelphia since they dropped 12 in a row from 1975-81. The Eagles have swept back-to-back season series from the Giants for the first time since 2003-04.
*The Giants owned a 31-10 lead in the fourth quarter before Philadelphia scored the game's final 28 points. The Giants had owned a fourth-quarter lead of at least 21 points and lost only one other time in their history. On Nov. 21, 2006, they led at Tennessee, 21-0, but lost, 24-21.
*The Giants led at halftime, 24-3. This is the first game they lost when leading after two quarters since Oct. 25, 2009, when they were in front of Arizona, 14-10, but lost, 24-17. The Giants had won 10 consecutive games when leading at halftime, including seven this season.
*This is the first time the Giants lost a game in which they led by at least 10 points since Dec. 29, 2007. That night, they owned a 28-13 lead over New England but lost, 38-35.
*The Giants led after three quarters, 24-10. This is the first game they lost when owning a lead entering the fourth quarter since the 2008 season finale in Minnesota (Dec. 28, 2008), when a 16-10 lead became a 20-19 defeat. Eli Manning did not play in the second half of that game. The Giants had won their last 15 games when leading after three quarters, including eight this season.
*The Giants led through much of the fourth quarter. The last time they owned a lead in the final quarter and lost was on Nov. 8, 2009, when they were ahead of San Diego, 20-14, but lost 21-20.
*The Eagles scored only three points in the first half, the third game in a row the Giants did not allow a touchdown in the first two quarters.
*The Giants rushed for exactly 100 yards, their second-lowest total of the season. Their lowest was 61 yards, in the first Philadelphia game on Nov. 21.
*Philadelphia's 418 yards was the second-highest total allowed by the Giants this season. Dallas gained 427 yards on Nov. 14.
*The Eagles' 197 rushing yards were also the second-most by a Giants opponent this season. Jacksonville ran for 207 yards on Nov. 21.
*Eli Manning completed 23 of 39 passes for 289 yards and a career-high tying four touchdowns. Manning has thrown a career-high 28 touchdown passes this season. His previous best was 27 touchdown passes last season.
*Manning increased his career total to 153 touchdown passes.
*Manning has 305 completions this season, the second-highest total of his career. He completed 317 passes in 2009.
*Mario Manningham caught touchdown passes of 35 and 33 yards, the first two-touchdown game of his career. Manningham is the first Giants receiver to catch two touchdown passes in a game since Hakeem Nicks did it at Dallas on Oct. 25.
*Manningham's eight receptions were the second-most he's had in a game. Manningham caught 10 passes at Dallas on Sept. 20, 2009 and vs. the Cowboys on Nov. 14 this season. His 113 yards were the third-highest total of his career. Manningham had 150 receiving yards at Dallas last year and 126 yards vs. Atlanta on Nov. 22, 2009.
*Hakeem Nicks caught his 10th touchdown pass of the season. He is the first Giants receiver to hit double digits since Plaxico Burress had 12 touchdown catches in 2007.
*Justin Tuck had 1.5 sacks to increase his season total to 10.0. Tuck shares the team sack lead with Osi Umenyiora. This is the first time the Giants have two players with double-digit sack totals since 2007, when Umenyiora had 13.0 and Tuck had 10.0. In 2009, Umenyiora finished the season with a team-high 7.0 sacks and Tuck was second with 6.0.
*Ahmad Bradshaw led the Giants with 66 rushing yards on 19 carries. He increased his career totals to 502 rushing attempts and 2,505 yards. He moved past Joe Morrison (2,474) and into 12th place on the Giants' career rushing list.
*Jackson was the second Giants opponent to score on a punt return this season. Dallas' Dez Bryant brought a punt back 93 yards for a score on Oct. 25.
*Shaun O'Hara returned to action after missing six games with a sprained foot, giving the Giants their traditional starting offensive line for the first time since the game at Dallas on Oct. 25 and just the fifth time all season. Rich Seubert moved back to guard after filling in at center for O'Hara.
*Shawn Andrews was used as an extra tight end after missing the previous three games with back issues.
*Michael Vick rushed for 130 yards, the most ever by a quarterback against the Giants. The previous high was posted by another Philadelphia quarterback, Donovan McNabb, who ran for 107 yards on Oct. 28, 2002. Vick and McNabb are the only quarterbacks to ever rush for more than 100 yards against the Giants.
*The Giants' inactive players were wide receiver Devin Thomas, return specialist Darius Reynaud, guard Mitch Petrus, offensive lineman Jamon Meredith, defensive tackle Linval Joseph, defensive end Alex Hall, defensive back Michael Coe and tight end Jake Ballard.
*The game captains were Osi Umenyiora and Chris Snee.
*Defensive end and special teams standout Dave Tollefson suffered a sprained knee covering a kickoff in the second quarter and did not return.