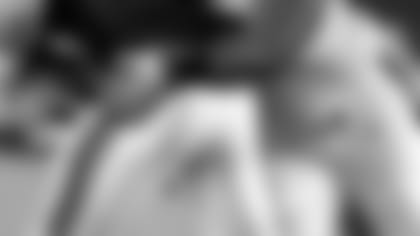 ](http://www.giants.com/media-vault/photo-gallery/Giants-sign-DT-Mike-Patterson/be8dc8e5-cf64-4eac-a746-7f688445b832)
PHOTOS: MIKE PATTERSON GALLERY
EAST RUTHERFORD, N.J. –
The Giants tonight added to their collection of defensive linemen when they signed tackle Mike Patterson, a former first-round draft choice who played the previous eight seasons for the Philadelphia Eagles.
Patterson is the second lineman signed by the Giants who most recently played for their closest geographical division rival; tackle Cullen Jenkins was signed on March 11. The veterans were both released by the Eagles on Feb. 25.
"I'm happy to be a part of the Giants," Patterson said. "They have a lot of good players. It's going to be good. I'm happy the Giants signed me and believe in my talents and allowed me to be there this year. I'm looking forward to this opportunity.
"It's good to be (reunited with Jenkins). He's a good player and I enjoy his company. It's going to be great. They also have other players I played with in college (Terrell Thomas and Keith Rivers, his teammates at USC), so I'm happy to see those guys."
Patterson, 6-1 and 300 pounds, has played in 115 career regular-season games with 99 starts and he has started all seven postseason games in which he has played. His career totals include 551 tackles (290 solo), 16.5 sacks, four forced fumbles, seven fumble recoveries and an interception. In the playoffs he has 43 tackles (26 solo).
In 2012, Patterson played in a career-low five games and was credited with nine tackles, including a sack. He started the first 15 games the previous season despite being diagnosed with a rare brain condition called arteriovenous malformation (AVM) that caused him to have a seizure during a training camp practice in August. He underwent six-hour brain surgery on Jan. 26, 2012. According to the Eagles' 2012 media guide, the procedure, which left an 8-inch scar, was performed by Dr. Robert Spetzler in Phoenix and consisted of drilling open his skull to get behind his right eye to untangle the nerves that caused the AVM and the seizure.
Because of what he overcame, Patterson was named the team's 2011 Ed Block Courage Award recipient in a vote by his teammates.
Patterson was not medically cleared to participate in training camp and was placed on the active/non-football illness list on July 22. He made his season debut at New Orleans on Nov. 5. The Eagles placed Patterson back on the non-football illness list on Dec. 12, ending his season.
"It was tough, but you never know what's in store for you," Patterson said. "I put my faith in God and everything worked itself out."
He said today he has no health concerns.
"Everything is good," he said. "I had a physical and a workout (with the Giants) and everything was good."
Patterson said he was "surprised" the Eagles released him.
"I thought I was going to still be there, but you never know how things are going to turn out," he said. "I'm just happy I was able to land on my feet with the Giants. Even though I didn't play that much last year, it wasn't due to football injuries. It just came down to me getting sick and me recovering from my surgery. It was nothing to do with on-the-field stuff, so I know I'm perfectly healthy when it comes to playing football."
Patterson, a former star at USC, was the Eagles' first-round draft choice in 2005, the 31st overall selection.
He played in all 16 games in each of his first five seasons. He started seven games as a rookie and all 16 in 2006. The following year, he started 15 games and had career-high totals of 114 tackles (63 solo) and 4.0 sacks. Patterson started every game in both 2008 and 2009.
His lone career interception was against the Giants in Lincoln Financial Field on Nov. 9, 2008. He returned it 21 yards to set up an Eagles touchdown.
Patterson missed his first career game on Jan. 2, 2011 – the 2010 season finale.
At USC, Patterson was a three-year starter and two-time national champion. He was credited with 146 tackles, 21.5 sacks, 46 tackles for losses, four forced fumbles and a school-record 13 fumble recoveries. As a senior in 2004, Patterson was named All-America after posting 45 tackles with 6.0 sacks, a team-high 16 tackles for losses and four fumble recoveries.
Patterson joins a corps of defensive tackles that includes Jenkins, two-year starter Linval Joseph, veteran Shaun Rogers, Marvin Austin and Markus Kuhn, who played well in brief action as a rookie last season before tearing a knee ligament.
Chris Canty, a starter last season, was released on Feb. 6 and subsequently signed with the Baltimore Ravens.