[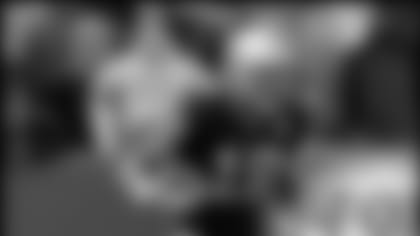 ](http://www.giants.com/media-vault/photo-gallery/Giants-sign-WR-Louis-Murphy/d7a0df56-770b-4c5b-b728-e265a93c8939)
PHOTOS: LOUIS MURPHY GALLERY
EAST RUTHERFORD, N.J. –
The Giants today added speed to their wide receivers corps when they signed Louis Murphy, who has run sub 4.4-second 40-yard dashes.
Murphy, 6-2 and 203 pounds, is entering his fifth NFL season. He has played in 57 regular-season games with 24 starts and has 115 receptions for 1,707 yards (14.8-yard average with a long catch of 75 yards) and seven touchdowns. Murphy also has 14 rushing attempts for 146 yards and a touchdown.
"I think he's going to add another dimension to our offense," general manager Jerry Reese said in an interview on SiriusXM NFL Radio. "We have a scout named Jeremiah Davis and he talks about guys being a knife. This guy is a knife. This guy can take the top off your defense. He's an interesting guy. He gives us a different dimension in our offense. If we have the same guys, if we have (Hakeem) Nicks back healthy and we have (Victor) Cruz back, this guy gives you a deep threat that we haven't had. We haven't had a guy who can run like this guy."
Murphy, a University of Florida product, joined the NFL in 2009 as the Oakland Raiders' fourth-round draft choice, the 124th overall selection. As a rookie, he scored a career-high four touchdowns, including the 75-yarder.
Murphy was traded to the Carolina Panthers on July 24, 2012. In his only season with Carolina, he caught 25 passes for 336 yards and a touchdown at Kansas City on Dec. 2.
This offseason, the Giants have re-signed tackle Will Beatty, defensive tackle Shaun Rogers, linebacker Keith Rivers, tight end Bear Pascoe and running back Ryan Torain. They have signed seven free agents who played with other teams in 2012: kicker Josh Brown (Cincinnati), linebacker Dan Connor (Dallas), defensive tackle Cullen Jenkins (Philadelphia), tight end Brandon Myers (Oakland), safety Ryan Mundy (Pittsburgh), cornerback Aaron Ross (Jacksonville and a Giant from 2007-2011) and Murphy.
They released running back Ahmad Bradshaw, linebacker Michael Boley and defensive tackle Chris Canty (who signed with Baltimore).
Martellus Bennett, their tight end last season, signed last week with the Chicago Bears.
Safety Kenny Phillips signed with Philadelphia.