EAST RUTHERFORD, N.J. – Giants center Shaun O'Hara and linebacker Antonio Pierce used Tuesday to encourage New Jersey students in Hillsborough and Cliffside Park to enjoy play and daily activity. The visits were part of a week of awareness events surrounding Nickelodeon's fourth annual "Worldwide Day of Play" (WWDP), which occurs on September 29th.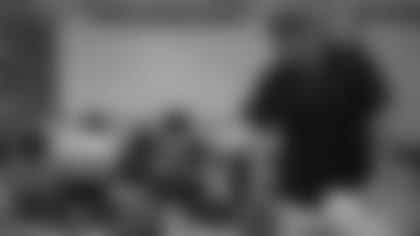 Shaun O'Hara helps a student calculate his heart rate after performing physical activity during a visit in Hillsborough, NJ.
O'Hara returned home to Hillsborough, NJ, where he visited students from the Auten Road Intermediate School. During his visit, he taught an activity-based math lesson out of the Giants' "What Moves U" curriculum. The lesson educated the students on how heart rates increase during physical activity, and the subsequent benefits for the body. He also spoke during an assembly for whole school where he shared some good advice;
"I'm not here to tell you that video games, television and the computer are bad," said O'Hara. "I am telling you that those things are best when you enjoy them in moderation. Instead of sitting down and watching television until your parents make you turn it off, plan to watch just your favorite show, or play just thirty minutes of your favorite video game, and make sure that you leave enough time to play with your friends and get your school work done."
Antonio Pierce visited School #6 in Cliffside Park, on "Get Moving with Antonio Pierce Night." The event was hosted by the Cliffside Park Free Public Library and was open to all of the neighborhood's kids. Antonio spoke to the kids about his childhood, recalling that he didn't spend much time indoors. "I'm obviously a professional athlete now, but I wasn't playing sports as a child with that as my goal," said Pierce. "I was involved sports because I loved playing with my friends and competing. It didn't matter which game it was, I played them all." Antonio also shared tips on healthy eating with the students and spoke to the many youth football players who were in attendance about game day preparation, and the role of nutrition in athletic performance.
Antonio Pierce hangs out with youth football athletes in Cliffside Park after encouraging them to enjoy play every day.
Established as a day focused entirely on active play and getting kids away from their TV, WWDP aligns perfectly with NFL Play 60: The NFL Movement for an Active Generation, a campaign aimed at getting children active for at least 60 minutes a day. During its past three Worldwide Days of Play, Nickelodeon has gone dark to encourage kids to get up, get out and get active, and more than 1 million kids have participated in almost 4,000 events worldwide.
This year, the NFL has served as a key partner for Nickelodeon's 'Let's Just Play' campaign. The  two came together to support the initiative with on air "Work out Like a Pro" fitness vignettes  which aired during Nickelodeon's Let's Just Play Go Healthy Challenge series.  The final "Workout Like a Pro segment will be included in the finale of the series, taking place Saturday, September 29, 6 p.m. ET/PT, once Nickelodeon resumes programming.  Other elements of the partnership include an online NFL/Nickelodeon youth fitness micro site, a magazine feature article, and in-stadium grassroots events supporting World Wide Day of Play. For more information on Nickelodeon and its pro-social efforts, visit www.nick.com/letsjustplay
The New York Giants are proud to join the NFL, American Heart Association and the New Jersey Education Association in the fight against childhood obesity. In the fall of 2006, the New York Giants launched the What Moves U program in New Jersey, New York and Connecticut schools, making the promotion of physical activity their priority in the community.
For more information on what the Giants are doing in your community, please visit www.giants.com.