EAST RUTHERFORD, NJ - As he terrorized one opponent after another during the Giants' four games in October, Osi Umenyiora looked like one of the very best defensive players in the NFL.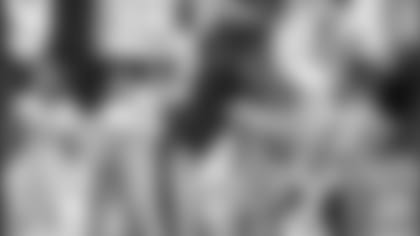 The league obviously agreed, because Umenyiora today was named the NFC Defensive Player of the Month.
In four games last month – all Giants victories – Umenyiora had 18 tackles (10 solo), including 7.0 sacks and six forced fumbles. Umenyiora had three consecutive multiple-sack games in October: he had 3.0 sacks vs. Chicago, 2.0 at Houston and 2.0 vs. Detroit. Prior to that stretch, the two-time Pro Bowler had never had multiple sacks in back-to-back games.
He also forced two fumbles in each of those three games.
Umenyiora is tied for second in the NFL with 8.0 sacks and he leads the league with seven forced fumbles.
Umenyiora is the first Giant to win a Player of the Month award since November 2008, when Eli Manning was honored as the NFC Offensive Player of the Month.
He is the first Giants defender to receive the award in nine years. Defensive end Michael Strahan, a close friend and mentor to Umenyiora, was named in October 2001, the year he set the NFL single-season sack record with 22.5
Since the Player of the Month awards were instituted in 1986, a Giants defensive player has been honored six times: Hall of Famer Lawrence Taylor in October 1986 and September 1989, cornerback Jason Sehorn in December 1997, linebacker Jessie Armstead in October 1999, Strahan and now Umenyiora.