EAST RUTHERFORD, NJ - Most of the Giants players who underwent surgery in the last year have made enough progress to participate in the organized team activities that began this week.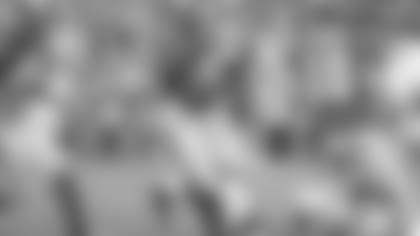 The list includes running back Andre Brown and defensive tackle Jay Alford, both of whom were hurt last August. Brown, then a rookie running back, ruptured his Achilles tendon in a training camp practice on Aug. 14. Alford, a defensive tackle, tore knee ligaments in a preseason game at Chicago eight days later.
Also participating in the OTAs are running back Brandon Jacobs (knee surgery), defensive end Justin Tuck (shoulder), fullback Madison Hedgecock (shoulder), center Shaun O'Hara (elbow), guard Rich Seubert (shoulder), wide receiver Mario Manningham (shoulder) and linebacker Gerris Wilkinson (wrist).
Several other players who underwent surgery continue to rehabilitate. They include safety Kenny Phillips (knee), running back Ahmad Bradshaw (both feet and one ankle), wide receiver Hakeem Nicks (wrist/toe) and defensive tackle Rocky Bernard (shoulder). Bradshaw and Nicks are both expected to return to the practice field within the next two weeks.
*Backup offensive lineman Kevin Boothe tore a pectoral muscle while working out earlier this week and is scheduled to undergo surgery on Tuesday. Team physician Dr. Russell Warren of Hospital for Special Surgery (HSS) will perform the procedure, which will keep Boothe sidelined for approximately four months.
*Tight end Kevin Boss is scheduled to undergo an arthroscopic procedure to debride his right ankle on Monday. Recovery time for the procedure, which will be performed by Dr. Martin O'Malley of HSS, is 4-6 weeks.
If you'd like to submit a question or comment to Michael, click here.