EAST RUTHERFORD, NJ - Sinorice Moss' fifth Giants training camp feels a lot like the first four.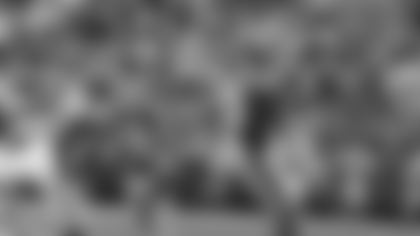 Well, perhaps we should exclude his first camp in 2006, when he missed virtually every practice with a quad injury. That was a precursor to a rookie season in which he played just six games and caught only five passes.
Moss has since fought for his roster spot in every camp. By now, it's a well-established pattern. The Giants draft a highly-touted receiver - Steve Smith in 2007, Mario Manningham in 2008 or Hakeem Nicks and Ramses Barden in 2009 – which seemingly puts Moss in danger of being released. Then Moss has an impressive training camp and contributes during the preseason. But once the regular season begins he…disappears.
The storyline entered a new chapter this summer. With the aforementioned foursome, plus veteran Derek Hagan and some intriguing rookie free agents, Moss' job security seemed threatened. But he has probably caught more passes than anyone in the first week of camp. Moss has forced himself back into the mix, both as a receiver and a returner, where he could replace the injured Domenik Hixon bringing back punts and kickoffs.
And that's no surprise to Moss.
"It seems like every year since I've been here they've pretty much written me off as being the odd man out," Moss said today. "I mean, it's true. It's things that I've seen, the things that I've read since I've been here, I've kind of been the odd man out. That's definitely fuel for me, because I know what I can bring to this team with the opportunity given to myself. I know the work that I put in each and every year.
"I kept a positive attitude and I came to work every day, and me coming to work is preparing me to go out here and make plays and help this team the best way I can. My attitude has been the same since '06, since I first got here. To just compete and to try to be consistent and make plays."
Moss has always done that on the fields at the University at Albany and in preseason games. In the three preseasons from 2007-09, he caught 14 passes for 161 yards and three touchdowns. But he has been unable to transfer that production to the regular season, when he has also scored three touchdowns – in 37 games. His career totals include 39 catches for 421 yards (10.8-yard average). In 2009, he had just one reception, an 18-yard touchdown at Tampa Bay on Sept. 27.
Why hasn't he posted better numbers in the regular season?
"Honestly, I do feel like it's been a lack of opportunity," he said. "I've made the best out of every opportunity. So I'm sure this year will be a lot more opportunity for me to do a lot of things and I'm just looking forward to just helping my team out."
Much more was expected of Moss when he joined the Giants as a second-round draft choice. He was, after all, the 44th overall selection of the 2006 NFL Draft. Moss was one of the nation's best receivers at the University of Miami, where he caught 63 passes for 1,046 yards (a 16.6-yard average) and eight touchdowns.
He expected to be similarly productive in the NFL. But Moss has never played more than 13 games in a season. He's never caught more than 21 passes or produced more than 225 yards. His longest professional reception is 27 yards.
"I definitely do get frustrated," Moss said. "But I use that on the field. I go and I work harder and I go and do things. You know, I stay after. I study longer. I do the things that will better me."
Moss spent as much time in the Timex Performance Center during the offseason as any Giants player. He lifted weights, improved his conditioning and watched tape.
"I can always go home (to Miami)," he said. "I just wanted to be around. I just wanted to be there. I wanted to work out. I wanted to watch film. I wanted to do the things necessary to better myself for the season. So that's why I prefer to stay in New Jersey."
Perhaps this is the season all the hard work pays off. Domenik Hixon, the Giants' primary kickoff and punt returner, is out for the season with a knee injury suffered in minicamp. Moss has also worked at those positions and has caught the attention of Tom Coughlin this week.
"He worked real well in the spring," Coughlin said. "He's taken advantage of his opportunities here. He's volunteered for pretty much everything, kickoff return, punt return. Consistency. The ability to make the big play, he's in a big play position. That's got to happen for us. He's worked hard. He's worked very hard and he's got a great attitude, as always. We're all rooting for him."
In 2009, Moss was second on the team to Hixon in both punt returns (11 for 74 yards) and kickoff returns (six for 109 yards). He hopes to field kicks more often this season.
"That's something I would love to do," Moss said. "I had the opportunity to do it two games last year, and I felt extremely comfortable back there. You know, after the second game I had to do it. So I went to coach and I just let him know, 'If you need me, wherever you need me, I'm willing to do it and to contribute to the team.'"
That, Coughlin said, "certainly means an awful lot about the attitude of the guy. The second thing is, now, what are you going to do with it?"
That's the same question everyone keeps asking of Moss. Though he's only 26, Moss and Hagan, each in his fifth season, are the Giants' most senior receivers. Not long ago, Moss was a rookie soaking up advice from Amani Toomer and David Tyree. Now he's dispensing pointers to free agents like Duke Calhoun, Tim Brown and Victor Cruz.
"It has come fast to me and it's always something that I think about," Moss said. "When I first got in here it was Amani Toomer and Plaxico Burress and David Tyree and Tim Carter and those guys helped me. They embraced me when I came in. They didn't look at me as, 'They drafted this young guy to come take a spot.' They looked at me as, 'They drafted this guy to come in and help this team.' They made sure that I knew the things that I needed to know in order to help the team when I got the opportunity. So I look at it in the same way with the young guys that we have. If they need help, it's stuff that I know because I've been around the office. I'm able to communicate with those guys and let them know, do this on this route. Or maybe use this different step in order to get open. So I just always want to help."
But the Giants need Moss to produce more than mentor. Moss knows he must take the next step and be a dependable and productive player in the regular season. Steady production in training camp and highlight receptions in preseason games are fine, but NFL players don't establish legacies in August.
"I approach the season the same way as I did when I first got here," Moss said. "I want to win, I want to contribute and I want to do whatever I can that can bring something to the team. I approach this like I do every year. I just come out here, work hard and make plays for this team."
*Left guard Rich Seubert broke a bone in his left hand in yesterday's late practice. The hand is in a splint and Seubert did not practice today. He will be examined tomorrow by team physician Russ Warren, after which there may be a better indication of a timetable for his return.
Coughlin said Seubert hurt the hand in pass protection.
"There is really nothing to see (on the tape)," Coughlin said. "He gets his hand caught in there and then he goes the next time, too. He just lines up and does it again. Then they came over to tell me he had a broken hand."
Coughlin disputed a suggestion that Seubert could continue playing with a broken hand.
"That is one of the biggest fallacies in the world," Coughlin said. "There was a time when I thought the same thing that you did, 'Oh yeah, broken hand, you just tape it up, put a cast on and you go play with it,' but they don't do that today. If the metacarpal twists, they have to do surgery and put a pin in it and then you could be out for six weeks. They have to be very careful with that. If they go light early, if they just allow that thing to heal a little bit for a couple weeks to the point where they don't think that's the risk and they put a cast on it, then the guy can usually play. The last few times that this has happened, and anything that I have been involved in, they have always done this, so we're not going to let him go right back out."
Guy Whimper took Seubert's place on the first-team line. Whimper also played some right guard.
"The man is everywhere," Coughlin said. "He plays tackle, he plays guard, he's playing a lot of spots."
*Coughlin said he expects safety Kenny Phillips to practice for the first time on Monday. It will be the 2008 first round draft choice's first action on a football field since last Sept. 20 in Dallas. Later that week, he was diagnosed with patella femoral arthritis in his left knee. He underwent surgery and was placed on injured reserve…Center Shaun O'Hara (ankle) is also expected to return Monday.
*The Giants exchanged wide receivers on their roster, signing rookie free agent Nyan Boateng of California and waiving Adam Jennings.
Boateng, 6-1 and 207 pounds, is a native of Brooklyn who attended the Giants' rookie minicamp in May on a tryout basis. He began his collegiate career at the University of Florida, before transferring to California. His career totals include 46 receptions for 707 yards and seven touchdowns. Last season, he caught 13 passes for 191 yards and two scores. Boateng played at Lincoln High School, but missed his senior season in 2004 after suffering an ankle injury. He was born on Feb. 23, 1987.
*Wide receiver Mario Manningham returned to practice after missing two days with a groin injury…The Giants were down to two healthy tight ends (Bear Pascoe and Scott Chandler) for most of practice. Kevin Boss (ankle) and Travis Beckum (hamstring) were not in pads and rookie Jake Ballard strained his hamstring early in the workout.
*Steve Smith left practice early with a groin injury…Offensive lineman Reuben Riley suffered an injury to his MCL on the final play of practice.
*Practice concluded with a live goal line drill. The first and second-team defense kept their offensive counterparts out of the end zone each time. Brandon Jacobs was stopped short of the goal line, prompting a group of defensive coaches, including coordinator Perry Fewell, to join the players on the field in celebration.
"You have to give the defense credit," Coughlin said. "They did a nice job. Usually, I think that it's a downhill offensive drill, but the defense played it well."
*Unusual play of the day: A high Zak DeOssie snap bounced off punter Matt Dodge – and right into the hands of Jeff Feagles, who is here mentoring the rookie. No, Feagles did not kick the ball.
*Tickets are available for the first Giants Kickoff Luncheon to be held in the New Meadowlands Stadium. The charitable event will be held on Wednesday, September 1, 2010 from noon to 2 p.m. in the Gridiron Club, located between the Pepsi and Verizon gates at the New Meadowlands Stadium.
In addition to introducing the 2010 Giants, the team will honor Amani Toomer with the Giants Alumni Man of the Year Award.
Hackensack University Medical Center and the Giants have begun a partnership that gives fans a unique opportunity to support one of the nation's healthcare leaders while showing support for New York's favorite team. All proceeds from the luncheon and raffle will be donated to a very special program: the Touchdown Fund: Score for Kids, Cardiac and Cancer launched earlier this year by the Medical Center and the Giants and focusing on three core areas of healthcare.
Giants fans can join Head Coach Tom Coughlin and the entire team and the raffle will include a grand prize trip to Super Bowl XLV in Dallas (including round trip airfare and hotel accommodations for four nights).
For more information, call 201-996-3722.
*This afternoon's attendance of 4,150 raised the camp's five-day total to 12,355.
--- ](http://www.nyg2010.com/)**
If you'd like to submit a question or comment to Michael, click here.