*The Giants broke a two-game losing streak and improved to 6-9 with a 1 p.m. home game next week against Washington remaining on their schedule.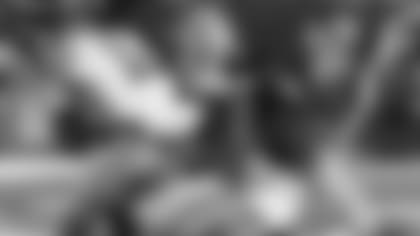 Giants.com's Five Impact Players *This was the Giants' first regular-season overtime game since Nov. 22, 2009, when they defeated the Atlanta Falcons in Giants Stadium, 34-31. The Giants won the 2011 NFC Championship Game in San Francisco in overtime, 20-17. They have won their last six regular-season overtimes games beginning with a 26-23 victory over Philadelphia on Dec. 11, 2005. The Giants' last overtime loss was on Nov. 27, 2005 in Seattle, 24-21. Overall, the Giants are 19-14-2 in regular-season overtime games since they were first played in 1974. They are 11-5-2 on the road and 8-9 at home.
*Tom Coughlin is 8-4 in regular-season overtime games, including 6-2 with the Giants.
*The Giants improved to 11-6 under Coughlin in regular-season games played indoors. They are 29-18 in regular-season dome games since playing their first one in New Orleans in 1978. The Giants were 1-1 under domes this season, losing at Dallas on Sept. 8. They are 7-1 in indoor games in Detroit; they were 4-1 in the Silverdome and are 3-0 in Ford Field, including two victories over the Lions and another over the Minnesota Vikings in 2010.
*The Giants have won their last five games in Detroit in 1988, '96, '97, '2007 and Sunday. *The Giants finished 3-1 vs. the NFC North, defeating Minnesota, Green Bay and Detroit and losing to Chicago.
*The Giants led at halftime, 13-3. It was the fourth time this season they did not allow an offensive touchdown in the first half (also vs. Minnesota on Oct. 21, at Philadelphia on Oct. 27 and vs. Green Bay on Nov. 17).
*The Giants rushed for 41 yards, their third-lowest total of the season (23 vs. Denver on Sept. 15, 25 last week vs. Seattle).
*Detroit rushed for 148 yards, the second-highest total allowed by the Giants this season; Carolina ran for 194 yards on Sept. 22.
*For a long time, it appeared the Giants would play their first turnover-free game of the season. But Eli Manning was intercepted by safety Glover Quin with 23 seconds remaining in the fourth quarter. Andre Brown then lost a fumble on the Giants' next possession, their first in overtime. If the Giants commit a turnover next week vs. Washington, they will finish with at least one in every game for the first time since 2007.
*The Lions cut their deficit to 13-12 when Nick Fairley sacked Manning in the end zone for a safety with 1:01 remaining in the third quarter. It was the first safety for a Giants opponent since Oct. 9, 2011, when Seattle's Anthony Hargrove tackled running back D.J. Ware in the end zone.
*The Giants improved to 9-16 since 1990 against teams that played the previous Monday night. *Manning completed 23 of 42 passes for 256 yards, a 20-yard touchdown to Jerrel Jernigan and an interception. The 42 attempts is his highest total since he threw 52 passes vs. Philadelphia on Oct. 6. His 23 completions are the most since he completed 25 passes vs. Green Bay on Nov. 17.
*Manning's interception was his 26th of the season, a new franchise record. He had shared the mark of 25 with Frank Filchock (1946) and Charlie Conerly (1953). *
This is the 25th time Manning has led the Giants on a game-winning drive, which the Elias Sports Bureau defines as a victory in which a quarterback rallies his team from a fourth-quarter deficit or tie. Manning ranks fifth among active quarterbacks, behind Peyton Manning (50), Tom Brady (35), Drew Brees (31) and Ben Roethlisberger (29).
*Manning is 3-0 vs. Detroit, having completed 71 of 111 passes (64.0 percent) for 716 yards, four touchdowns and one interception.
*With Victor Cruz sidelined after undergoing arthroscopic knee surgery last week, Jernigan led the Giants with six receptions for a career-high 80 yards. The touchdown was the first of his three-year career. Jernigan also caught a 15-yard pass on fourth-and-seven to keep alive the Giants' game-winning drive.
*Josh Brown scored the game-winning points on a 45-yard field goal with 7:28 elapsed in overtime. It was his third field goal of the game; he also kicked three-pointers of 41 and 52 yards. *The 45-yarder was Brown's ninth career game-winning field goal (those that gave his team the lead for good in the final two minutes of the fourth quarter or overtime). His last such kick was a year ago, on Dec, 23, 2012, when his 43-yarder with four seconds left gave Cincinnati a 13-10 victory over Pittsburgh.
*Brown's 52-yarder was not only his longest field goal, but his longest attempt of the season. His previous long try and success was a 46-yarder at Philadelphia on Oct. 27. It was Brown's 30th career field goal of 50 or more yards (on 46 attempts), but just his second in the last four seasons. The 52-yard field goal was the longest by a Giants kicker since Lawrence Tynes kicked a 53-yarder at Dallas on Oct. 25, 2010. It was the first 50-yarder by a Giant since Tynes kicked a 50-yard field goal vs. Pittsburgh on Nov. 4, 2012.
*Safety Will Hill tied the game at 20-20 when he intercepted a Matthew Stafford pass and returned it 38 yards for a touchdown with 4:57 remaining in the fourth quarter. It was the Giants' second defensive touchdown this season; Jason Pierre-Paul returned an interception 24 yards for a touchdown vs. Green Bay on Nov. 17.
*Defensive end Justin Tuck intercepted a Stafford pass with 47 seconds remaining in the second quarter, a takeaway that led to Brown's 52-yard field goal. It was his second career interception and first since Sept. 14, 2008 at St. Louis, a pick he returned 41 yards for a touchdown.
*Mathias Kiwanuka had both of the Giants' sacks, raising his season total to 6.0, which is second on the team to Tuck's 9.0. Kiwanuka has 36.0 career sacks, tying him with Carl Banks for eighth place on the team's official career list.
*Tight end Bear Pascoe had his first career rushing attempt, a two-yarder on the game-winning drive in overtime. "The last time I carried the ball was back in the early 2000s and I was playing quarterback for Granite Hills High School (in California)," Pascoe said. "We would run the triple veer, so that was the last time I carried the ball." Although Pascoe has often lined up at fullback in his five Giants seasons, he was the running back on the play in which he took a handoff from Eli Manning. "I was thinking they were going to send somebody in from the sideline real quick," Pascoe said. "But we were in such a hurry-up, Eli just turned around and said, 'Hey, run it right there.' My main thought was don't lose the ball, just get it and get as much as we can." Three plays later, Brown kicked the game-winning field goal.
*Rookie Michael Cox opened the overtime with a 56-yard kickoff return. It was his only return of the game; David Akers' first four kickoffs all went for touchbacks. "When they were kicking it I thought it was just going to be really deep, because all of the kicks were way out of the end zone," Cox said. "But I thought, 'I might actually have a chance to bring this one out,' so I just got it and went. I said, 'You know what, I'm going to take this out, try to make a play.' It ended up working out." Cox's 56-yarder was the Giants' longest kickoff return since David Wilson's 97-yard runback for a touchdown vs. New Orleans on Dec. 9, 2012. The Giants' previous long return this season was a 46-yarder by Jernigan. Cox's longest return had been 30 yards.
*Cox also gained a yard on two carries, his first rushing attempts since Oct. 27 at Philadelphia. *Instead of staying in his customary spot at right cornerback, Prince Amukamara covered Detroit's three-time Pro Bowl receiver, Calvin Johnson, no matter where he lined up. Johnson, who has a sore knee and was frequently off the field, caught only three passes for 43 yards.
*Rueben Randle started for the third time this season at wide receiver for Cruz. Randle had four receptions for 40 yards, including a 26-yarder on the game-winning drive in overtime.
*Wide receiver Julien Talley, who was signed off the practice squad on Tuesday, made his NFL debut on special teams and as a slot receiver, though he was not targeted on any throws.
*Brandon Mosley made his first career start at right guard for David Diehl, who was inactive with a knee injury suffered last week vs. Seattle. But Mosley broke his right hand and was carted to the locker room with 3:43 remaining in the first quarter. He returned to the sideline in uniform with a cast on his hand, but never re-entered the game. Mosley was replaced by Dallas Reynolds, who was signed to the roster for the second time on Oct. 24 and made his Giants' debut last week. Mosley, who spent his 2012 rookie season on injured reserve, played in 12 of the first 14 games, mostly on special teams and as an extra lineman/eligible receiver.
*Diehl had started the previous 10 games at right guard. He sat out the first four games of the season after undergoing thumb surgery on Aug. 21. This was just the 12th game Diehl has missed in his 11-year career.
*Tight end Adrien Robinson was in uniform for the first time this season and just the third time in his two-year career. Robinson, who suffered a lingering foot injury in the offseason, suffered a knee sprain on the opening kickoff and was soon transported to the locker room on a cart. With 3:49 remaining in the first quarter, he was declared out of the game.
*In addition to Cruz and Diehl, the Giants' inactive players were defensive end Jason Pierre-Paul (shoulder), running back Peyton Hillis (concussion), safety Cooper Taylor (hamstring), linebacker Allen Bradford and quarterback Ryan Nassib.
*Tom Coughlin won a replay challenge with 6:11 remaining in the first quarter. On third-and-10, Manning rolled right and threw to Jernigan on the right sideline. Jernigan caught the ball, but the officials ruled he did not get his feet down inbounds before stepping out. Coughlin challenged the ruling, claiming it was a legal catch. After review, referee Jerome Boger reversed the call, saying Jernigan did get his feet down before stepping out of bounds. Coughlin is 3-1 this season, 37-42 with the Giants and 47-51 in his career on replay challenges.**CLICK HERE FOR GIANTS.COM'S FIVE IMPACT PLAYERS >>**