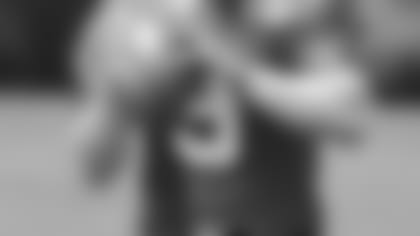 What did you first think of when you found out you were drafted by the New York Giants?
QB Ryan Nassib: Eli Manning and coach [Tom] Coughlin. He's a Syracuse guy, and Eli's the face of the organization, starting quarterback, two-time winning Super Bowl champ.
What did you know about Tom Coughlin?
Nassib: I think of him on the sideline just from game day just from seeing him on TV and stuff – that very stern look. He really means business, and he's a great coach from what I hear. I love him so far and look forward to working with him.
Who were the greatest influences in your football career that got you to this point?
Nassib: My biggest influence was probably my father just because he played in college and he knew and he saw that I really was passionate about the game. And he did everything he could to make sure that I got the best I could be and always pushed me in a good way.
If you could model your career after any player – current or former – who would it be, and why?
Nassib: Wow, that's a good one. Quarterback, I guess I would have to say…Joe Montana. In college, we studied a lot of his tape because my coach had worked with him, and he was 'Cool Joe.'