EAST RUTHERFORD, N.J. – Curtis Painter is the only NFL player to spend time in an NFL quarterbacks meeting room with Peyton and Eli Manning. He was Peyton's teammate for three seasons with the Indianapolis Colts (2009-2011). Now he's in the Giants' training camp, trying to earn a spot on the roster as Eli's backup.
But he's traveling on a bumpy road. Painter didn't play in the NFL last season after being released by the Baltimore Ravens at the end of training camp. Manning is as secure as any starter in the league, David Carr is vying to be his backup for the fifth time in six seasons and Ryan Nassib is a promising rookie selected on the fourth round of the draft.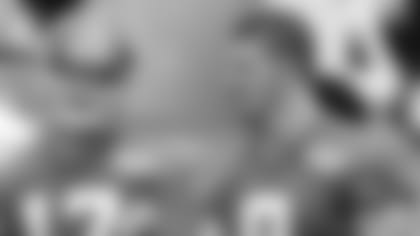 PHOTOS: PRACTICE GALLERY](http://www.giants.com/photos/photos/Giants-Training-Camp-Practice---730/19f765f5-25ec-4322-94a6-379a51ec4402) If Painter is the final entry in a four-man competition, he's hardly worried. He's well aware a lot of knowledgeable observers expected he wouldn't get this far, especially after the Giants traded up to select Nassib. But he played well enough in the spring to merit a further opportunity in training camp and the preseason.
"I look at it as, everywhere you go, there's going to be a handful of quarterbacks, some that you have to beat out or some that beat you out, whatever the case is," Painter said. "So I really don't worry about those outside factors. I know people might think it's hard to look past it, but I really don't pay any attention to it. We're glad to have (Nassib), he's a great player. I think he makes our quarterback room better. That's how I look at it."
Manning is going nowhere and the popular assumption is the Giants can't waive Nassib, because another team would surely claim him. That seems to leave Carr and Painter battling for the No. 2 spot. The coaches are scrutinizing them in practice and each will get an opportunity to play in August. Officially, the best man will win.
Painter insists it's not a cutthroat contest.
"One thing that I've kind of noticed across the NFL, from team to team, is, at least in the quarterback rooms, I've never really gotten a feel for a huge competition," Painter said. "It's not one guy really trying to beat out the next guy. Everybody's helping each other. Eli's talking to us, we're talking to Eli, same with David and Ryan. We have a pretty good communication going on in our room. It's just really a matter of helping guys out to make the team better and whatever happens as far as depth chart, the coaches and the other people handle that. We're just all here to learn and get better, individually and that will take care of helping the team out."
Carr agrees that his battle with Painter is anything but cutthroat.
"I'm not going out trying to be rude to anyone or steal anyone's reps," Carr said. "I'm just going out trying to be the best player I can be. Whatever happens, it's out of my hands. It's in God's hands. Coach (Tom) Coughlin's going to make a decision based on what he thinks is best for his team. He knows what I am as a player. He's seen me for half a decade, so he kind of knows what I'm about. We'll go out there and play our best football and see what happens."
Although Sage Rosenfels was briefly in camp two years ago, Carr has pretty much been unopposed as Manning's backup since he arrived here in 2008 (he spent the 2010 season in San Francisco). Now he not only has another veteran, but a highly-regarded rookie to compete with.
"We all have different personalities, but Curtis is great," Carr said. "He's just doing what we're all doing in there, just trying to do our job, not let anything bother us. We have a good room, it's actually kind of nice. We get in there, mostly it's (quarterbacks coach) Sean (Ryan), Eli and myself talking about the offense. But the guys are very receptive. There's nothing negative in that room right now."
Painter is accustomed to being in challenging situations. He was the Colts' sixth-round draft choice from Purdue in 2009, the year Indianapolis lost the Super Bowl to New Orleans and Peyton Manning was in the midst of starting 208 consecutive regular-season games, the second-longest streak by a quarterback in NFL history. Painter played in two games as a rookie and none in 2010.
Manning missed the entire following season after undergoing neck surgery. Indianapolis lost its first 13 games, including eight started by Painter. He did not start their victories in a 2-14 season.
"It was tough, obviously," Painter said. "But what I take out of it is I got a ton of experience, I got to play in a lot of games, I think we did some really good things and it just didn't show up on the scoreboard. There were a lot of games we were pretty close and we just missed it by a hair. Again, of any kind of negative situation, I always try to take something positive, and the experience I got meant a lot. There really is no replication of game-type speed."
Painter led the Ravens with six touchdown passes in the 2012 preseason but was released on Aug. 31. He sat out the season before the Giants signed him on Jan. 3, giving him an opportunity to work with a second Manning.
"They're very similar," Painter said. "Their football knowledge is so special to be around, just hearing them talk about different things and what they see is really neat to be around. It's a great opportunity for me to be able to learn from those guys. Just sitting in meetings with them you can tell they're extremely bright in their football sense. It was a good opportunity with Peyton, it's a great opportunity with Eli as well.
"One thing I noticed about Peyton was, if you saw him in the weight room or you saw him working out with receivers, you didn't know if it was midseason or the first week of the offseason. He approaches his football and his game 100 percent every time he's doing it. There's no side-stepping anything. From what I've seen in Eli, it's very similar. He works out hard, practices hard, he's always focused out there and in meetings. I'm sure they have very similar personalities."