RB Saquon Barkley
Q: What are you thinking about this weekend?
A: I think the Vikings are a great team, definitely on the defensive side of the ball. They are coming off a loss, so they're definitely looking for a win. We have to go out there and do what we can to get another win.
Q: Physically, how are you feeling? You've been out there, we saw you running, cutting, jumping, how's the ankle holding up?
A: It just feels good to be out there with my teammates. I think we've been having a great week of practice, we just have to continue to get better. We've got one more day to attack it on the field to prepare ourselves the best for the Vikings.
Q: 11 days after you got hurt— are you feeling better, worse, the same, are you encouraged?
A: My mindset is not going to change. From the day I got hurt, I wasn't going to allow myself to take a negative approach to it. I'm a big believer with healing, a lot of it is mental, also. (I'm) just trusting the trainers, and I think they've been doing a great job. Not only my trainers here, but my physical therapist, outside of football, is doing a great job with me, too. I'm just trying to do whatever I can to help my team win games. Just trying to get as ready as I can.
Q: What was the timeframe you were given at first?
A: I don't know. I never really was given a timeframe. It was kind of, I guess, 6-8 weeks. But I think everybody is different, but everybody has different opinions.
Q: How close do you think you are?
A: Like I said, I'm just happy to be back out there with my teammates. Go out there and just go get back on the field. Like I said, one more day, Friday, to get on the field to get ready for the Vikings.
Q: You're a competitor and you want to be out there. How do you balance being patient with your injury and letting yourself heal properly versus getting out there as quickly as possible?
A: Yeah, I'm a competitor and definitely want to be out there for my team. But when you say team, it's not just only in this building or on the football field. I have to trust my team in there, I think we have some of the best, if not the best, training staff starting with (Senior Vice President of Medical Services) Ronnie Barnes all of the way down. I'll just continue to listen to them, have faith in them, and continue to do what I can to help my team win games whenever I'm able to come back.
Q: Are you surprised with how quickly you've been able to get back on the field? You were on crutches in Tampa, obviously going through a lot of pain, and you've been through this injury before. Does it surprise you with how quickly you've been able to do this much?
A: I don't know, is it surprising to you all? For me personally, like I said, I feel like a lot of it is mental and how you approach it. I told you guys that the same way I attack the field (and) the same way I attack the weight room, I'm going to attack the training room and attack recovering and rehab. I think I've been doing that.
Q: Do you just have a high tolerance for pain or are you actually healing quicker than normal?
A: I think you posted a video and it said, "wow," or "how" when I made a cut. I think if you're able to make a cut like that, I don't think that's pain.
A: Do I? I don't know. I think you tagged me in it— or someone sent it to me.
Q: When you went to Wisconsin for the second opinion, was that looking for better news? Was that to give you something to get back quicker? Obviously, you are entitled to get a second opinion, but what were you hoping to hear there?
A: I was hoping to hear what they believed I should've done. I think those are two great doctors with Dr. Anderson and Dr. O'Malley—two of the best at what they do. So, why not if you have the opportunity. If it's with job advice or business advice, if you can go to two of the best people in the world, why not go to both of them and get their advice. You kind of take it in, take it for what it was, incorporate it how you want to incorporate it, and make your own decision.
Q: The advice was the same? They were both pretty much in concert with what's going on with you now?
A: I wouldn't say the advice was the same, but one saw me a little bit earlier than the other. I think he probably got to see two different types of ankles at that point.
Q: Did you do basically the same today as you did yesterday working on the side with the trainers? Did you amp it up a little bit?
A: I got to do a little bit more. It felt good. I got to open up and run full speed and cut a little bit more. Like I said, just focused on the Vikings and focusing on tomorrow and attacking tomorrow. It's the last day on the field we technically have to prepare for a very great team and try to find a way to get three in a row. We have a good thing going and we have to continue to keep it going.
Q: Do you feel like you'd need to be in that practice on Friday in order to play on Sunday? Or could you just rehab up until gameday and give it a shot?
A: I feel like I need to do whatever helps the team win. Whatever they would like me to do. Like I said, I know how I personally feel. I love having the team mindset that I have on the field, but it's not just on the field football, it's off the field, too. Like I keep saying, we have a great team, and a great staff, and I'm going to continue to trust them and I know they are going to put me in the right position.
Q: How similar is this to the Penn State ankle injury you had?
A: Both high ankle sprains.
Q: What if the team doctor said they think it's best to sit out this game and then look at Thursday. Are you going to fight that, or will you accept what they recommend?
A: I wouldn't say I'm going to fight it. I keep saying, we have a great team on the field and great coaches on the field, and we have a great team off the field. I trust their decision. They've been doing a great job for me with rehab, just being honest and just being open with me. Whatever they would like me to do, I'm willing to do. I'm always a competitor and I'm always going to do whatever it takes to help my team win. If they feel like that's not this Sunday, then it's not this Sunday.
Q: If you go on the field when you're not yourself, is there a concern that you might be able to play, but you could do damage and then you could really set yourself back?
A: What's damaging? I think that's a question that's going to come up whenever you guys see me when I'm on the field. Because everyone said I was supposed to be out 6-8 weeks, and now I'm back quicker. The question is going to be, is it a concern. I mean, a lot of it's football. I think if you go back and look at my injury, I don't care how strong of an ankle I have, how much I lift, how much I run, how much I condition, I just got hit in a bad spot and that's why I had a sprain. That happens, that's part of the nature of football. If I'm worried about that, I should give up football. I don't plan on giving up football anytime soon. To be honest, the way that I train and the way that I operate, it probably should've been way worse than what it actually was. (There are) not any concerns of going back out there and re-injuring that. I think when you have that mindset, that's how you get injured again. So, for me, just go out there and do whatever it takes to help my team win. Try to be vocal on the sidelines, whether I'm on or off the field, in practice, in meetings, helping (Jon) Hilliman, helping Wayne (Gallman) and all of the guys, doing whatever it takes.
S Jabrill Peppers
Q: You are now listed as the top punt returner. After getting the ball in your hands and scoring last week, how much are you itching to do that again with that opportunity now?
A: Any way I can have an impact on the game, I'm going to try to do my due diligence to make sure I impact the game. So, just like I told you guys last week, I'm not going to press the issue, I'm going to wait for my pitch to hit, and protect the ball and do what I've got to do to help this team.
Q: They've god a lot of good skill position players—receivers, running backs—is there a priority for your defense of which to try to shut down first?
A: Stop what they do well and react to everything else.
Q: You guys made a change last week where Rabbit (Janoris Jenkins) stayed on one side of the field and DeAndre Baker stayed on one side of the field, rather than Rabbit following one receiver around. How do you think that helped things in the secondary?
A: Personally, those guys are both qualified, so I think it was more so, like I said, the attention to detail and us just going out there and executing. That's really it.
Q: There's some frustration on the Vikings' side right now with their passing attack, receivers aren't happy. Can you use that to your advantage as far as being aggressive and attacking, knowing they're kind of already there mentally?
A: Well, we know they're going to take some shots this week. Kirk (Cousins) has already apologized to those guys, so we know he's going to look to get them the ball more. So, we definitely know we have a tall task ahead of us, especially with Dalvin Cook, who's one of the best backs in the league right now, running the way he's running, and it's opening up their bootleg game and play-action pass. So, we definitely have to be on our keys, lock in, alignment and assignment, and just execute the game plan, that's all it comes down to.
Q: I like that you know what's going on over there—does that help when you're paying attention and not just watching film here.
A: Yeah, you've got to. You've got to pay attention to everything.
Q: Some guys would say it doesn't matter and we've just got to watch the film--
A: At the end of the day, it doesn't matter, but you have to know what to expect. He knows he has playmakers, they've voiced their opinions, and he's going to try to get his playmakers the ball. I don't think that's worrying too much or anything like that, but that's just the reality of the situation.
Q: What do you like about the setup where you have three safeties on the field there and you're playing that linebacker role?
A: They can't really account for who's who, what position I'm playing or Mike (Thomas) is playing, or whoever the third safety is—whether it's Sean (Chandler), Grant (Haley), Julian (Love). I think it helps pre-snap and post-snap, the disguises, it makes the read a little muddy for the quarterback. But Kirk's been doing this a while, so we definitely have to mix up the looks a bit, but I think that's the main thing I like about it.
Offensive Coordinator Mike Shula
Q: How do you coach Daniel (Jones) to face a defense like this, that's going to bring a lot of pressure and is really good at all three levels?
A: Yeah, they're really good. You try to coach him like you do every other week. We all want to be aware of the kind of defense we're facing. They're talented across the board. They have a really good scheme. They feed off of mistakes made by the offense. As most defenses are, they're even better in long yardage. I think the biggest thing, the point of emphasis, is getting the ball out on time, making good decisions, don't think you have to make big plays and don't think you have to win the game on every play. We talk about, as we do every week, staying ahead of the chains, so to speak. Staying out of those long yardage situations. Now that he has a couple of weeks under his belt, teams are getting a little feel for what he's like, so we just have to make sure we stay on course with the task at hand.
Q: There was a little adversity in the last game, throwing a pair of interceptions. How did he handle that and what was the process like?
A: Again, I hate to sound like a broken record, but he's the same. He's obviously a competitor. He doesn't want that stuff to happen. I told Coach (Shurmur) after the game, (Jones) was more upset about a throw that he completed that could have been thrown out there in front a little bit more than he was with those interceptions. I mean that in a good way. I think that he didn't let those things bother him. He just kind of kept focused on the next drive. For any quarterback, it's tough. But especially for a young guy, just to make sure you keep moving forward. He's quiet, as you guys know, but he's driven and just wants to get back out there and go play.
Q: What did you attribute the interceptions to? Was it him being late, him not seeing the defender, was he confused with the coverage?
A: No, those guys made good plays. The same guy made two good plays on it. He fell off a coverage, like Coach talked about earlier, and he was covering the post, saw the ball thrown, fell off and made a good play. It was a really good throw. I think all of us kind of thought that it was going to be a completion. Then the corner came off. It was a good play by them. The other one maybe could have been a little bit more out in front, but again, it was a really good play. You just kind of talk about that, whether or not it's scheme or technique or whatever, and then you move on, go and you forget about it.
Q: When you mention the play that he was upset about, the completion, did that have the potential to be a big play?
A: No, it would have gotten a few more yards. I think that he was mad at himself in that regard. He's the one that brought it up.
Q: This will be the first time you have Golden (Tate) and (Sterling) Shep together on the field. Do you envision them all rotating through different spots, or one guy being in the slot more, one guy being X, Y, Z, whatever? How do you anticipate that working?
A: Probably a little of the former. We'll see how it goes. But they are interchangeable. Whether or not we just keep Shep in one spot now or Golden, the good thing is that both of them can play in several spots, and I think that helps us for a lot of reasons. They're smart, they have a good feel for our offense, and they have good speed and quickness.
Q: Usually when a guy misses time, it's because of an injury. When you look at Golden, he was here all summer. Then he takes four weeks away from the team. Now he comes back. Do you look at him and you can just plug him right in, give him a lot of snaps and just go? Because he's certainly healthy.
A: Maybe not every snap of the game, but I think Golden is a professional. He understands that he's missed some time and he has to get caught up. But he's also in pretty good shape based on the last few days of practice. I think we will monitor that, though.
Q: The touchdown pass to (Wayne) Gallman, what number read was that? Fifth?
A: You're not really supposed to say that, because you really don't get through five. But the read was front side. We had three receivers out to the front side, and there was another guy kind of trying to clear for us but basically got through it. They went to a zone coverage, and we had a route that's okay against zone but a little bit better against man. First of all, the offensive line did a great job on the protection. He just got through his read and found the outlet to the opposite side of where we were throwing it.
Q: For a guy starting his second game, how far along is that particular play?
A: It's pretty good. But consistency… Obviously, there were some other plays where he could have been better at. But yeah, that play right there was pretty good. Again, the offensive line helped us on that a lot.
Q: Is there any read to the right for him at all on that play?
A: On that one? Not as a starting point, no. Not on that play.
Q: Did not having Golden Tate restrict what you were able to do for the first four weeks? That's a pretty good receiver that you were initially counting on.
A: I wouldn't say necessarily restrict scheme-wise. I think you miss a player of his talent. As we know, we haven't really seen it because he hasn't been with us yet in a regular season game. I think our receivers and Tyke Tolbert, our receivers coach, have done a wonderful job on just doing things by committee. Guys playing different positions, guys here this week, not here that week, coming back, blocking great and allowing our running backs to get extra yards down the field. It's been a tribute to them, and now I think Golden is going to fit right in in all of those areas, not just as a receiver but blocking, running after the catch, things like that.
Q: How many carries does Saquon (Barkley) have on Sunday?
A: You're talking to the wrong guy.
Defensive Coordinator James Bettcher
Opening Statement: Coming off of, obviously to date, our best performance on defense, the message does not change. It is staying focused in meetings, it is working on individual, fundamental skill improvement. We did the same thing we did after the week before. We went in the room and we identified things that guys need to work on and guys need to improve on. Very specific, very detailed and I've said this all along with this group, this group loves to work. They do not run away from a challenge and they do not run away from work and I love that about them. It's similar to if you go out and try to chop a tree down and you just swing the axe as hard as you can, you are going to waste a lot of movement and you're going to take a lot of chunks out of the tree and it's going to take forever to chop it down. The analogy for our players is, we can work really hard, but we have work the right way and the right way being a very detailed and focused (approach) on whatever those improvements are. We are going to swing the axe the right way and we are going to swing the hell out of it, but we are going to swing it the right way. That's been how we've worked the last few weeks leading up to this week and that's how we are going to work this week. We have a great challenge this week, some really talented skill players, tight end, talented back. A team that, as we've seen, can run the heck out of the football. They will play action and boot you. I think our guys have built two really good days and our guys are anxious to go have a good meeting and finish the day.
Q: Last week Jackrabbit said one of the changes you guys made was instead of him following a receiver, he stayed on one side and Baker stayed on one side. What went into that and what does that say about Jackrabbit? He takes a lot of pride in being that number one guy and he was willing to change how he plays?
A: I think Jack went into the week with the same mentality that our other guys have, find some things you need to improve on and let's go work to fix them. I think I said last week, that's on me as a coordinator, that's on the position coaches to identify those things and put our players in position to improve them. Then it's on our players to maintain a focused presence when they're in individual working on, if it's back pedal, if it's eye discipline at the top of routes, if it's not getting your shoulders turned, if it's three technique pad level if we are talking about a different guy. I told you all along he has been competing, he practices his butt off and we just need to continue to work in a way that every player, whether you are year one or year nine or year twelve, we are working to get better.
Q: Is Dexter where you thought he would be four games into the season, is his improvement because he has played four games or is it something else?
A: One, I think he is like the other guys, he's very detailed in his work, he's very focused in his work. I think there is a couple things we challenged him on that he needed to improve and get better at and you see him working in individual, staying after a little bit, out at practice early. During special teams period, you will see him working on some of those things and he's made it a point to improve in what those areas were. The second piece of that is I think any young player, the more they play, the better they get. Whether that's the speed of the game at this level, the size of the players, the athleticism of offensive linemen overall in this league. The reality is, it's very different, on a consistent basis, it's very different than college.
Q: Do you see the size and strength that you guys were so taken with showing through now?
A: Yeah, I think in the last couple of weeks you've seen him have some knock backs and snap some heads, separate on some people and for him, it's just continuing to work some very specific things that he needs to get better at now. Then first things first, when we get better at those things, so now what's next.
Q: You kind of alluded to things that a rookie needs to get used to when he is thrown in there playing immediately. Four games in, do you view these young guys as they should be past that or does it take more time?
A: I think that, one, it's by position. I think sometimes interior defensive linemen versus guys that play further away from the ball that have maybe more things going on, a motion, all of the sudden a split, my eyes, fits in the run game, from off versus press. Some of those things, it takes a little, I don't want to say it takes longer, but there is a little more to it from that standpoint. All young players just need reps, sometimes that goes into year two. I think we've all seen guys that in their third year in the league they break out. Why is that? Because they have developed. They understand things and the game slows down for them, or their fundamentals and techniques get better. It takes some players longer than others. That doesn't mean that a player is a bust, that just means the guys needs to develop. I think every player is going to be a little bit different as young players.
Q: It looked like you finished the game with Jabrill playing a little linebacker, is that something viable going forward with the injuries at that position?
A: That's what I love about him, we all know he is highly versatile. I think he is going to be a really outstanding safety in the National Football League, the more he plays the position. We just have to manage when those moments are he can go fill some of those other roles. Whether it's matching up on tight ends or backs, blitzing, doing some of that stuff. It's just having a good balance, and he is certainly willing to do anything he is asked to do.
Q: What do you like about that package when it's one defensive lineman, three edge rushers and a couple extra safeties?
A: I think that just goes back to the history of kind of what I believe in, there's certain moments in the game where you want speed on the field. You want guys that can tackle in space, that can cover. Also, whether it's a pressure scheme or something, those are guys that they are coming at the ball pretty fast, making offensive linemen or guys that are in protection make decisions. Some of that goes into that, and then at the end of the day, you are trying to find roles for guys that deserve to be on the field.
Q: What has been the biggest improvement you have seen out of DeAndre Baker the past two weeks?
A: All of it, for me, goes back to finding what the small areas of improvement are. Then we continue just to focus on them. The question was already asked of young players, when do they not become young players. I think there are second year players, third year players, we're defining what they need to get better at. The great thing about it is our players are taking ownership of that and you see it in individual. Yesterday in practice and also one day last week, specifically in practice, I was able to tag out a couple plays in individual where we are working a specific fundamental for a specific position. If you can go tag a play from a team period in practice and you see that fundamental show up and I can show the players and our players are aware, then that's purposeful work and that's how you improve and that's how you stack and get better. That's a joint thing, that's coaching and that's on the players as well and that's us working together. That's what we are tying to continue to do, we have a ways to go and we just have to keep working and keep building.
Q: Where are you with the inside linebacker position?
A: I think David (Mayo) came in and I will give him some props because he came in and he played very fast. For a guy that's only been with us for really a week and half to two weeks at the time, he played very fast at the position. Made some plays that really stood out on tape when we watched it as a complete defense together. He earned a lot of respect from his teammates. After that, some of the plan will reveal itself on Sunday of who will be in what role and who will play where. I think all of those guys, they are working really hard, but I was really pleased with how David played.
Special Teams Coordinator Thomas McGaughey
Q: Are you feeling a little déjà vu with the punt returner there?
A: It is what it is. We'll be fine. We've got guys that can do that job, and you make do with what you've got. Jabrill (Peppers) is back there, we've got Golden (Tate III), (Antonio) Hamilton, we've got a bunch of different guys that can do it. So, I have no problems with it. We'll go out there and make some plays, and see how we can contribute to the game.
Q: Do you have to adjust depending on who's back there? If you have someone who's relatively new, do you have to adjust how you block it up and call the schemes for that guy?
A: Yes, absolutely. Guys are different, they have different skill sets, they have different strengths and weaknesses, and we govern ourselves accordingly. It just depends on whoever's back there which plays we'll call.
Q: Does it change situationally? With TJ (Jones), he was the punt returner going into the game, but do you change now, like if Peppers is out there for a 12-play drive?
A: It could happen. Again, we've got options. So, depending on the situation, if we can get a fresh pair of lungs back there, we will, and if not, then we'll make do with what we've got out there on the field.
Q: Seeing the way he (Jabrill Peppers) moved on that interception return for touchdown, did that get you excited about what he could do for this team?
A: I've known that about that kid since he was 16, 17 years old. I recruited him when he was at Paramus Catholic and watched him all the way through, so that didn't shock me at all, that's who he is. I see it every day in practice. So, hopefully we can have some success that way in the return game.
Q: Given the way the ball comes off the foot of a punter, which is obviously a little more tricky than a kickoff, does it give you an advantage to put a defensive player back there, or an offensive player, or does it not matter?
A: It doesn't matter, just a guy that can track the ball. A guy that has a good feel for—that's one of the toughest skills to have in the National Football League, to be a punt returner, to be able to see the ball off the foot and see where the gunner is, see where the coverage is, and then to be able to catch it and go make a play. Each guy has a different skill set, but the most important thing is seeing the ball off the foot.
Q: Is there an advantage to having a committee do it?
A: I would always prefer to have one guy, if that's his only job. Like anything else, you want one player to be able to focus on one job because when you start giving them 16 jobs, it kind of clouds them a little bit. But you always prefer to have one guy back there and that's what he does full-time, but Jabrill is talented, Golden Tate is talented, Antonio Hamilton is talented, so I don't have any issue with it.
Q: What does Cody Core bring to your special teams unit. There's been a shake up this past week at wide receiver, and Cody has remained, I assume, because he's very valuable to you.
A: Consistency. Cody doesn't say two words, he comes in and he just does his job, and he does it very well. He plays hard, he's physical, and he has really good awareness for the special teams area. As a receiver, he's solid, but where he excels is covering kicks, and he's also an excellent blocker. He's just a great teammate, and I think more than anything, that's what the head coach wants and the GM wants, good people. When you couple that with his athleticism and his ability to make plays, you can't ask for anything more.
Q: TJ muffed a punt at the 6-yard line—do you have a hard and fast rule of where guys should just let it go, or is that different because it was such a long punt and there was room to return?
A: It's a little different. Normally we have a hard and fast rule, but that's one of those situations where that ball will carry a little bit, and once the ball carries, you've got to have that awareness as a returner. We talk about it, being in that 60-40 situation, and then sometimes your eyes get locked in on the ball, it happens. We thought that we'd be able to take advantage of some of these long punts, and it was actually blocked up pretty good, we just didn't catch the ball.
Q: TJ said that punter's punts were diving away from him, is that specific to (Washington Redskins punter) Tress Way?
A: He's a lefty, that's what happens. Fielding the ball from a lefty is obviously different than fielding the ball from a righty because the ball spins in the opposite direction, but Tress Way had one of the best performances as a punter that I've ever seen. He was crushing the ball and he was hitting it a lot further that we were expecting him to hit it. So, when you've got to turn and run and look over your shoulder and then the ball moves and then it's windy at the same time, again, it's not an easy job.
Giants vs. Vikings Broadcast Info: TV channel, Radio Station and Live Stream.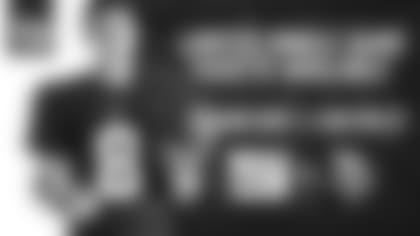 Limited tickets on sale for Giants vs. Vikings
See the Giants take on the Vikings on Sunday, October. 6 at 1:00 PM ET