Defensive Coordinator James Bettcher
Opening Statement: Had really two outstanding days of practice, I think this group is working intentionally and working with a purpose and I know that there's repetition in that, but how you get better is repetition, that's how you improve. There's a process to getting better at anything you do, and that process is identifying the problem, working the solution, and working with a purpose at practice. When I say that to you, understand what we are saying to our players is: to have better pad level, you go work underneath the shoots, then you take working underneath the shoots to individual run period or team run period. Same thing with any technique a corner has to improve at, any technique a linebacker has to improve at and that's how young players get better and that's how vets sharpen tools and vets get better, too, is intentful purpose. We have a good challenge this week. Regardless of the quarterback that plays, we'll have a plan for however that unfolds. I think our guys are anxious to play a division game at home.
Q:  When you look back at the last two second halves of the last two games, is this an adjustment you and your staff are making, or are your players just playing better?
A: If there was a magic pill for that answer, I would 100 percent already give it to you. The truth to the matter is this, we have to call things better, we have to coach things better in the position meeting rooms and we have to execute better. That's both scheme, that's technique, that's eyes, those things have to occur for us to play more consistent. You might ask me about Jack (Jackrabbit) and his performance, it falls on not one person. When Jack's in coverage, someone has to rush better, someone has to win a one on one. I maybe have to make a better call so he's in a better position. Then, ultimately, him or anyone else in coverage has to play with better technique. That's the true solution, that's how you get better.
Q: What did you see from DeAndre Baker? He held Godwin in check.
A: Last week, I know I mentioned when we were talking about having a prescription for our players and really identifying two to three things that our guys are going to work on to get better at. We came in our defensive group meeting yesterday and I started asking guys around the room, this week what are your three things. Dex, Bake what's your three things. I think he's done a good job at identifying three things, working with his position coach, individual, watching tape and trying to identify things he can improve in his game and that's the process to getting better, that's the process to getting better at anything you do.
Q: Is your scheme predicated on Jackrabbit, or whoever that elite corner is, not needing help?
A: I wouldn't say that fully. I think there's certainly times when you look at what you want to do from a scheme standpoint on defense, you might say this is a guy that has a tough down, or this is where more help will go on this particular call. Then you have some other calls that are more balanced in what you do. Certainly, in that game, I tried to call some of those balanced things at times and there's other times we're calling some things either to try to rush the quarterback, create some one on ones, which in other places that creates other one on ones. Solely no, but there's certainly times where whatever the call may deem that to be the case.
Q: If it kept hurting you in the second half, would you have had to go to something?
A: I think some of the stuff we did in the second half, I think, balanced the coverages. I think some other stuff didn't and we just played better. I think if you went call by call, play by play, in the second half, you maybe see some snaps where it was Jack or whoever it was, there was still some one on ones and there was still some one on ones in our rushes. I think it's having a good balance and mix, and I think the process to improvement starts with me, to our position coaches, to our players taking ownership of those fundamentals and techniques we have to get better at.
Q: What is your concern level with Janoris?
A: Honestly, I don't have concern, I don't have concern about any of our players, as long as they are working the process. I think Jack is doing that, I think he is coming to practice, I saw it today, he's diving to knock balls away, he's competing, he's working on fundamentals and techniques in individual, he's all in on fixing what he needs to fix. The truth is, he's not the only one. On some of those snaps, his technique might not have been as good as he would want it to be, but there's maybe a rusher or two that their technique wasn't as good, either. We're coaching all of those guys, not just one.
Q: Are you any closer to getting some snaps for Corey Ballentine?
A: I think play time will always reveal itself on Sunday.
Q: Were you encouraged by the play of some of your younger players?
A: Absolutely, I think that goes back to the question that was asked about Bake earlier, how his progress is. I think it's again, one, our players taking ownership of the things they have to get better at, us trying to identify it as coaches and having purposeful work to try to get better at those things. It's a continued process and that's how young players get better, they have to practice, they have to work those techniques that they have to improve at, whatever they might be. We have to make sure as coaches that we are identifying them and being part of the solution.
Q: How much does the league ranking irk you? Do you use it as a source of motivation, especially the pass defense?
A: At the end of the day, I look at things, I want to be part of the solution and that's all I care about. The numbers are the numbers, they reveal some things and other things that they don't tell maybe the full story. I've been where we have been at the top of all those numbers as a coordinator and again I'll tell you, these guys are working hard and working with a lot of intent on getting the things corrected. Whether it's scheming a call or whether it's fundamentals and techniques.
Q: Why haven't we seen Jabrill Peppers make the impact plays that I'm sure you and the team envisioned when you acquired him?
A: I think Jabrill has played extremely hard. When I go back and look at it, I don't see the ball going his way a ton. I think there were a couple completions, if I remember last week. I also remember a throw in the endzone where he's in great tight coverage on a really talented tight end, big long guy. I see a guy that's competing is butt off and he's working just as hard as anyone else to get better with his game.
Offensive Coordinator Mike Shula
Q: What impressed you most about Daniel (Jones) on Sunday?
A: I think getting a win, number one. Just the poise that I think he had throughout the game was very steady, very even-keeled.
Q: How valuable is it having a tight end like Evan (Engram) who leads you guys in receptions, receiving yards, touchdowns, in terms of not just the offense, but in Daniel's development— how important is that?
A: Yeah, he's done a great job. Speed is very valuable on a football team, and Evan's got it. I've only been here a little over a year with him, but you can see his confidence grow just with time on the field and time in our system. He's versatile (and) he's getting better in the run game with his blocking. So, I think as we move forward and hopefully continue to move the ball and get points on the board, he's going to be a big part of that.
Q: When you sit down, and you guys watched the film with Daniel, obviously a lot of good had happened. What areas do you look at and say this is still not good enough or this could be better?
A: Well, every area. When you are just starting out playing, you just keep talking about little things that are technique, footwork, getting your eyes in the right place, getting the ball out earlier. Obviously the big one is ball security, all of those things. Just trusting things. Sometimes there is a difference between getting the ball out early and leaving your first read, as opposed to staying on your first read. A lot of it comes with experience. For the first game, he did pretty good.
Q: We talked about speed being valuable. What does it do for an offense when you have a guy like (Darius) Slayton?
A: Again, he hasn't played very much, but from what we've seen, he's shown a lot of poise. He does a nice job with his routes, he's a really good route runner. I hate to say this like this but for a young guy, he's a really good route runner. A lot of times guys who come in for the first time, their routes look a little different in the games than they do in practice, but he does a nice job with that. Like you said, he can run. He's still got a lot to learn, too, and a lot of little technique things. He's going to play each week against some really, really, good corners. The best corners that he played in college will probably be the ones he sees every week here in the NFL.
Q: I understand when it comes to Daniel you had seen a lot more of him than we did, but now that you've seen him play for real, how does that help you go forward with your game plan now that you've seen him react so well to a real game situation?
A: Yeah, I think for us, too, experience helps with your players. Especially at the quarterback position on how they are, where their mentality is, where their mindset (is), how they are after a negative play, how they are even in the huddle. The tempo of getting the offense in and out of the huddle after the plays, (and) seeing things at the line of scrimmage. Again, just kind of like we talked about earlier, he did some good things there and there are some things we can all improve on and help him with, and he can help himself with.
Q: What was he like after almost throwing that interception?
A: Yeah, that's one of the ones we have to learn (from). We were lucky and we have to learn from it. You guys have been around him a little bit and he probably hasn't changed very much in the way he addresses you all. It's the same way with me. On the sidelines, he's very steady. When we're out there, especially for a young guy, he really kind of just blocks everything else out. It's almost like we are in a meeting room, just kind of in there by ourselves with the quarterbacks.
Q: How much does the game plan change now that you don't have Saquon and you're going to have to go with Wayne (Gallman)?
A: I'm sure Coach (Pat Shurmur) probably has addressed that, too. We are still going to run our stuff. Wayne runs the ball differently than Saquon, but we still have our things that we want to hang our hat on. Then we'll tweak them week to week based on personnel or based on the defense we are playing. We feel like we want to try to have good balance each and every week and do the things that keep you out of long-yardage situations, and then obviously get the ball in the end zone when you get close to the goal line.
Q: When you say run the ball differently, what do you mean by that?
A: Well, he's not as big. He's not quite as big, so you're not going to quite see him, I would think, lower his shoulder. Although he will do it, and we've seen him do it like Saquon has at times. Wayne, in my short time with him, has flashed at times where he's really explosive, whether or not it's running the football or receiving the football. It's our job and his job to get him playing fast where he's not thinking and just going as fast as he can because he's fun to watch when he's that way.
Q: Maybe it's the things you're talking about like staying out of long-yardage, but this is not a knock on Wayne or anybody, but Saquon has more 50-yard runs than anybody. So, whoever you put in there, you are going to lose some of the explosiveness. What does that do to the rest of the offense?
A: Yeah, those things, you just have to look at them as bonus. You're right, we've been spoiled over the last year, a little over a year, with Saquon. We have other ways we feel like we can create chunk plays. They might not be 50-yard plays, but if we can get those chunk plays anywhere from, as a run, over 12-yards, we kind of look for those, (and) in the passing game over 18 . Those are momentum changing plays and field position changing plays which put you in a positive situation. Not just as an offense but as a team. We're not asking guys to go do anything more than what we're teaching them. We do feel like we've got guys on the field that with the ball in their hands can be explosive. I think we saw some of that in the second half.
Q: What was the dynamic like with Eli on the sideline as the backup with the headset, and Daniel coming off between drives. How is that different?
A: Yeah, it's about like how we talked about earlier, kind of like we're in another quarterback meeting. I said it this time last week, we have great communication in that room. They are great individuals, they are really smart quarterbacks, and because of that, I think our team benefits. They can help our quarterback coach, help make any little tweaks, or changes, or recommendations to Pat during the course of the game that can help us make a play.
Q: So, he was doing that? He was heavily involved in looking at a play with Daniel and saying, 'this is what I saw'?
A: Oh yeah, heck yeah. Just like we've always been doing since we've been here. About like what you guys would think.
Special Teams Coordinator Thomas McGaughey
Q: Why has your punt coverage been so efficient, especially last Sunday?
A: That's a good question. Guys just play hard. During the week, obviously we watch the opponent. Just the way we go about our coverage units, period. We take a very serious attitude when it comes to it. We give them the freedom just to play and play fast. We don't give them a whole lot of responsibilities. They understand leverage and lanes and all that stuff. But at the end of the day, it's about playing hard and playing fast. When you give guys, schematically, a lot to think about, it slows them down. But when you take away that cloud, they get a chance to really shine. We really just focus on just playing fast. That's it.
Q: It seems like your gunners get down the field pretty cleanly, more than maybe other teams. What's the key to that?
A: They're good players. It's real simple. It really is. Dave (Gettleman) has done a great job of assembling talent from the top down and the bottom up. Our guys, when they come in here, the Cody Core's, the Russell Shepard's, the Antonio Hamilton's, the Corey Ballentine's, all of those guys that are able to play the gunner position, they can run. They're physical, they're long, they can run, they play hard, they're good people and they're easy to coach. It makes my job a whole lot easier.
Q: What did you see from Dexter (Lawrence) to be able to get in there for that blocked kick?
A: Dexter's a big man. A very big man. 6-5, 340 pounds. If you don't play with good leverage against Dex, you could have a long day. He's one of the biggest men I've ever coached in my life, if not the biggest. But he is very powerful. A very powerful man. He understands leverage. He really does. He knows that once he gets underneath people, he can make people move.
Q: Do you find that on special teams, when a play like that works, when a scheme like that works, a person up the middle, that the team next week, the Redskins, will be focused on that and something else will open up maybe?
A: It's happened before. A couple years ago in San Francisco, we led the league in blocked kicks and that's exactly what happened. People started shrinking down and cut off the inside, and that made the edge shorter so we blocked one off the edge. It's good when you can block one up the middle because people will condense down on you, and it makes that edge shorter.
Q: We might not have asked you about this last week. I know it's two weeks ago now, but the penalty that (Lawrence) got called on, rules-wise, what's the issue on something like that?
A: It was a point of emphasis that the league emphasized, and it was called.
Q: You don't have to tell him to do something different. You just hope that it doesn't get emphasized as much?
A: We'll call something different. Dexter's a big man. He worked lateral, and he has a gut. A big stomach. He just bumped the guy with his head. He just brushed his head. It was called.
Q: What did you call to get him to push that field goal right?
A: We made him go this way instead of that way. We took the big man and made him go vertical instead of going horizontal. I think we'll be more vertical with Dex moving forward.
Q: Are you surprised that they took the five yards there (on the delay of game penalty)? They took the penalty on purpose.
A: Because the closer you are, that's a hard angle. If you can get a little bit of space, it helps you with the angle. I know the ball is in the middle of the field. As you look at it, I understand his thinking. But I probably would have left it where it was. They had already centered the ball, so the ball was in the middle of the field. I probably would have left it there.
Q: You're assuming that everybody wants it in the middle of the field. But doesn't Aldrick (Rosas) put it on the hash when he kicks extra points?
A: Everybody is different. I've had guys in the past that would tell you, 'Don't ask me what hash. Just put the ball down.' Most of the time, 90% of the plays that happen in the NFL happen on hashes. They don't happen in the middle of the field. Normally, when you're on the hash, you have a landmark. You have something you can put the ball down on. You have a spot. In the middle of the field, there's no landmarks. I would prefer, and I'm sure most kickers would prefer, that the ball be on a hash.
Q: Does Aldrick always put it on the left hash or does it change? Is it just PATs?
A: Yeah, he just likes his extra points on the left hash. That's just his deal. That's what he likes. Have at it.
S Jabrill Peppers
Q: Why was the second half the last two games so different than the first for this defense?
A: We've just got to come out better. I don't think it's any one thing, but just how we come out. I really can't put my finger on it, but I do know that if we come out like we come out in the second half, we'll be in a lot of ball games in the first half, much more so than we are.
Q: Does that mean you're indecisive early in games, or not aggressive enough?
A: I don't think it's that because I think we come out with the right intention—aggressive, ready to go. Either I don't know the word for it or I just don't know how to put it into words, but that's just what it is. We've just got to get out of that habit. That's hard to do in the National Football League, is keep playing from behind. Especially now we've got a rookie quarterback, we've got to try to give him the greatest field position possible, don't let him go out there with a 10-point, 14-point deficit. Just come out there the way we're supposed to and keep games close in the first half, and then come out like we do in the second half, and I think things will start going our way.
Q: Can Daniel Jones lift this team the way Baker (Mayfield) gave you guys a spark last year?
A: I definitely think so. I don't really like comparing guys, but Daniel came in and he showed sides that he hadn't shown before--great leadership, getting us pumped up, telling us to make sure we get him the ball back, just things like that. I hadn't seen that side of him before, so it was definitely a sight to see.
Q: He was talking to the defense as well?
Q: What do you think about your young players that you've been sort of grooming all year? Has the game slowed down for them at all?
A: I think so. I think they're finally starting to see how much preparation allows you to play in the National Football League at a speed that you can't play at if you don't prepare the right way. Everybody takes their bumps and bruises in this league, I have no questions, no worries about those guys. I know they're going to respond the right way.
Q: (Redskins WR) Terry McLaurin has put up some very impressive numbers over the first three weeks—what looks special about him on tape?
A: He's fast, great feet, great route running ability, catches the ball, and he's hard-nosed. I remember when he was at OSU (Ohio State University) and he progressed tremendously. So, he's definitely a guy that we've got to know where he is at all times.
Q: The safety on the other side of the field (Landon Collins) is the guy you've replaced. How does that bring a different dynamic to this game? Obviously, he's been very vocal about how this game means a lot to him--do you feel like you have to show that the Giants made the right move?
A: I don't really think of it in those terms. I think of it more so that I've got to go out there and give it my all and show the type of player I am each and every game. This is a division game, so of course that brings more intense preparation, just a different knack for the game because we play those guys twice a year, but I'm not really thinking about all that extra stuff now. I'm just going to go out there and play football, and do whatever I can to help my team win.
Q: Do you know Landon at all?
Q: Have you talked about the change in positions, or you taking his spot, his number?
Q: When you first got here and you were looking at (James) Bettcher's defense, did you watch a lot of Landon Collins film?
A: Yeah, definitely. I had to because I play that position. But I watch a lot of guys, I'm moving around a lot back there. The more I become familiar with this defense and the more everyone becomes familiar with it, we can be interchangeable. One guy's here, one guy's here, we're all on the field, we're all playing different positions, so I definitely had to watch him, and also a couple other guys.
Q: How much does their somewhat uncertainty at quarterback affect your preparation?
A: Not really. We're going to be prepared for whoever we play. I think we've got a great game plan for whoever they want to go with. But they've got playmakers that we have to account for, too, so those guys, whoever they put back there, they can get the ball to those guys, so we've definitely got to be on our keys.
Q: How hungry are you to start making splash plays?
A: I'm very hungry, but one of my problems was trying to force, trying to do too much, instead of letting the game come to me and letting things happen for me naturally, instead of pressing the issue. I want to make those splash plays, but I'm not going to be pressed and try to do more than what I'm asked to do, because then I'm going to get out of position a lot and things like that. So, I'm just going to let them come to me.
Q: Have there been opportunities for those plays that you've missed?
A: I think a couple, yeah. I think a couple.
Q: Do any come to mind right away?
A: I knew the--it was only like a five or six-yard gain when we played the Bills, and I knew that little RPO was coming, I think it was 85 who caught the ball. Typically he was their blocking tight end, but those guys self-scout themselves as well, so I knew he was going to eventually release. I second-guessed myself, got there a little bit too late. So, that's definitely one. There was one more, it was in man-to-man, though, and I knew the route was coming, but I didn't know if they were going to do a double move or not, and I was a little late to the ball, but it was a catch-tackle, so it didn't really hurt us too much, but I felt like those plays that I could've made directly changed the game.
Q: What changes as a defense when a team is without their start running back?
A: It definitely hurts, but we have Wayne Gallman, bringing up Jonathan Hilliman, and those guys are very capable. In this league, it's the next man up. Injuries happen, no one's going to feel sorry for you, you've got to find a way to win.
Q: I'm saying though as a defense, if you were going against a team without that—like what are the Redskins thinking right now?
A: I don't know. I know that we're coming off a win, a couple guys had 100-yard games, so I would imagine they're going to pay those guys close attention and try to be sound in the run game. I can't really say what their game plan is or how they're thinking, but generally speaking, I would imagine that's how they'll go about it.
Q: Do you pay attention at all to the league stats where it shows that the Giants are last in every statistical category on defense? Is that motivation for you guys to play a little bit harder?
A: It's definitely motivation. I'm not going to say I go looking for them, but I see them, and as a defense you want to be toward the top of that list. So, it definitely motivates you to go out there and play better.
LB Alec Ogletree
Q: Is it upsetting to get hurt on a play that didn't end up counting?
A: Yeah, it is. That's pretty terrible. It definitely sucks to get hurt on a play… to get hurt, period. But when it doesn't count for anything, it definitely stings a little bit more.
A: I feel pretty good. Rehab is going well. I'm looking to just continue to take the steps in that direction.
Q: Does this play change your opinion, or impact it at all, on the referees kind of letting those plays go and not blowing the whistle?
A: I think it's something where they need to make a decision. They can't just… I don't know how you say it. It's kind of like 'Damned if you do, damned if you don't.' It's one of those things where if you make the call, okay you make the call. But you will hear people talk about it, such and such. It's just kind of one of those things like 'Alright, you all clearly saw that it wasn't a fumble or something like that, so blow the whistle. Slow everybody down.' Like you said, some of the plays are like 'Okay, he fumbled the ball.' There are close calls in each one of them. But sometimes you just definitely wish they would just make the right decision and just blow the whistle or leave it alone. Not in between.
Q: Obviously, you're going to play the whistle, but did you have a sense that it probably wasn't a fumble when you picked it up?
A: I kind of saw the ball falling and I was kind of just like 'Well, I think it's incomplete.' I honestly thought it was incomplete. Then everybody was like 'Pick up the ball, pick up the ball!' So I picked it up and took off running. I kept running and I heard no whistle, so I'm like 'Oh, it really is a live ball.' It's kind of one of those things… I think they said some of the refs were holding up their fists for fourth down, and some were saying it's a fumble. It's one of those things, like I said, 'Damned if you do, damned if you don't.'
Q: Can you describe the end of that play? There are players running on the field, you pull up lame and then Jabrill (Peppers) kind of takes you down.
A: Jabrill didn't have anything to do with me getting hurt, I'll tell you that.
Q: No, I mean he kind of helped you to the ground.
A: I was already going down. It just looked like that. I was going down. I was running and I just felt it. I had never really felt something like that before. I was going to the ground already, but like I said, it didn't make it look any better when Jabrill did run into me a little bit. I honestly didn't even feel him hit me. I was just worried about my leg.
Q: So this is the first time you've had this kind of injury?
A: I did last year a little bit. I rehabbed it and finished the season out. Then this year, kind of the same thing happened again a little bit. I think each one is a little different, but basically the same thing.
Q: Do you have any idea on a timeline?
A: No. I'm just going to do my rehab and try to get as healthy as possible. I'll be back whenever they clear me to come back.
Q: Can you compare it at all to last year, as far as how you feel versus last year's? Does it feel better?
A: It feels the same. It feels the same, so I'm going to go through the rehab process. Hopefully it goes well, I have no setbacks and I'll be back as soon as I can.
Q: Besides for you not being out there, what did you think of the defense's performance in the second half in that game?
A: I thought they performed pretty well in the second half. It's kind of one of those things that you wish we could do that, well, we need to do that, at the beginning of games and do it throughout the game, where we're not waiting until halftime to make those adjustments and play well in the second half. Granted you want to play well in the second half. Most games are won in the second half. We were able to get some great stops out there, a turnover, and kind of just end the game. I was proud of the guys for continuing to fight and finish, but there are definitely some things you wish you could do in the first half that will help you play even better.
Q: Do you guys have any reason why, because you're really struggling in the first half and it's completely different in the second half. Any thoughts on why that's happening?
A: It's a number of things, I guess you could say. It's kind of one of those things where you miss an assignment here, or they threw a screen on one of the plays last week and we should have just buried the back. It's just little stuff that we have to take care of to not have those big plays happen.
Giants vs. Redskins Broadcast Info: TV channel, Radio Station and Live Stream.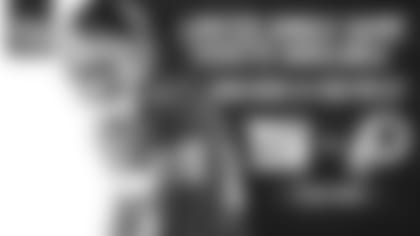 Limited tickets on sale for Giants vs. Redskins
See the Giants take on the Redskins on Sunday, Sept. 29 at 1:00 PM ET