I've basically said what I wanted to say last night. Our offense has stuttered and we haven't had much consistency. We're certainly excited about the big play last night, David Wilson's run, which was a nice way to start the game, but the fact of the matter is the consistency factor was not there. Other than the long run, we didn't run the ball, until we hit a few traps late in the game, which I thought gave us a great chance to be in position to win the game. We haven't had much success getting in the end zone offensively and the green zone for sure has been an issue. We've had some sacks.
We definitely, certainly, have a lot of things that still need to be worked on. I thought one of the bizarre things about last night's game was the fact that we had them backed up, way backed up, and with that kind of field position, we had negotiated a safety earlier in the game, I was looking forward to basically the same kind of thing. The quarterback moves out of the pocket and throws the ball down the field and they end up with a 70 yard gain. We were in position to, maybe within 15 yards of being able to, end the game and win by virtue of a field goal and we had the bad snap from center. That certainly does irk you.
---
RELATED NEWS
View updated Roster
View the updated Giants roster heading into the Final preseason game...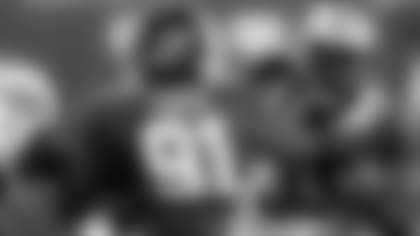 View Updated Depth Chart I thought physically we matched up very well from a defensive standpoint. I'm very disappointed in the four penalties we pretty much gave, allowed the Jet offense to take advantage of our mistakes in terms of penalties and just move the ball down the field for a score. I was disappointed in that, but we played hard. We did not give up a lot of run yardage. The week before the Jets had rushed for 176 yards and this week we were able to control that pretty effectively. I was pleased with that. They had a lot of passing yardage, which I wasn't very happy about. I thought we could have, on different occasions, brought some more pressure upon the quarterback rather than simply by virtue of bringing either a dog or a blitz. Those issues prevail. The special teams aspect, we did have a couple of opportunities with kickoff return that again Michael Cox looked very effective running the ball on. We did a pretty good job with regard to our blocking to allow him to get good field position for us. We had the long field goals, which again we continue to be impressed by Josh Brown and his kickoffs and his field goals as well. Don't always appreciate the fact that we leave it up to that, to a field goal or whatever rather than the touchdown.
That's something that has me scratching my head. Nevertheless, we'll look at the positive side and see how much he has come through for us, Josh has. That gives us real good confidence in that area going into the season. We had the bad injury last night to Stevie (Brown). A nice interception, something he has done extremely well, running the ball back after the interception and I don't believe it was a contact issue. It was just something that happened. I feel badly for him. He's worked hard. He's prepared himself well and been in a position where he's made a lot of plays for us. We will definitely miss him. We continue, that's what we do.
Q: Do expect Antrel back and he'll play with Ryan?
A: Antrel is supposed to practice this week. We'll get him back on the field and get him working again. Ryan will be back there and again we've got some other people that we definitely want to see. Try to get to the point where Cooper Taylor can play and we can take a good look at him.
Q: How much of a concern is the secondary right now?
A: I don't think any more than some of the other areas. Let's face it, I am concerned with the yardage that was given up. There is no doubt. I think that we can get the corners back in position, Webster will practice this week, and we're hoping that we can work that out and get some stability there. I hope Hosley is able to come right back after what has not been determined as an ankle that will prevent him from working. We'll see how that goes tomorrow. Let's move on from there. Let's get these guys back on the field and see where we are.
Q: Tom, maybe I missed it, what are you guys announcing as Stevie's official injury?
A: Did you miss it? No, I didn't say anything. I thought you guys all had this. He has an ACL.
Q: Tom, talk about the goal line stand the Jets put against you. A lot of the Jets' execution or did you have some breakdowns along the way?
A: We tried to rush the ball on the third and two. Didn't get very far, so they did a nice job of that. On the fourth down play we had originally thought about just running it again, the ball was spotted at the two. Had it been at the one, I think we would have rushed the ball. We decided to go with play action and we thought we had a good matchup that was in our favor and the player made a nice play and knocked the ball out of Hakeem's hands. The execution, we would have liked to rose up and just knocked the ball in the end zone on the first running play. We didn't dominate the line of scrimmage and we certainly weren't able to just power the ball in. I take full responsibility for that. We felt like we should have scored on the pass play. The defender made a nice play and I'm not going to take anything away from that.
Q: Can Ryan Mundy play both of the safety positions?
A: Can he? Yes.
Q: So are you looking at him primarily maybe to step in for Stevie?
A: We'll see about that. He has played well. We just have to get the people out there and get the right combination here. Ryan has played well and he certainly has proven that he can be physical and be dominant in the box. From that standpoint, yes.
Q: How did the offensive line do last night, the starters?
A: We didn't score many points. We did well on occasion and not so well on others. That's kind of the way it's been.
Q: Is there any temptation to use Terrell Thomas at safety or is that not where he belongs?
A: That came up in the spring. The number one thing is to get Terrell Thomas on the field and get him to where he's playing well and his confidence is up and that type of thing. That has been first and foremost on our minds. Quite frankly, we haven't thought a lot about another spot for him other than getting him out there. Getting him confident, getting him playing again. He certainly is a talented guy and we'll do the best we can to utilize all of the talent that we have. We do have one more preseason game and let's play that and then we'll make some decisions about what we're going to do going forth.
Q: Tom, you mentioned Terrell needing to get his confidence up. What about your confidence in him?
A: I'm confident. He played well last night and if he continues to do that, I feel really good about him.
Q: "Bonus" is not a word you probably use, but I'm not sure how much he was in your plans months ago. Is he a guy you almost look at as a wild card in some of this?
A: Not really. That's never been a question. We know he's a football player. We've had a couple of serious injuries here and we have to make sure that he's back, he's as close to 100 percent as he can be mentally and physically. If that's the case, we know we have an outstanding player. There's no mystery to this.
Q: Coach, does Tyler Sash get a chance now to move up the food chain so to speak? Does he get a chance to get more playing time?
A: We're still in preseason. Certainly he's going to get a lot of playing time. Quite frankly, it's really up to the production. That goes for anybody. The opportunity is certainly going to be there, this weekend, this Thursday night. We've got to take advantage of it. Those guys that have the chance, that look at it, see the opportunity, they know what's in front of them. The play time will be outstanding for them and they have an opportunity to prove what they're capable of doing. They can help themselves in that regard.
Q: Can you explain what goes into the decision on who plays running back on a given play? It seems like Andre Brown got more early down work this week?
A: I don't know about the early down work. He's worked a lot with our pass protection situation. You might say that happened a lot last night, even our early downs, and I would agree with you. It's been a pretty good ratio between first/second down and then on third down, Andre's got more of that than I think David has. Both of them are capable of first/second down, or third down. We'd like to have more production consistently and hopefully we'll get to that.
Q: Are you more confident with Andre in pass protection right now than David?
A: Not necessarily.
Q: Are you concerned about the miscommunication between Eli and Hakeem last night?
A: I don't know as much if it was miscommunication as it was a lack of execution.
Q: With Will Hill's pending suspension can you look at him at all in this mix? Does he also have to prove himself a little bit on Thursday night, his last chance to play in a couple of weeks?
A: He's been playing and playing well. He's an outstanding special teams player and he's very physical. He's played pretty well all the way along. The fact of the matter is, we're not going to have him for four games. While we acknowledge what he brings to the table, we certainly can't be lured into thinking that we're ok in any shape or form because he's not going to be here. That's a shame.
Q: Tom, you've had some unexpected changes with your offensive line this past week with the injuries. Do you foresee making any changes this week?
A: We'll see. I wouldn't say one way or the other. I'm not about to say what we're going to do there and you'll just have to wait and see. I appreciate the fact that you used the word 'concern' more often than not. I do appreciate that because there isn't anything that I'm not concerned with. By some of the questions are leading up, by virtue of the word 'concern,' there's nothing that has happened that I'm not concerned with. You can write that down for all of these questions that you have.

VIEW UPDATED ROSTER | VIEW UPDATED DEPTH CHART