There's a reason Tom Coughlin values each of his 53 roster spots so highly. The NFL finds ways to test even the deepest of positions in the blink of an eye.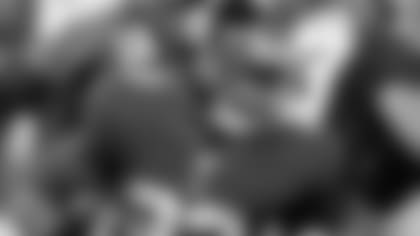 That's how a player like Da'Rel Scott goes from sweating out cut-down day one weekend to becoming the primary running back in the second half of a game the following Sunday night.
Led by David Wilson, the Giants carried three running backs into Week 1 after Andre Brown was placed on the reserve/designated to return to begin the season. Scott and rookie Michael Cox were there as backups.
But once Wilson lost his second fumble early in the second half, Coughlin called Scott out of the bullpen. The third-year pro, who previously had 11 career rushing attempts for 25 yards entering the game, took over from there, carrying the ball five times for 23 yards and catching five passes for 51 yards.
Now Scott hopes the showing in his first live game with a considerable amount of action will warrant a second. Meanwhile, personnel moves always lurk throughout the course of a season.
"I thought Da'Rel did a good job last night in a role that he didn't expect to get that many snaps," Coughlin said during Monday's conference call. "But he came in and did a good job. You're always searching to see if you can improve or where you can improve. And that goes for a lot of spots."
In other words, everyone is on notice when the offense turns the ball over six times.
The final one sealed the Giants' fate with two minutes to go in the game. Despite the previous five turnovers, the Giants found themselves within a touchdown of the Cowboys. Beginning the potential go-ahead drive at the Giants' own 17-yard line, Scott rushed for five yards on the first play followed by an incompletion thrown his way. Then Eli Manning found Rueben Randle for a 26-yard gain, giving the Giants a first down near midfield.
The comeback died there as Manning's short pass to Scott tipped off the running back and into the hands of cornerback Brandon Carr, who took 49 yards the other way for a touchdown and a two-possession lead for the Cowboys.
"I had to kind of read the d-line, too," Scott explained after the game. "So I just wanted to see what kind of stunt they had so I could give E [Eli] a better target. It was a miscommunication, and it just didn't work out our way.
"It's a terrible feeling seeing that and then he takes it back for a touchdown. It hurt a lot. We had a chance to win and just I choked. So we've got to bounce back from it, put it behind me and go from there next week."
It was the second screen pass that resulted in an interception for the offense. The first was to Wilson on the first play from scrimmage before his own turnovers.
The two young running backs felt each other's pain.
"As running backs, it happens," Scott said. "So we've just got to keep each other up. We've got to have each other's back. I've got his back no matter what, and I know he would have mine. We've just got to stay on top of him and he'll bounce back next week for sure. He's a hell of a back so we need him on our team. We need him."