East Rutherford, NJ - General manager Jerry Reese said today that running back David Wilson will undergo neck surgery and that the football future of the Giants' 2012 first-round draft choice is uncertain.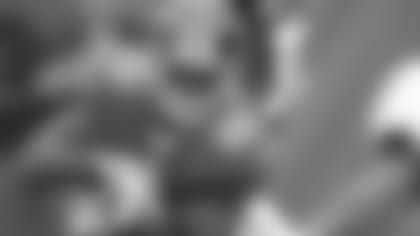 "You have to look at him differently, because he's got the whole neck issue hovering over him right now," Reese said in an interview on New York radio station WFAN. "So he's got to come back and be healthy, number one. He's planning to have surgery, and we'll see how that comes out. Our medical staff feels like he'll be ready to play this fall, but the neck and back - that's pretty tricky. So you never know.
"Jason Pierre-Paul had a back (injury), and he was just a shell of what he was a couple years ago. So those things can be pretty tricky. So I think you can't go into the season saying, 'Well, David, he'll be healthy and ready to go.' We saw in the preseason a couple times he can be a dynamic player and he can be a dynamic kick returner and you can throw a short pass to him and he can make a big play with it. But right now, we're just trying to get him healthy and get him back out there. That's what's most important for us right now, to get him healthy."
Wilson will have a fusion of the vertebrae to repair the herniated disc in his neck. The procedure will be performed by Dr. Frank Cammisa at the Hospital of Special Surgery on January 16.
In an earlier interview on WFAN, John Mara was asked about Wilson's status.
"We're hopeful that David will be able to play for us again next year," Mara said. "Time will tell on that one."
Wilson played in only five games in 2013 before the neck injury. Although he hoped to return to the field, he was inactive for three games before being placed on season-ending injured reserve on Nov. 7.
Wilson's abbreviated season included 44 rushing attempts for 146 yards and a touchdown (a five-yarder in his final game, vs. Philadelphia on Oct. 6), two catches for eight yards and nine kickoff returns for a 24.7-yard average.
His loss was significant for an offense that struggled to gain yards and score points, as well as the kickoff return unit. As a rookie in 2012, Wilson accounted for 1,925 all-purpose yards, the sixth-highest total in team history, the most ever by a Giants rookie and the most for any Giant since Tiki Barber had 2,127 in 2006. His 1,533 kickoff return yards led the NFL and set a Giants record, breaking the former mark of 1,291 set by Domenik Hixon in 2009. Wilson's 26.9-yard kickoff return average was sixth in the NFL. He also rushed for 358 yards and four touchdowns and caught four passes for 34 yards and a score.