FORT LAUDERDALE, Fla. – The New Orleans Saints' leading scorer in 2009 will not play in Super Bowl XLIV.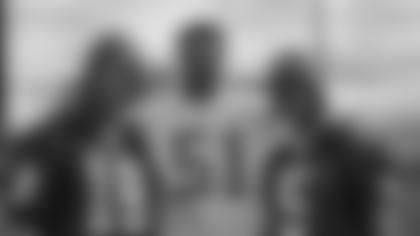 John Carney, who was a Pro Bowl kicker with the Giants in 2008, led the Saints with 89 points this season.


He will not have the opportunity to become the oldest player to ever play in a Super Bowl, but will instead watch the Indianapolis Colts' kicker earn that designation.
And will he will be tutoring the man who took his job, a player 22 years his junior.
John Carney, who was a Pro Bowl kicker with the Giants in 2008, led the Saints with 89 points this season. He succeeded on 13 of 17 field goal attempts and 50 of 52 extra point tries, increasing his career totals to 2,044 points and 473 field goals, the third-highest totals in NFL history.
New Orleans Coach Sean Payton signed Carney when incumbent kicker Garrett Harley was suspended for the season's first four games after testing positive for a banned stimulant. Carney played the first 11 games of the season before Payton returned to Hartley prior to a game at Washington on Dec. 6. But Carney was signed as a consultant and has since worked closely with Hartley and rookie punter Thomas Morstead, who also handles kickoffs.
Carney helped Hartley stay calm and focused before the youngster kicked the 40-yard field goal in overtime that defeated the Minnesota Vikings in the NFC Championship Game and sent the Saints to the Super Bowl. He'll reprise that role on Sunday instead of filling the one he'd prefer – as a player.
"It is a mixed feeling, but I am very excited," Carney said. "Originally, I came here for four games, because Garrett was serving a suspension. There was nothing guaranteed beyond four games. I was very excited they kept me on. I got to kick in 11 games and work with Garrett and work with Thomas, who has done a phenomenal job this year. When the opportunity came to stay with the team and finish the journey as a kicking consultant, I thought it made good sense.
"Sean and (general manager) Mickey (Loomis) and even (owner) Tom Benson thought I brought a value to my special teams (with) my leadership and mentoring with Garrett and Thomas. They felt that had real value and wanted to stay and I wanted to stay."
Carney helped the Saints from the sideline in the title game. With the score tied in fourth quarter, Carney talked to Hartley, reminding him what he needed to do, instructing him to envision the situation and ensuring that his form was correct on his practice kicks into the net. Hartley said he was so well-prepared, he wasn't nervous prior to the biggest kick of his life.
"He responded like a champ," Carney said. "Garrett is very talented, as is Thomas Morstead. It's fun to work with young talent is very eager to learn. I've learned a number of things over the course of my career from veterans and players that I respect. Whatever I pass on to them that will be beneficial, it's been my pleasure."
Hartley and Morstead have been thrilled to work with Carney and have soaked in every lesson he's imparted.
"John has helped me so much," Hartley said. "He's experienced everything as a kicker and he's willing to share it. I'm always trying to pick his brain and get some of the wisdom he has from his long tenure in the NFL."
"He's been unbelievable," Morstead said. "Even when he was still competing with Garrett, he really was a great teammate and help him become a better player. He's been awesome. John is the consummate pro. He knows how to be and how to act and how to speak. I'm just trying to learn anything I can from him."
This is Carney's second stint with the Saints. He played for them from 2001-06 before Payton decided he wanted a younger kicker. But when Hartley was suspended, Payton didn't hesitate to bring him back to New Orleans.
"We signed John because of the suspension," Payton said. "All along we felt we had a really good talent in Garrett. He went 13 for 13 a year ago. He has a live leg. We like him a lot as a kicker, maybe more than anyone else would know, because we see him daily and he's not really a household name. And yet he's been very consistent.
"When we were getting ready to go to Washington we kept John and brought Garrett up. We were carrying two kickers and a punter. We felt like what we were seeing from Garrett – more than having anything to do with John, because we knew exactly what we were getting with John, and he's been a big part as a consultant for us – he's done a great job. It couldn't have played out any better, because Garrett is someone that leans on every word and that's a pretty good fit. John is even Steven. There's never anything that gets him going either way. That temperament is something that serves him well and has helped us and helped Garrett. I couldn't be happier with that combination."
Frankly, Carney could. He would prefer to play, but understands Payton's decision to go with the younger player and stronger leg.
"Garrett's a great kicker," Carney said. "I was fortunate to come in and fill in for him early in the season. But he's striking the ball real well."
If Carney had remained on the roster and played Sunday he would have been the oldest player in Super Bowl history (he turns 46 on April 20). Carney would have supplanted former teammate and close friend Jeff Feagles, who was 41 years and 333 days when the Giants won Super Bowl XLII two years ago. But the honor will go to Colts kicker Matt Stover, who will be 42 years and 11 days old on Super Sunday.
"I'd love it to be me," Carney said. "I have a lot of respect for Matt Stover (who is 40 points and two field goals behind Carney). He's had a phenomenal career. And it's a great opportunity for him; I'm very excited for him to come to the Super Bowl. I know he's excited to be here and taking over the title of the oldest player in the Super Bowl."
This is Carney's second trip to the Super Both. Fifteen years ago, his San Diego Chargers were routed by the San Francisco 49ers, 49-26, also in what is now Sun Life Stadium.
"It was great until the game started," Carney said of his previous Super Bowl experience. "We just ran into a very explosive 49ers team. They had a lot of weapons. We put 26 points on the board, which were more points than any team had scored on the Niners that year. But we just could not disrupt their offensive flow."
Carney spent 10 seasons with the Chargers prior to his six years with the Saints. Since then, he's been an itinerant kicker. Carney played for Jacksonville and Kansas City in 2007 and for the Giants in 2008. The Giants signed him when Lawrence Tynes suffered a knee injury. Carney scored 143 points and was the oldest player ever selected to the Pro Bowl. But the Giants were committed to Tynes and Carney was again looking for a job.
"I loved my year with the Giants," Carney said. "It was intimidating at first, because you're playing in the nation's largest market. They're coming off a Super Bowl victory and a lot of attention is being spotlighted on the Giants last year. But I really enjoyed playing for Coach (Tom) Coughlin. My teammates were great. Playing with Jeff was awesome. Lawrence Tynes and I got along great and we learned a lot from each other. I had really a great season getting the top seed in the NFC. Everything was great – we just didn't close it out in the playoffs. But it was a great experience."
After the Super Bowl, Carney will take some time off, then begin working out again. A consultant's role has its own rewards, but Carney hopes to kick footballs for some team in 2010.
"I do want to kick next year," Carney said. "I'll train and God willing if there's an opportunity it will go well. I'm excited about my training right now and this season, kicking and now coaching with the Saints.
"For three years I've trained, stayed ready and stayed sharp. If a team has an immediate need, whether because of injury or performance, I'd like to be that guy that's top on their list to come in and fill in and take care of the kicking duties for as long as they need me."
If you'd like to submit a question or comment to Michael, click here.