EAST RUTHERFORD, NJ - The Giants will attempt to make some positive history Sunday when they host John Fox's Carolina Panthers in the first regular season game ever in the New Meadowlands Stadium. Both teams finished 8-8 and out of the playoffs last season – one year after they were the top two seeds in the NFC – but they had far different feelings when the season ended. The Giants lost their last two games, including a 41-9 defeat at the hands of the Panthers in their Giants Stadium finale. Carolina won its last three games, including the rout of the Giants and victories over NFC finalists Minnesota and New Orleans (the eventual Super Bowl champion). The Panthers lead the regular season series, 3-2, and the postseason series, 1-0. Carolina has a young team; only six players on the 53-man roster are 28 or older, while 29 of the 53 are 24 or younger.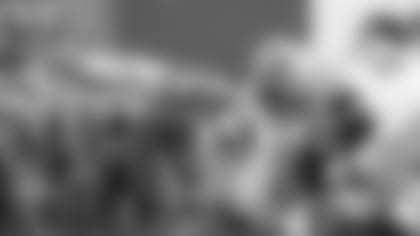 OFFENSE
The Panthers were 19th in the NFL in offense in 2009, averaging 331.1 yards a game. They were third in the league in rushing (156.1 yards a game) and 27th in passing (174.9). Carolina was 20th in scoring (19.7 points per game).
As those numbers suggest, the Panthers run a conservative offense. Fox and offensive coordinator Jeff Davidson like to pound the ball. And they do so with a pair of outstanding running backs in Jonathan Stewart (1,133 rushing yards in 2009) and DeAngelo Williams (1,117 yards despite missing the final two games with an ankle injury). They were the first set of backs in NFL history to each rush for at least 1,100 yards in the same season. Williams has outstanding instincts and run vision. He runs strong and fast, makes good decisions and has excellent receiving skills. Stewart, who missed the entire preseason after undergoing offseason ankle surgery, is a powerful back who runs through tackles and has averaged 4.9 yards a carry and scored 20 touchdowns in his first two seasons. Tyrell Sutton is a third-down back who does many things well. He runs with good balance and quickness, he can catch the ball and he's been effective on blitz pickup. Mike Goodson is an excellent athlete who had a 91-yard kickoff return in the preseason.
The Panthers released longtime fullback Brad Hoover and replaced him with second-year pro Tony Fiammetta of Syracuse. Fiammetta is a young Hoover, which means he is an imposing blocker, good short-yardage runner and reliable receiver.
Quarterback Matt Moore has been with the Panthers since the former rookie free agent from Oregon State was claimed off waivers from Dallas in 2007. Last year, he did not throw a pass in the first 11 games, but went 4-1 while starting the last five. Moore has good arm strength and is calm in the pocket, qualities that helped him complete 62 percent of his passes while throwing for eight scores and just two interceptions last year. Moore's backups are a pair of rookies, second-round selection Jimmy Clausen from Notre Dame and sixth-round pick Tony Pike of Cincinnati.
Carolina's Steve Smith had 42 fewer receptions last year than the Giants' Steve Smith, but the four-time Pro Bowler remains one of the league's most dangerous receivers. Smith lines up all over the field and gets open with his explosive speed and exceptional route running. He is an elusive runner with the ball and he can take over a game if he gets his hands on the ball often enough. Smith did not play in the preseason because of a twice-broken arm (fractured the first time while scoring a touchdown against the Giants last season). The other starter is Dwayne Jarrett who has a big strike zone and impressive leaping ability. Third-round draft choice Brandon LaFell is a fast target that runs well with the ball. Former college quarterback Armanti Edwards is another rookie who will get a chance to contribute in the receiver rotation. Yet another first-year player, David Gettis, is a tough player who will go across the middle and take a hit while catching the ball. Free agent Charly Martin has excellent leaping ability.
The Panthers have a good group of tight ends. Starter Jeff King is a rugged blocker who also has good instincts as a receiver. Dante Rosario is an excellent pass-catcher and sturdy blocker. Gary Barnidge has the speed to be a vertical receiver.
Carolina's offense clicks behind an outstanding offensive line. Center Ryan Kalil was a Pro Bowler last season. He is an intelligent, alert player who is one of the league's best shotgun snappers. Left tackle Jordan Gross played in the Pro Bowl in 2008, but his 2009 season ended after nine games with a leg injury. Gross has the strength and quickness to control the NFL's best defensive ends. Right tackle Jeff Otah is a powerful athlete, but he missed the preseason after undergoing arthroscopic knee surgery in July. His replacement has been Geoff Schwartz, who checks in at 6-6 and 330 pounds. Travelle Wharton, who moved out to tackle when Gross was injured, is back at left guard, where he is smart and competitive. Right guard Mackenzy Bernadeau is another versatile and skilled lineman.
Defense
Carolina had the NFL's eighth-ranked defense in 2009, allowing 315.8 yards a game. The Panthers were 22nd against the run, yielding 124.8 yards a game, and fourth vs. the pass, giving up only 191.0 yards through the air per game. Carolina was ninth in scoring defense, surrendering 19.2 points a game. The Panthers' 37 takeaways were the league's fourth-highest total last season. In the final eight games, they allowed only 14 points a game and forced 22 turnovers.
The Panthers have made a number of defensive changes. Only six starters from the Panthers' victory over the Giants in Week 16 last season are scheduled to open the game on Sunday, just three of them in the same position – right end Tyler Brayton and cornerbacks Chris Gamble and Richard Marshall.
The most significant changes have seen Jon Beason move from middle to weakside linebacker, James Anderson from the weak to the strong side and the insertion of Dan Connor in the middle. In the regular defense, Beason makes the calls in the huddle, but Connor is in charge of shouting out the late adjustments. In the nickel, Beason does it all.
Premier pass rusher Julius Pepper left for Chicago as a free agent. Charles Godfrey, who played free safety, is now the strong safety, with Sherrod Martin stepping into his former position.
Despite the changes, this remains a tough-minded group that is physical, fast and aggressive. They do a great job with their blitz package.
Brayton is the lone starter remaining from the 2009 line. Brayton is a smart, tough, never-say-die player who was second on the team with 5.0 sacks last season. He missed the final three preseason games with an ankle injury. Left end Charles Johnson is another physical pass rusher. Rookie Greg Hardy has his moments in the preseason and earned playing time as a reserve. Tackle Ed Johnson is squatty but strong and uses leverage to gain an advantage on his opponents. Louis Leonard is a solid two-down 330-pound run-stuffer. Nick Hayden is a productive backup.
Beason moved outside after playing in the last two Pro Bowls as a middle linebacker. He had a team-record 169 tackles in 2009. Few weakside backers have the power that Beason brings to the position. There is nothing he can't do – he is instinctive, smart and competitive and he has speed, strength and ball awareness. Anderson is also an exceptional athlete who can both cover and blitz. He leaves the field only when the Panthers use four linemen, six DBs and Beason. Connor will start for the first time Sunday after playing his first 19 games over two seasons as a reserve. He leaves the field in the nickel and is replaced by defensive back Captain Munnerlyn. Jamar Williams and Nic Harris are the top reserve linebackers.
Left cornerback Gamble has very good ball skills and is tough against the run. His 24 interceptions are second in Carolina history. On the right side, Marshall tied Gamble for the team lead with four picks last season. He also harasses quarterbacks as a blitzer. In the nickel, Marshall covers the slot receiver and Munnerlyn is stationed at right corner. Rookie Robert McClain is the dime back. Martin is the new starter in the back. He has good range and is a sure tackler. Godfrey is smart and disciplined who delivers punishing hits. Marcus Hudson and rookie Jordan Pugh should also contribute.
Special Teams
John Kasay begins his 20th season in the NFL and 16th with the Panthers. He has made 81.6 percent of his career field goal attempts and 82.5 percent of his tries with Carolina. Kasay made seven of nine field goal attempts in the preseason. Odd Kasay stat: Only one of his 27 onside kicks has been successful. Jason Baker is a solid veteran punter. Goodson is a dangerous kickoff returner (remember, he had the 91-yard touchdown). Punt return is a bit of a question mark, though Munnerlyn led the team last year.