EAST RUTHERFORD, NJ - When Matt Dodge punted at East Carolina, the coaching staff had a standard strategy for dealing with a dangerous return man.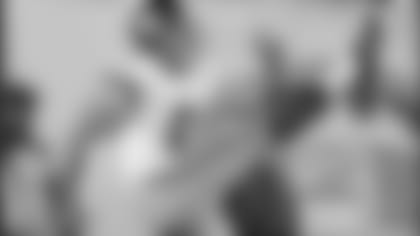 "I remember when we had a really good returner, we'd do kind of a roll-out rugby kick where you almost hit a line drive," Dodge said. "That's the way we did it. It's kind of popular in college."
On Sunday night the Giants host the Chicago Bears, who will bring what is arguably the league's best return game to the New Meadowlands Stadium.
Devin Hester scored his eighth career punt return touchdown with a 62-yarder Monday night in a victory over Green Bay. He also had a 29-yarder in the first quarter. Hester is fifth in the NFL with an 11.7-yard average. Giants fans know how Hester can impact a game. As a rookie in 2006, he caught a missed Jay Feely field goal attempt and returned it 108 yards for a touchdown. That year Hester scored on three punt returns, two kickoff returns, the field goal runback, plus the opening kickoff in Super Bowl XLI. The next season, Hester returned four punts and two kickoffs all the way for scores.
No wonder, then, when Tom Coughlin was asked what advice he had for his rookie punter regarding Hester, he said, "Kick it out of bounds. Don't let him have the ball."
"He's electric," special teams coach Tom Quinn said. "He's dangerous when he touches the ball, so you have to do your best to try and claw at it. You have to try and keep the ball out of his hands, and there is not a lot you can do. It was tough to do last time we played him, he touched it three times. We are prepared to get down there, cover, and tackle."
The Giants held Hester in check when the teams last met on Dec. 2, 2007 in Chicago. He returned three punts for 16 yards (5.3-yard average) and one kickoff for 19 yards. Before his big play Monday night, Hester hadn't scored a return touchdown since 2007. But it appears he's found his groove again.
"You've got to admire him for how awesome he is," said Dodge, a seventh-round draft choice this year who has replaced Jeff Feagles, the most prolific punter in NFL history. "He's special. He's fast. We've just got to try and not let that happen. With a guy that fast and that crafty, it's going to be tough tackle him.
"But it's great for me because I can see what I can do going up against one of the best returners of all-time. So I'm excited, for sure."
But Hester is hardly the Bears' only return threat. Danieal Manning is tied for eighth in the league with a 26.2-yard kickoff return average. Johnny Knox, a Pro Bowler returner last season, when he had a 29.0-yard average, doesn't perform that duty as often because he is a starting wide receiver. But he has averaged 29.3 yards on three runbacks.
This group that has the potential to make game-changing plays for the Bears will work this week against Giants coverage teams that have drawn Coughlin's ire. The coach hinted earlier this week he may have starters play special teams this week. And the return of Chase Blackburn, the unit's leading tackler each of the last five seasons, will help.
But the key to stifling Hester likely rests with Dodge and the rookie's ability to master the tricky art of directional punting. Feagles, of course, was masterly at kicking the ball either out of bounds or close enough to the sideline so the returners were far less of a threat. But Dodge, when he wasn't perfecting his rugby moves, spent his collegiate career kicking the ball as high and as far as he could.
This week, he is working hard on the nuances of directional kicking.
"I've really focused on trying to pinpoint a punt on the sideline," Dodge said. "I hadn't really done that, but as it went on I got to where I could trust it more and more coming off my foot and I think it'll be all right. I've always been trying to end up the same place where I hit it. So it's just a case of off-setting more and hitting it from the middle.
"Jeff was one of the best and he was for 22 years. Obviously, I'm not going to be nearly where he was, and he could probably land it in a trashcan if he wanted to. So I'm just going to do my best and just try to keep it out of his (Hester's) hands."
Asked about Dodge's directional punting, Coughlin said, "He's making some progress there. It's not an easy thing for a young guy."
Assuming Hester does catch a punt, the Giants coverage team must get to him before he gains momentum or gets into the open field. Once there, the shifty Bear has the speed and elusiveness to make a big play, and possibly score points, for Chicago.
"He's one of those guys, man, he's like water – he'll find the crease," said Clint Sintim, one of the Giants' core special teams players. "You've just got to do your best to try to hold him back a little bit. He can't harm you if he doesn't have the ball. God forbid that he gets it, we have to make some tackles. We've got to do our best to contain him and minimize his impact."
"You've got to contain him because he's definitely a threat to take it to the house every time," said rookie Victor Cruz, one of the gunners on the punt team. "So you just kind of want to keep him contained and things like that and make sure tackles on him, especially in the return game. You never want him to break loose, but of course when he's down there and he gets the ball, you want to keep him contained and hope you get there first and kind of redirect him and then my teammates can kind of come and make the tackle."
After the Giants' poor special teams performance last week in 29-10 loss to Tennessee, this would seem to be an inopportune time for the Giants to welcome Hester and Co. to their new stadium. But Blackburn, the special teams captain, believes the timing couldn't be better.
"When you're facing adversity and things like that aren't going right, you really want a challenge," Blackburn said. "And sometimes it takes that for everyone to come together and jell as a unit."
Blackburn was asked what must happen for the special teams to play better.
"On punt coverage (it's) trusting that Dodge is going to hit a good punt, get our protection, get out, get out together, stay in our lanes and force (Hester) to try to find a lane between a bunch of defenders," Blackburn said. "And that's the key to it, the same with kickoff. Stay in your lanes and make him find a lane in between everyone."
The Giants' plan to kick the ball away from Hester is fine, but it's not as easy to keep it away from Manning and Knox on kickoffs. Three years ago, two of Lawrence Tynes' kickoffs bounced out of bounds, giving the Bears excellent field position at the 40-yard line. But the Giants are reluctant to repeat that strategy.
"We don't to do it now with this offense they have," Tynes said. "No disrespect to what their offense was in '07, but they're a much more explosive offense in 2010 than they were back then.
We're going to have to move the ball around – left, right and kick some mortar kicks (popups to the 25-yard line), whatever we can do to keep them off guard."
Tynes, the last line of defense on the kickoff team, has studied Chicago's two returners.
"Manning is more of a straight-line guy," Tynes said. "Knox can turn on a dime, almost like Hester. They're both very, very good. It's ironic, they're both from Abilene Christian. I got them lined up. Hopefully, I won't have to make any tackles."
For the Giants special teams this week, somebody better stop the Bears' returners.
*Wide receiver Mario Manningham returned to practice today after missing the workout yesterday because of a concussion he suffered Sunday. Coughlin said Manningham is on track to play Sunday. Manningham downplayed the injury.
"I had a little headache," he said. "That's all it was, a little headache. I'm good. I practiced today. I'm alright, ready to play Sunday."
Blackburn, returner Darius Reynaud (illness) and linebacker Phillip Dillard (hamstring) also practiced fully. Center Shaun O'Hara (ankle/Achilles), linebacker Keith Bulluck (toe) and defensive tackle Rocky Bernard (back) did not practice.
O'Hara missed the Tennessee game and Coughlin was asked if he will play against the Bears.
"I don't know, we'll see," Coughlin said. "It is getting late in the week. It would have to be something very good that would have to happen in a short amount of time. I will say this – he did come into the meeting room – I thought he was a little more spry than I have seen him in a while."
For the Bears, guard Roberto Garza (knee), tackle Chris Williams (hamstring) and safety Major Wright (hamstring) did not practice. Safety Chris Harris (neck) and defensive end Israel Idodije (foot) were limited.