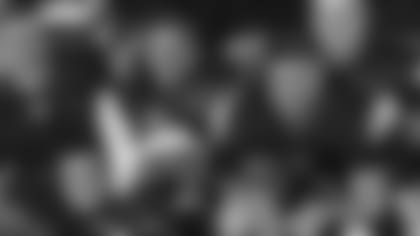 East Rutherford, NJ – The New York Giants have selected Mr. Tony Becerra of Pleasantville High School (Pleasantville, NY) as "The Lou Rettino High School Football Coach of the Week" for the week of November 4, 2013. The Panthers upset Our Lady of Lourdes this weekend, winning the Section 1 Class B Title, their first title since 1991.
In recognition of Coach Becerra's success and commitment, he will receive a certificate of recognition signed by NFL Commissioner Roger Goodell and Giants Head Coach Tom Coughlin and a $1,000 check will be granted to the Panthers football program. Coach Becerra will be acknowledged by a stadium announcement when the Giants host the Oakland Raiders on November 10th and an announcement will also be posted on the Giants website, www.giants.com.
The Lou Rettino High School Football Coach of the Week Award is part of the Giants' continuing effort to promote youth football. The Giants elected to name the award in memory of former Union High School (NJ) coach, Lou Rettino, for his fine commitment to the game of football, his community and the betterment of his athletes' lives.
Each week during the 2013 high school football season, the Giants will select one area high school head coach as the Coach of the Week winner. The selection is based on the coach's continuing commitment towards promoting youth football, developing motivated student-athletes and his overall community involvement. At the conclusion of the 2013 season, the Giants will choose a Coach of the Year. That coach will receive $2,000 for their school's football program. They will also be invited to attend a dinner hosted by the Giants.
Coach Becerra joined Pleasantville's football staff in 1998 under Coach Dick Rote and has been the Head Coach at Pleasantville High School for the last ten years posting a record of 54-27 to date. In that time, the Panthers have reached the playoffs seven times, won five league championships and have played in three sectional championships. Coach Becerra has been coaching high school football for 24 years and prior to joining the Panthers staff, he was an Assistant Coach at Horace Greeley (1996-1997), Dobbs Ferry/Hastings (1994-1995) and Fox Lane (1991-1993).
Coach Becerra is a native of White Plains, NY and began his coaching career in 1990 at his alma mater, Archbishop Stepinac High School, where he graduated in 1984. He played collegiately at Ithaca College (1984) and Cortland State (1985-1987) as a defensive back.
Coach Becerra has been teaching in the Pleasantville School District since 1994. His wife Kristin and their three children, Madelyn, Luke and Colin reside in White Plains, NY.