EAST RUTHERFORD, NJ - Training camp doesn't open for more than six weeks, but the Giants already know they will be without one of their most important players for the entire 2010 season.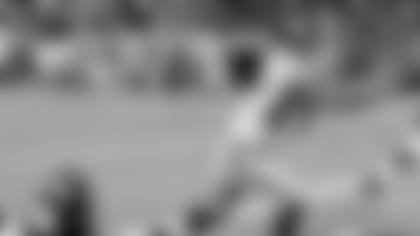 The team announced between minicamp practices today that Domenik Hixon – a reliable wide receiver who was their leading punt and kickoff returner in 2009 – suffered a torn anterior cruciate ligament when he hyperextended his right knee during yesterday afternoon's practice in the New Meadowlands Stadium. The diagnosis was made after an examination by team physician Russell Warren and subsequent MRI at the Hospital for Special Surgery in Manhattan.
Hixon will undergo surgery to repair the torn ligament sometime in the next two-three weeks.
The five-year veteran suffered the injury returning a punt yesterday, when the team practiced in its new home for the first time. No one hit Hixon, but his leg buckled and his knee bent awkwardly.
"I was looking right at him," general manager Jerry Reese said. "It didn't look like his foot got caught, it looked like he was weaving a little bit and his knee just buckled a little bit. That's how I saw it."
Hixon was helped off the field and the knee was wrapped in ice. The Giants hoped the diagnosis would end at the fact that Hixon simply hyperextended the knee without ligament damage, but the announcement today revealed a much more severe injury.
"Our doctors and trainers on the field yesterday tested his knee and they thought it was intact," Reese said. "Obviously, he had the MRI and we were a little surprised it came back as an ACL."
Reese did not blame the new turf for Hixon's injury.
"It could have happened right here on the grass field," he said during today's second practice. "Obviously, we will look for the right shoes to wear over there, that's part of the adjustment to a new field, a new stadium. I think Domenik got hurt in Dallas on their new field last year. It happens, it could have happened anywhere.
"Actually I just went over there and looked at the field again and we talked about some things that may need to be changed in respect to the field. We're working on that, we hope to have all the kinks out before we get on it again."
Reese was asked if the field can be changed at this date. The Giants will play there for the first time in their preseason opener vs. the Jets on Aug. 16. They open the regular season against Carolina on Sept. 12.
"I'm not a field person, but I talked to some people who are in charge of the field and (there are) the different amount of the pellets in the Field Turf and the tray system," Reese said. "There is a tray system in the middle of the field where they have a Jets logo and they have a Giants logo they will take out. We're discussing whether that's the right thing to do or not. We have a little time, but time is of the essence right now in figuring out what we can do in that respect.
"There are some seams obviously if you take them out and put different logos in. There are some seams that have to be cared for properly and they are very concerned about that, the field crew over there. Hopefully, we can get those things fixed if they need to be fixed. I don't think it will be an issue, but we're going to make sure it's not an issue. Where Domenik went down had nothing to do with the seams. He was just running over there actually close to the numbers. He went down, no seams over there or anything. It just happened, a freak thing that happens in sports, and we'll just have to deal with it."
Hixon began the 2009 season as a starting wide receiver. He sprained his knee in a Sept. 20 victory at Dallas and missed the next two games. Hixon returned to action as a reserve and finished the season with 15 catches for 187 yards, including a 61-yard touchdown vs. Philadelphia on Dec. 13.
But his greatest value was on special teams. Hixon led the Giants and set franchise single-season records with 57 kickoff returns for 1,291 yards (the fifth-highest total in the NFL in 2009). The former marks of 55 returns for 1,117 yards were set by Brian Mitchell in 2003. He averaged 22.6 yards per kickoff return, which placed him 12th in the NFC, with a long runback of 68 yards.
Hixon also had a 15.1-yard average on 17 punt returns, including a 79-yard touchdown vs. Dallas on Dec. 6.
Hixon didn't have the 20 punt returns necessary to be included among the official league leaders. But a 15.1-yard average would have placed him second in the NFL, just behind the 15.2-yard average of league leader DeSean Jackson of Philadelphia.
Hixon ranks seventh in Giants history with 1,692 kickoff return yards and ninth with 498 punt return yards. His 290 kickoff return yards in four playoff games in 2007 set the Giants' career postseason record.
Last Oct. 18 at New Orleans, Hixon had 303 total yards to shatter Joe Scott's 61-year-old franchise record by 24 yards. Returning kickoffs for the first time in 2009, Hixon had 230 yards on seven runbacks, including a 68-yarder and a 45-yarder to set up touchdowns. He returned two punts – for 27 and 24 yards, the latter setting up another score. Hixon also caught three passes for 22 yards.
Hixon owns two of the five largest single-game yardage totals in Giants history. In a victory at Arizona on Nov. 23, 2008, Hixon totaled 269 yards to tie Del Shofner for fourth on the franchise list. He had 180 yards returning kickoffs, 57 receiving, 21 on punt returns and an 11-yard rush. Shofner had 269 receiving yards on Oct. 28, 1962, the day Y.A. Tittle tied an NFL record with seven touchdown passes vs. Washington.
It is rare for the Giants to have the return positions solidified before training camp. But Hixon would have filled those roles again this year. Now the Giants must find replacements.
"Injuries are part of the game, somebody gets injured we expect somebody to step up, number one," Reese said. "We have some guys we think can step up in that spot. The guy who comes to mind right away is (Mario) Manningham, he can do some return specialist stuff for us. I think he can be a punt returner. We have kick returners, my concern would be as a punt returner right now. We think Aaron Ross, who was a punt returner in college, can do some work for us back there. And obviously we will look to see if there are any trade possibilities for us back there."
Presumably, Sinorice Moss, D.J. Ware and rookie Chad Jones will likely be in the candidate pool.
But losing Hixon is clearly a big blow to the Giants.
*Coughlin has been impressed with second-year tackle Will Beatty.
"I like what I have seen," Coughlin said. "He has had a good offseason. He is bigger, he is stronger. He is playing both sides. We know that he is extremely athletic. Assignment-wise he has gotten pretty good. I see improvement."
That does not mean Beatty will supplant either David Diehl or Kareem McKenzie.
"It is not about unseating or anything like that," Coughlin said. "It is the idea of having enough people here – of a high quality so that we can effectively use all of our people, whether it is an extra lineman in short yardage and goal line – the little nicks that happen during the course of the year. So you just need a lot of good quality football players for a 16-game NFL schedule. So all of these young guys who have had one year of experience - in order for us to get where we want to go, we need them to be the best that they can be."
*Wide receiver Hakeem Nicks (toe/wrist) is practicing once a day…Running back Ahmad Bradshaw, who had offseason ankle and foot surgery, missed today's practices with soreness…Defensive end Justin Tuck sat out the afternoon practice with a sore foot.
*Linebacker Brian Kehl turns 26 today. ](http://www.nyg2010.com/)**
If you'd like to submit a question or comment to Michael, click here.