Justin Tuck spent the day recruiting readers in central New Jersey on Wednesday, as he made visits to Wilson Elementary in Sayreville, and James Monroe Elementary in Edison in celebration of Read Across America.  The 6'5" 275lb. defensive end made quite an impression as he went from classroom to classroom to read "Teammates," a popular book by his recently retired teammate Tiki Barber and his brother Ronde.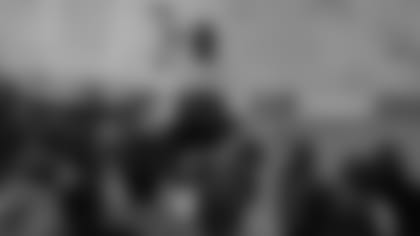 DE Justin Tuck read to students in Sayreville and Edison, NJ in celebration of Read Across America.
In total, Justin met close to 700 students, many of whom had some interesting questions for him throughout the day.  "What is your favorite book genre?" asked one inquisitive second grade student.  "What do you like to do during your reading comprehension breaks?" asked another.
Besides answering numerous questions about his career and interest in books, Justin also encouraged the students to read every day, and to also find time to get out and play actively.  "When I was your age, I couldn't wait to go out and play basketball when I got home from school," said Tuck during an assembly.  "My father knew this, so he would hide my basketball until I finished my homework and completed my reading assignments.  It's important to go out and play, but homework comes first."
Each year, the New York Football Giants are proud to participate in the National Education Association's (NEA) "Read Across America" program by visiting numerous schools in the greater Metropolitan area. The program is the largest one-day literacy celebration in the U.S., attracting upwards of 45 million participants in all 50 states. NEA launched the Read Across America program in 1998. The nationwide reading celebration takes place each year on or around March 2, the birthday of beloved children's author Dr. Seuss, who epitomizes a love of learning. In cities and towns across the nation, teachers, teenagers, librarians, politicians, actors, athletes, parents, grandparents, and others develop NEA's Read Across America activities to bring reading excitement to children of all ages. Governors, mayors, and other elected officials recognize the role reading plays in their communities with proclamations and floor statements. Athletes and actors issue reading challenges to young readers. And teachers and principals seem to be more than happy to dye their hair green or be duct-taped to a wall if it boosts their students' reading. ](http://www.jointheteam.com/)