Days before his debut as head coach, Joe Judge was asked what he wanted to see from the Giants.
His baseline goal was for them to play together for 60 minutes and fight regardless of score, circumstance, or situation. He felt they did that, but ultimately it wasn't enough as they fell 26-16 to the Pittsburgh Steelers on Monday Night Football.
"I'm proud of how our guys played," Judge said. "Now, obviously there are some things that we have to do to clean up. The mark of a good team is improvement you can make moving on from Week 1."
Before the Giants travel to Chicago in Week 2, here is a look at the turning points in the season opener.
PLAY 1 (4th-and-6 at PIT 45, 11:40 1st qtr): Riley Dixon punts for 35 yards to PIT 10. Diontae Johnson - no return. FUMBLE, recovered by NYG (Devante Downs) at PIT 3.
It was only fitting that the Giants' first big play under Joe Judge, a distinguished special teams coach, came on a punt. Devante Downs, who is the starting weakside linebacker, ultimately came up from the pile with the ball after the muffed return. The Giants, however, were unable to punch it in and settled for a short field goal.
"I've got to watch the tape before I give you a final answer on that," Judge said of why they failed to reach the end zone. "I just know that in that situation right there, we want to come away with seven points. We got the field goal down there, it was an opportunistic play by the special teams taking advantage of a muffed punt. That's something we were kind of figuring would kind of happen at some point in these early games with some of the guys not getting preseason experience. We were ready for it, our guys took advantage of it, they did a good job getting on the ball and advancing it to give our offense position, but we've got to come away with better points than just three right there."
PLAY 2 (1st-and-10 at PIT 41, 13:54 2nd qtr): Daniel Jones pass to the middle to Darius Slayton for 41 yards for a TOUCHDOWN.
No rookie threw more touchdowns in the NFL than Jones last year, and no rookie caught more touchdowns than Slayton. They picked up where they off and connected for a 41-yard touchdown, giving the Giants a 10-3 lead in the first half. They would not score again until 1:52 remaining in the game on another Jones-to-Slayton touchdown.
"I thought Darius did a good job tonight, and he's had a good camp and came in ready to go," Jones said. "I certainly have a lot of faith in him, I got a lot of faith in all those guys. We got out there, and I thought guys stepped up and made plays across the board. I know Golden [Tate] is working to get back and I think he'll be back when he's healthy, so I'm looking forward to it. We got a lot of guys that can make plays, so my job is to get them the ball."
PLAY 3 (1st-and-10 at NYG 24, 0:23 2nd qtr): Ben Roethlisberger rush up the middle for 11 yards to the NYG 13. Tackled by Julian Love.
Not satisfied with a field goal, the 38-year-old Roethlisberger scrambled for 11 yards deep into Giants territory just before halftime. On the next play, he hit James Washington for a 13-yard touchdown, reclaiming the momentum – and a 16-10 lead – heading into the locker room.
"That was a good drive for us," Roethlisberger said. "The guys were protecting up front. My job is to just get the ball out of my hand as fast as I can and get it to the play makers and that's what we did. We got the ball in the hands of guys who made plays for us. We took it down the field and put the points on the board at the end of the half, like we always want to do."
"It's easy to point back to something now with hindsight being 20-20," Steelers coach Mike Tomlin said, "but that two-minute drive he was able to navigate before the half, I thought that was significant."
PLAY 4 (2nd-and-3 at Pit 4, 3:25 3rd qtr): Daniel Jones pass intended for Darius Slayton INTERCEPTED by Cameron Heyward defensed by Bud Dupree. No return. Touchback.
Trailing 16-10, the Giants mounted a massive drive after their defense forced a quick punt on the Steelers' first possession of the second half. Jones took over at his own 9-yard line and led the offense on 18 plays down to Pittsburgh's 4-yard line. However, the 19th play proved costly. Jones threw his second interception to the defense that led the NFL in takeaways a year ago.
The Steelers, who turned the first turnover into a touchdown, capitalized with a field goal on the ensuing possession to make it a two-score game early in the fourth quarter. The Steelers scored 23 unanswered points to put the game out of reach.
"Well first off, I like the way he played aggressive," Judge said when asked to assess Jones' game. "He stood in the pocket – it was obviously a strong rush coming at him all night – he played confident in there, he stood in there as long as he could, he delivered some good, accurate passes for us. He had two throws I know he wants back down at the goal line, that's something we can't have happen. Look, I'll talk to Daniel a little bit more about it, I'll watch the tape and make sure we clean up everything involved. That's definitely something you can't have, 19-play drive and come away with no points, especially down there in the low red. That's not acceptable, but I'm proud of the way he played aggressive, I'm proud of the way this team stuck together."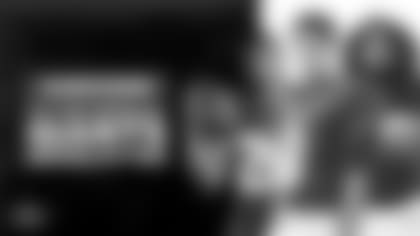 Sign up for the Giants Newsletter
Breaking news and exclusive content direct to your inbox