EAST RUTHERFORD, N.J. – On two points the Giants can unanimously agree. Their level of play in last night's preseason loss to the Baltimore Ravens was unacceptably poor. But they can and will make the necessary corrections and improvements in the two weeks before they open the regular season on Sept. 12 against Carolinat.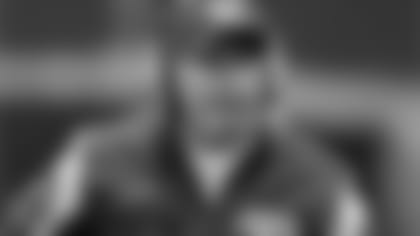 The Giants fell to the Ravens at M&T Bank Stadium, 24-10. But the most telling portion of the game was the first half, when both teams played their starters and the Giants fell into a 17-0 hole. Their defense had trouble halting quarterback Joe Flacco and the no-huddle offense he directed, while the offense – missing two different starting offensive linemen from those who sat out the first two games – sputtered. Only Lawrence Tynes' 42-yard field goal as time expired prevented the Giants from entering the locker room without a point.
Immediately following the game, Coach Tom Coughlin presented a blunt assessment of his team's performance, particularly its "energy and execution." He spoke to reporters on a conference call today and while he might have been calmer, he was no less dissatisfied.
"I'm not going to change my tune from being disappointed in terms of the overall outcome of the game, the way the game was played," Coughlin said. "Remember, going into the game I was very interested in upgrading our execution and in instances, yes, but overall I did not see the kind of execution that I was anticipating and therefore I was disappointed."
The coach also candidly addressed the issue of his players' energy level in the game.
"I expected more," he said. "I did. And I can give you page after page about effort but what I'm going to say is that there's effort and then there is the kind of intensity that a guy brings to the table when you're playing the game to solidify your team and your circumstance in all of the individual position. Yeah, there was effort. I'm not going to challenge or say there wasn't that. There were a lot of young guys that had the opportunity of a lifetime. I mean, you look at that secondary last night and the chances that those kids had to play, especially those corners (Bruce Johnson and Courtney Brown), those guys playing up front there, the nickel and the two corners, so you know there was an awful lot of importance attached to the game for a lot of our guys. I'm not going to say that it wasn't there, I am going to say that it can be better.
"I hope that there's an experience of learning here and those who are well aware of the difference between what happens in a regular season game and a preseason game and why there is so much significance attached to the third game, trying to equate it as best you can to regular season. I hope that they're able to share their feelings with their teammates."
The Giants will have a short practice week before concluding their preseason at home Thursday vs. the New England Patriots. Coughlin said his starters will play, but in the past he has replaced them quickly in the summer finale.
But the players believe they can make progress vs. the Patriots and use it as a springboard to the Carolina game.
"The preseason is all about getting our rhythm back, and we'll be ready," said quarterback Eli Manning, who completed nine of 18 passes and admitted he was "rusty" after missing the previous game with a forehead injury.
When the starting defense played in the first half, Baltimore gained 243 yards, all but 40 of them through the air. Flacco first half stats included 20 completions in 32 attempts for 220 yards, two touchdowns and Corey Webster's interception, which led to Tynes' field goal. He was also sacked three times for 17 yards in losses.
But the Giant defenders are not about to panic.
"It's something that is easily corrected," said linebacker Keith Bulluck, who with safety Kenny Phillips, played many more snaps than the previous week. "I think everything is correctable. The third preseason game you like to come out and show your stuff. Baltimore did a great job of doing that. We didn't really get much going at all defensively. They kind of had us offset with the no-huddle offense. You have to take your hats off to them. But we'll definitely be better as a defense."
Bulluck also spoke about the energy and effort issue.
"If coach says people weren't playing hard, then people weren't playing hard," Bulluck said. "He didn't necessarily single anyone out and I think that's a shout to the whole team. I'm sure once we watch the film and we go to practice, individuals will be able to see what coach is addressing. That's on them to get better. They have to get better. We have to get better if we want to be as a good as we want to be as a team."
Several Giants admitted they didn't anticipate the Ravens would play so much no-huddle offense. Baltimore is usually a run-first team.
"We game planned," Coughlin said. "There were some occasions where you're right. There were some fundamental routes that we all learned but that didn't seem to get covered very well. We did play quite a bit of man coverage, which part of the reason for that was that there was a lot at stake for some of our corners and our people in the secondary (because Terrell Thomas and Aaron Ross missed the game with injuries). There was a lot at stake in regard to that. We needed to clarify and to put them in positions where there was no question about their responsibility and just to see how that would turn out. Sure, there were some gaps underneath, some of that was when we did play some zone coverage. That's what you saw last night. They certainly came into the game with their plan – to throw the ball that many times, et cetera, et cetera. We were kind of thinking that they would try to run and we would have a pretty good mix there between the run and the pass, but it didn't quite turn out that way.'
Coughlin noted after the game that the Ravens threw 40 passes the previous week vs. Washington and passed 49 times against the Giants for an encore.
"That's really not the team Baltimore is," defensive tackle Barry Cofield said. "They're not a no-huddle, pass-the-ball 50 times a game type of team. I would hope if they were that type of team we would come in with a different plan and we would be better prepared to handle it. It was kind of a midstream adjust thing. Obviously, it was something they wanted to work on. We were able to get some pressure. I think guys up front were playing hard. That's the unit I'll speak for. Guys were rushing and playing hard and doing our best to get to the quarterback. There were flashes here and there.
"Football is a game of momentum. They had it and they were at home. That's why it seemed like they were at a party and we were at a funeral. It's something we have to correct and we have a little time here to correct it. There's a lot to improve on and we've got a couple of weeks to improve on them."
The challenge is to get it done, starting with practice tomorrow.
*Backup quarterback Jim Sorgi (shoulder), center Shaun O'Hara (ankle) and Ross (foot) will not practice tomorrow and probably won't play vs. New England…Defensive linemen Chris Canty and Jason Pierre-Paul, who missed the Ravens game with groin injuries, have improved and "will get some limited work," according to Coughlin…Rookie linebacker Adrian Tracy suffered a dislocated elbow and "there's a possibility he could be out 2-3," Coughlin said. "Gerris Wilkinson did have a groin strain last night and they're conducting examinations on Gerris as well."…Wide receiver Sinorice Moss will have second opinion on his groin injury.
*Bulluck and Phillips, both returning from knee surgeries, continue to progress.
"They came out of the game well," Coughlin said. "They both played a little bit more. They were rusty and they're starting to get a little bit more in the groove. Physically, they came out fine."
*The Giants must cut five players by Tuesday at 4 p.m. to reach the NFL-mandated roster limit of 75. The final cutdown to 53 players must be completed by 6 p.m. on Sept. 4.
--- ](http://www.nyg2010.com/)**