"A lot of the things that are different look the same."
It may sound like an ancient proverb, but it's really just the way safety Andrew Adams describes the art of the Giants' new defense and how it compares to the old one. Defensive coordinator James Bettcher came in as a master of disguises and brought over his multiple formations, which he began to install this spring.
"We might be in this type of look, but really we're playing this," Adams said. "Or we're in this type of look, and we're really playing this. I can't give too much [away], but we're trying to make things have carryover and have a lot of similarities."
Much of the attention has gone to the front seven this offseason with the 3-4 and 4-3 talk, but safeties make this thing tick. The key is having versatility so that offenses don't know if the safeties are playing man, zone, middle of the field or blitzing. Landon Collins, who was named a Pro Bowl starter for the second consecutive season, certainly fits that bill as the headliner of the group. Adams, a former undrafted free agent who has 17 starts in 30 games played over his first two seasons, is competing to be his partner – again.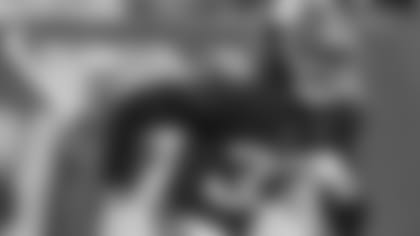 Former third-round pick Darian Thompson started all 16 games for the Giants last season, 15 of which were alongside Collins before the Pro Bowler fractured his arm in the second-to-last game of the season and missed the finale. Collins underwent two surgeries to repair the arm and was limited for much of spring, opening up a safety competition that will heat back up in a month at training camp.
"First of all, I think the secondary is definitely picking up the new defense," Adams said. "We love it, and the most important thing is everybody is able to play fast. We've just got to keep communicating, just keep nailing down the small things and the small details, and then everything will play itself out."
Adams added: "It's fun. That's what this business is – competition every year, competing at the highest level, which only makes you a better player. We're all family in the DB room, everybody is competing, and everybody is just looking to help the team win that championship trophy."
With Collins out, Adams spent a lot of time on the first team next to Curtis Riley, who is transitioning from cornerback to safety with the Giants.
"Somebody might play closer to the line in this call or somebody might be deeper in this call, but you still need to know both [safety positions]," Adams said. "You still need to be able to play both because both will be deep and both will be short at some point in time."
That is the formula that led to Bettcher boasting an average ranking of 4.3 in the NFL in yards over his three-year tenure as the Cardinals' defensive coordinator. Before being promoted, Bettcher served as their outside linebackers coach.
"We had some guys in Arizona, Tyvon Branch and before Tyvon we had Tony Jefferson who played strong safety for us who could play both high, could play down in the box, could cover tight ends, could blitz off the edge," Bettcher said. "That's what I see with Landon, a guy who is very versatile in what he can do. You might see a snap where he's down covering a tight end in the box, you might see a snap where he's in the half field playing deep or in the middle of the field playing deep or you might see snaps where he's blitzing off the edge. I think that's the versatility a guy like him lends and that's something that as you look and study defenses across the league and you talk to offensive guys of what gives them trouble, it's players that have that versatility -- that one snap they're down in the box and the next snap they're playing high. That kind of versatility gives offenses trouble."