EAST RUTHERFORD, N.J. – **Hope, faith and confidence the Giants can turn around their season are still abundant in the Quest Diagnostics Training Center.
---
RELATED NEWS
NFC East Roundup
Take a look to see how the NFC is shaping up after Week 4...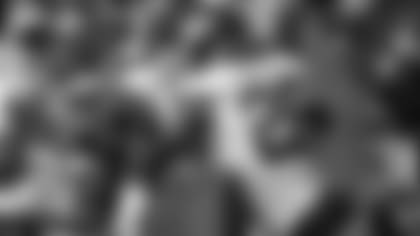 Watch: Locker Room Reactions The Giants fell to 0-4 yesterday with a 31-7 loss in Kansas City, their second lopsided road defeat in as many weeks. The offense has sputtered, the special teams have been plagued by mistakes and the team has allowed more points than any other team in the NFL.
But they are also just two games out of first place in the NFC East, with a home game against division rival Philadelphia next up on the schedule. They have many talented players with a track record of excellence. And they have a veteran coaching staff led by Tom Coughlin. To the Giants, it means they have the ingredients to reverse course and make a run at joining the 1992 San Diego Chargers as the only teams to make the playoffs after a 0-4 start.
Of course, there is one little detail that must be solved before the Giants can start thinking that big.
"It doesn't mean a whole lot unless you win," Coughlin said.
Today, the Giants continued working toward getting that elusive first victory. They reviewed the Chiefs game. Coughlin spoke about the division standings, as he had on Friday. "We are aware of the circumstances in the NFC East," he said.
Safety Antrel Rolle, one of the team's five captains, asked Coughlin if he could speak after the coach at the team meeting. Coughlin enthusiastically endorsed the idea.
"He had a good message," Coughlin said. "He's had a good message. He's been a guy that has been very smart about what he said this year, if you listen to what he's saying. He's not just talking as if someone trying to provide some energy. He's trying to provide some strong leadership and I think he has done that. He had a couple of messages today. One is that he feels tighter and more connected to these players right now than he ever has. That he knows our back is against the wall. He's not afraid of that circumstance. He's kind of put his arms around this team and asked the members of this team to accept and understand that as well and to know that when you take the field as a unit, you really do feel as if you represent one another and have each other's back. You have to totally believe that you have the ability to succeed. I thought that was a good message today."
Speaking later with reporters in the locker room, Rolle said the players have to continue to adhere to Coughlin's team-first agenda.
"We have to stick together," Rolle said. "We played some bad football out there. We need to come together more as a team. I thought we fought a little bit more in that game, our intensity was a little better that game, but that could even improve, as far as just making the plays when they present themselves, helping each other out. Defense helping the offense, offense helping the defense, special teams helping both. That's something that we have yet to do as a team is collectively be in sync. As far as the season goes, disappointed? Absolutely. Discouraged? Not at all. My head is definitely hanging high and I'm looking forward to bigger and better things for the rest of the 12 games that we have left."
He's not alone. But the Giants know that talking about improvement and actually playing at a higher level are very different.
"We've got to figure out a way to play better," Eli Manning said. "We need guys to step up. We've got to perform better and it's as simple as that. We've got a big game versus Philly. It's still early. We have 12 games left and we're two games back in the division. There are worse spots to be, but obviously we need to figure out a way to play better football. It's one thing to lose and it's another thing when you're not in the game in the fourth quarter, which has occurred the last three games."
"As bad as the position we've dug for ourselves is, it's actually not too bad looking at where our division is at," defensive tackle Cullen Jenkins said. "We have to try to find some type of motivation the way things are going. Now it's just to try to get everybody riled up and keep everybody in good spirits, so if you look at that, we're still right there. But we have to win first, get moving forward."
That's imperative, because the Giants can't count on Dallas, Philadelphia and Washington continuing to struggle. They have to get their own house in order to become true contenders in the NFC East race.
"More importantly than what's happening in our division, I think we need to fix ourselves and give ourselves a chance to even go in there and compete and to battle for winning that division title," Rolle said. "The quarter is behind us right now. There's nothing we can do about it. I'm actually glad that it is gone. I think we played some pretty bad ball out there. We're not making any excuses, we understand what we put out there on the field and we also understand that we need to get better from it and we will get better from it.
"Just for new beginnings, this is a 12-game season for us at this point, nothing that has taken place matters. The guys just have to believe again, we have to get that good feeling again as far as winning. I like showing my face around New York. I've been in the house for a month now. If I lose, I'm not showing my face anywhere, that's just the way I am, that's just the way I've always been. We've got to get back to having that good feeling again. We will, we definitely will get back to it again."