EAST RUTHERFORD, N.J. –** There's no place Victor Cruz would rather be than training camp.
"It feels good to be back, man, and see some of the guys," Cruz said today. "I've been smiling all day, coming in here, and seeing Eli (Manning), Hakeem (Nicks) and all the guys, man, it's just been a good day so far, to say the least.
"I always appreciate this moment, appreciate this field, this organization, this opportunity that was given to me, I've always appreciated it, and I'm glad to be out here fulfilling that appreciation right now."
Cruz's excitement is understandable. He did not participate in the offseason conditioning program, spring drills and minicamp because of protracted contract negotiations. When he signed his deal on July 8, even the coaches were on vacation. Today was his first opportunity to greet his teammates en masse.
[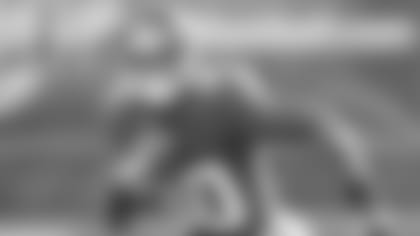 PHOTOS: VICTOR CRUZ'S CAREER](http://www.giants.com/media-vault/photo-gallery/WR-Victor-Cruz-signs-contract/ce9eb038-71cd-4f95-a36c-be050f4dec50)
More importantly, Cruz, uh, cruised through the conditioning test that opened training camp at the Quest Diagnostics Training Center.
"His weight is exactly like it always is and he's anxious," coach Tom Coughlin said. "He's excited."
"That was big for me, that was one of the things I was concerned about," Cruz said of reporting in top condition. "I would go train on my own, and myself and my trainer would make these simulator kind of OTA days, but obviously it wasn't the same as physically being out here. But the biggest thing was nutrition and just making sure my body was healthy enough and I did a great job, my trainers did a great job, and I came in right spot on in where I wanted to be, and you know, it's just a testament to how hard my team worked on the other end, and we got here together and here we are, so we're good."
The next step is to regain his timing with Manning, whom he has not caught passes from since they were at Duke University in early April. Since Cruz caught 168 of Manning's passes the last two seasons, that issue is expected to be resolved quickly.
"Victor is a guy who's been training and is going to be ready," Manning said. "He knows the offense well, so it should not take us long to get back on track and get to work. Obviously, we don't have many practices before this first preseason game so we have to get right back at it."
"I'm excited to get out here with him and start getting stuff squared away, getting our timing back together," Cruz said. "I assume it won't take us very long, so we'll see how it goes."
Manning threw 26 touchdown passes and Cruz caught 10 of them when the Giants scored 429 points in 2012, the second-highest total in franchise history. With Manning, Cruz, Nicks, second-year players Rueben Randle and David Wilson and offseason acquisition Brandon Myers and others, a healthy offense could top that total this season.
"I think we can definitely do some big things," Cruz said. "I think we have all the talent in place, I think we have all the tools, it's just a matter of us coming together as a team and as a family, and if we can do that, I mean the sky's the limit for us.  But we have to treat these camp days one day at a time, and really get better in these moments and these times that we have with just us on the field before we face an opponent.  But I think the upside of this team is tremendous."
*The Giants will practice for the first time tomorrow from 1:30-3:45 p.m. at the Quest Diagnostic Training Center.
*The Giants will host a special autograph day after practice on Sunday (approximately 3:45 p.m.). The entire team will sign autographs for fans after practice. Should the autograph event get rained out, the makeup date is Saturday, Aug. 3. In addition to autograph day, a different position group of Giants players will sign autographs for fans every other day following practice.