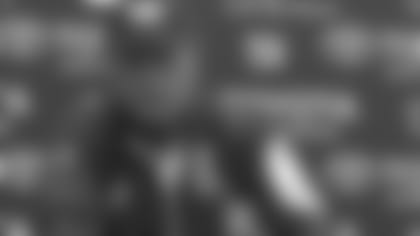 Coach Coughlin: The decision to throw the ball there on third down was not a good decision. It should have been a run, whether we scored or not. The clock would have at least given us the opportunity to take a few more seconds off. We wouldn't have had the points, but we could've run the ball and clock would've run and we could've taken a timeout and kicked a field goal. And it would have taken at least another 40 seconds or so off the clock. So that was a bad decision on my part. There's nobody else to blame but me."Thoughts on going for it on 4th down:
"There was but, why would you let them get to midfield to kick a field goal to tie. That was my only thought there – to come away with something."
"With the back-and-forth with the penalties and whether the clock was running and we gave them the timeout back. It would have been a little more difficult for them had that timeout that they took would have been able to stand."What did you say to the team:
"I said exactly what I said to you: they played hard, they came on the road, they worked their tails off. They put themselves in position to win. We didn't win. I take full responsibility for it because the strategy was obviously wrong at the end."
"We played hard and put ourselves in position to win on defense. . . The drives towards the end of the game, were quite frankly knives through butter. It was too easy, but that's not the reason we lost. They shouldn't have had the time to even do that, had we done it properly."
"There are plenty of positives, but you'll never erase the chance in a hostile environment. You'll never erase that part. That part of it is not going to go away for me. I think the players will be okay. They feel bad now and they want to point the finger and those kind of things, but they are a good group. They'll rise up and they know I'm telling the truth. I have no reason to tell them anything other than the truth. The game should have been handled in a different way right there at the end."**
On if he should have taken the sack on the third down play in the fourth quarter.
A: Yeah, I should have. 100% on me right there. Bad clock management for that whole deal. I had an option – just take the sack and run those 40 seconds off the clock – give them less time. That's 100% on me and that can't happen.
Tom Coughlin blamed himself for the play call in the first place.
No. [We were] trying to get it to two scores and I had bad clock management those final three plays. I thought they had used their last timeout on that play to Odell when we got the first down. I thought that they only had one timeout left. I guess since there was a penalty, even though we declined it, for some reason that stops the clock. I didn't think that was the case, so I bad clock management there and I thought we could run out the clock or get it way down and then on third down, can't afford to throw it away. I've got to sit in there and take the sack and then run off the 40 seconds.
Q: Why did the offense have so much trouble getting going before the last drive?
A: I thought we had a couple of good drives. They did a good job getting some pressure, keeping everything in front of them. They weren't letting us get down the field much. Missed a couple of throws on some third downs, a couple in the green zone that could have extended some drives and possibly led to touchdowns. I've got to play better. I've got to make the throws that are there and stand in there and get completions.
Q: Did having the ball seven minutes to Dallas' 20 in the first half make things difficult?
A: They had a good first drive where they held the ball for almost 11 minutes. We responded back, had some nice plays and got a field goal but they just held the ball. They had some long drives.
Q: On missed 3rd down opportunities, including Preston Parker's drop. Was it frustrating?
A: I missed him on an out route where he laid out for it. I've got to throw a better ball, there. Wait on him a little bit. I thought I threw it too quickly and too outside, so that would have been a third down conversion. Had one down real close where we didn't connect on one. That's unfortunate the other one down the right sideline wasn't a great throw by me and they played it pretty well.
Q: Before plays like the third down play in the fourth quarter, do coaches sometimes remind you that if the play's not there to just go down or do they just trust you to know that?
A: Yeah, I've got to know that 100%. I've got to know that. I've got to know the circumstance and just don't take a chance and take that sack and go on to the next … get a field goal and leave just a little bit of time left on the clock.
On a near interception on the next to last play:
"Tony Romo overthrew his receiver. I broke on the receiver, the angle of the receiver and not the ball. If I had broke on the ball it would have been an interception."
On the loss:
"It is very hard. It is very hard to digest. It is one of the toughest losses to take in. Definitely. Definitely. We were leading the whole time."
On the defense:
"We did fantastic. We made key plays. We made turnovers. We got the ball back. Now we just have to move on to the next page, move on to the next team. And continue with our success the way we did and build on top of that."
On the loss:
"At the end we were in a position to win this game and we didn't. We just have to go back to the drawing board and just make corrections and get ready for next week."
On the interception:
"I felt like we had the game won the whole game. It's just that we didn't finish at the end."
On the quick drive by the Cowboys to win the game:
"We practice that every day, every week. As a defense, we have to find a way to finish anyway."
On whether defense got worn down in the first half:
"I felt like we were ready to go anyway. I felt like we played a good game. We just have to find a way to finish."
On getting three takeaways and still losing:
"It is tough because we practice hard. For us as a defense to let them drive down during the final minutes of the game, that's tough. That's tough."
"I think me and my guys up front played hard. I was really proud of what we did. I think we did some really good things."
On the last play:
"I'm coming from playing on the offensive line, we had good drive. We had a really good drive. We could have easily put it in. I don't make any of those decisions."
"I'm not happy. I'm not happy one bit. We should have won that game."
Wide ReceiverRueben Randle
"We were there. We didn't come through."
"There's some positives out there. We were in a position to win the game…So, we just take what we learned from this situation and hope it doesn't happen again. That's all I can say."
RB Rashad Jennings
On Coughlin taking the blame:
"It says a lot about him. You know, it's not his fault though. Like I said, players make plays. He don't."
On early FGs
:
"That's tough. You know, when we look at the tape we could've had made more plays."
On if there are positives to take away:
"No. We lost. There ain't no moral victories, man."
"We are a team. There's nothing on any single person in this locker room. We win as a team. We lose as a team. Just looking at it we could have put some touchdowns on the board instead of field goals. That would have put them out of it. We win as a team. We lost as a team."
"We knew they had no time outs. We thought we were going to score. We thought we had a good play called."
On the last play:
"I didn't see it totally, so I don't know what happened. Obviously, (Dallas) covered. We thought we would give them a little play action and it would be a nice easy touchdown. I guess they have that covered. So, hat's off to them for that."
"I thought it was over. I'm sick right now. This hurts for everyone in this locker room. Our defense played their butts off. Hat's off to them."
"I thought we had a very good drive going at the end."
On if there are positives:
"Of course. I mean, they are supposed to be best team in the division? I feel very confident where we are heading and what we will be able to accomplish this year. We've got to finish drives though. We've got to finish drives in the first half. We shouldn't have been in that situation."
On the interference call:
"I didn't think nothing of it. It's the call. You know what I mean? You have to play through it. I think it was a bad call. But at the end of the day, I have no control over that."
On the interference call, part 2:
"He said it was iffy. He said when I was going for the ball, I used his shoulder to jump off with. It is what it is."
On whether this was the toughest loss he has experienced:
"Any loss is tough. But it definitely isn't easy to come in, play a good 58 minutes, and then when it comes down to it, lose the ballgame. We have to find a way to win."
On whether he thought the defense would have to take the field again in the final 2 minutes:
"As a defense you are ready for all situations. So we were ready for whatever happened. And whatever happened, happened. So we had to just come back and play."
On the play of the defense:
"Anytime the defense could take away the ball, that is huge for us. Overall, I was happy with how hard we worked. But I still feel like in the second half, the Cowboys were scoring, to be blunt, at will. Just like they did in that two-minute, and just like they did, I think, on the first possession of the half. One of our goals is to always stop the first possession of the half. That gives us momentum. We didn't do that today."
On getting three takeaways and still losing the game:
"It is tough pill to swallow. … I know we didn't think we won it. But we were feeling good about ourselves. Guys were still saying, hey, hey, let's keep a foot on the petal. Let's keep going. Let's keep going. Man. I was thinking about, they are probably going to make a series called 'Why I Hate Romo,' because in two-minute, he is always great. We need to be great in two-minute."