EAST RUTHERFORD, N.J. –** This has been the longest week of Steve Weatherford's professional life.
"I wish I could play tomorrow," Weatherford said today.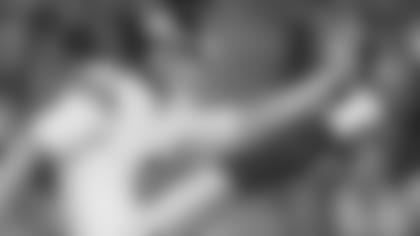 View photos from team practice The Giants' punter is eager to distance himself from his performance in the team's 41-23 loss to the Denver Broncos last Sunday. He had a respectable 46.2-yard gross average on five punts, but one of them was returned 81 yards for a touchdown by Trindon Holliday.
"I literally just had a crappy game," Weatherford said. "I feel like I let my team down. I've been on this team for three years and I felt like I've been consistent every single week, punt to punt. Once in a while you are going to have a bad punt, but that was a bad game. Obviously, I'm disappointed, but at the same time, I know that's not me. I just need to roll up my sleeves, work hard this week and keep it behind you. I'm ready for move forward."
The punt Holliday returned for a touchdown was actually his longest of the day at 50 yards. The fleet Bronco picked it up on a bounce and zipped through the Giants for the score. It was just the second of Weatherford's 511 career punts to be returned for a score. In 2007, Chicago's Devin Hester, who has 12 career punt return touchdowns, brought one back 64 yards for a score.
"It was a beautiful punt," Weatherford said.
His kick last week? Not so much.
"Obviously, he's got to punt the ball better," special teams coordinator Tom Quinn said. "He knew that coming out of the game. His technique wasn't what it needs to be or can be. So he went back and looked at some of the little things he's doing; his stance, weight distribution, where the drop is and everything else. He's done a much better job so far on Wednesday and Thursday."
Tom Coughlin concurred with that assessment.
"He's punted the ball better," Coughlin said. "We've worked hard at it just like we always do. The number one thing we always do is punt team. That's the number one thing we do. The first thing we do is punt team. That sends that kind of message. That's why it's so disappointing from last week. He has worked hard. He's been very serious about it, so we'll see."
As they seem to do every week, the Giants will face another return man who strikes fear into the heart of a punt team in Ted Ginn, Jr., who has averaged 10.9 yards and scored three touchdowns on 133 career returns. Quinn was asked what makes Ginn so dangerous.
"The ability to stop and start," Quinn said. "He's got excellent straight line speed. He's very, very elusive. It's up to the protection to let the punter put the ball where he needs to put it and to get there and cover it. You've got to play with leverage on all sides of him because he's the quickest I've seen as far as just darting a right angle and getting out of a mess and it's on tape with both kickoff returns and punt returns."
The safest course of action is to keep the ball out of Ginn's hands. But directional punting is more challenging than it appears.
"When you're trying to place the ball somewhere, that's going to affect your consistency because you're actually trying to put the ball right there versus just kicking the ball up in the air and down the field," Weatherford said. "It makes it a lot more difficult, but that's what this team needs from me, that's what coach Coughlin needs from me, and that's why he brought me here. I'm up for the challenge. I've done it for three years for this team. I just had a crappy game last week."
Because of that, Weatherford ranks last in the NFL in the all-important net punting average, at 29.4 yards. He is confident that will improve.
"Check back with me in eight weeks and ask me where I'm at," he said. "I'm not going to be able to get my net up to 40 yards in one week. One of the things about me that I like is that I am consistent. I'm not going to net 50 one week and then 30 the next week; I'm going to be between 39 and 44 yards of net just about every week. And that's what's going to help us win, because my team knows that they can depend on me. Check back with me in another six or eight weeks and I think I'll be where I need to be."