Steve Weatherford is no foreigner to interviews.
They come with the territory of being a professional athlete, and given the past year of the charismatic punter's career, the frequency has only ratcheted up a notch.
But on this particular early April day there wouldn't be the usual responses to the generic questions asked in a sports radio interview. Not this time. Not on 99.5 Ahomka FM.
A guest on the Ghana-based station, Weatherford sat across from the host, waiting for him to finish the monologue in his native language.
Eventually there was a break to signal his cue, and the New York Giants' punter was beaming through the airwaves from West Africa.
"We're just here to help the community and learn from you guys and share what we know with you all," began Weatherford, never missing a beat. "I think we've been able to accomplish a lot since we've been here, but there's still a lot more I'd like to do. I'll definitely be back. There's so much more to be done, but it's an exciting time here."
The HHAF is a non-profit organization providing sustainable medical and humanitarian aid to citizens living in Ghana and recently raised enough funds to build a water well for its adoptive village of Abura.
Weatherford was on hand for the dedication ceremony.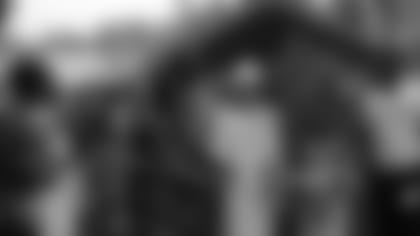 "We don't just give them bottled water," he said, echoing the organization's mission. "We want to give them a water well. So there is some sort of sustainability there."
Chief Humanitarian Director Jane Zaretsky led the nine-day immersion into the heart of Ghana and detailed the progress of the organization, which began as a feeding program and expanded to recently adopting an entire village.
"We wanted to try to get to the next step," she explained to the production crew, which will be airing a special on the mission trip in the near future. "We were already providing food, but we wanted to try and get some more sustainable programs...We're really trying to combat malnutrition but also just trying to fight the common hunger that is in all these villages."
During their time in Ghana, Weatherford and the other members of the mission visited the village, distributing necessities such as food, sneakers and malaria nets, while learning about the needs of the community.
The HHAF and NYG joined together through the work of Sammy Arthur, who is the Special Assistant to Giants Chairman and Executive Vice President Steve Tisch.
Arthur is a native of Ghana and the founding Chairman of HHAF, which will also honor Giants defensive captain with the Preston Robert Tisch Humanitarian Award at this year's gala on May 1.
Meanwhile, spending just more than a week in the country, Weatherford plans to return on another mission trip. Next time, he might be spreading another passion of his.
"Another kind of dream of mine since I've been here – I've been here for only four days and loved it – there's so much that needs to be done, but in addition to having clean water and health, these kids need something positive to do with their life," Weatherford said. "And I want to come back here and do a football clinic for these kids to teach them teamwork, to teach them accountability, perseverance. There's a lot that can be learned from team sports, and I'd like to share what's changed my life – the game of American football. I'd like to share that with the children here, and I think they would love it."
The host then had a little fun and pressed him on if there would be interest in American football.  
"I think there would be a lot of interest just from the fact when you see the size and athleticism of the guys that play football," he said. "There are a lot of African-born players that are in the National Football League, the league that I play in. And a lot of guys that play in the NFL come back here and put the clinics on. And the kids love it because it teaches them to work together. It teaches them teamwork, and it teaches them a discipline that they didn't know before. Some will play soccer, some will play football, but it's all about being constructive."