EAST RUTHERFORD, N.J. –** In less than a year, Jason Pierre-Paul underwent back surgery, endured a shoulder injury, posted career lows in games played and started and sacks, and saw fellow defensive end Justin Tuck, his friend and mentor, sign with the Oakland Raiders.
RELATED NEWS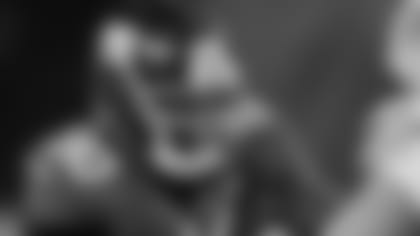 CLICK HERE for all Giants News](http://www.giants.com/news-and-blogs/index.html)
Despite all that, JPP today gave identical "not at all" responses when asked whether he feels pressure to play as he did in 2011 (16.5 sacks) or if his role will change without Tuck in the lineup.
"I think I have a job to do," Pierre-Paul said at the Quest Diagnostics Training Center in his first public comments this offseason. "It's not showing people what player I can be. I know what player I am and what I bring to the team. I just have to go out there and we have to make the playoffs and try to get back to the Super Bowl."
Although it is widely perceived he must be more productive now that Tuck has taken his 11 sacks to California, JPP said, "We've got guys that are going to fill up that role. You know, me personally, I just want to be that guy that helps my team out and be out there as much as possible and stay healthy."
Ah yes, staying healthy. Two years ago he didn't miss a game, but played most of the season with an aching lower back. Although he made it back for last season's opener, Pierre-Paul finished the season with only 2.0 sacks. He demonstrated flashes of his former dominance on Nov. 17, when he effectively clinched a victory over Green Bay by intercepting a Scott Tolzien pass and returning it 24 yards for a touchdown with 10:49 remaining in the game. At the snap, Pierre-Paul put up his hands and snatched a Tolzien pass that was intended for Andrew Quarless. Two days later, JPP was named the NFC Defensive Player of the Week.
That was the good news. The bad news was that he hurt his shoulder vs. the Packers. Pierre-Paul played the next week vs. Dallas, but sat out the season's final five games. He insists he now faces no physical limitations.
"I'm still rehabbing, but I'm healthy and I think I'm back at it," he said. "I'm rehabbing both (back and shoulder). I mean, everything's fine, but I'm still continuing to rehab no matter what."
The Giants began their offseason conditioning program yesterday. Asked if he's limited on the field, JPP said, "Right now, not at all."
Which means that Pierre-Paul is confident he will play as well as he did when he was selected to consecutive Pro Bowls in 2011-12.
"No doubt, no doubt," he said. "I'm going to go out there and play the game like I was 21 again. This whole offseason I've just been training and thinking that I want to get back on the football field. It's coming."
The Giants are eager for it to arrive.
Cornerback Walter Thurmond, one of the 15 veteran free agents signed this spring by the Giants, certainly doesn't lack confidence in himself or his new secondary.
"I'm the best slot corner in the league, I'll say that for sure," Thurmond said.
Thurmond was equally bullish regarding a defensive backfield that includes holdovers Antrel Rolle and Prince Amukamara and newcomers Dominique Rodgers-Cromartie, Quintin Demps and himself.
"We have the potential to be the best in the league," Thurmond said. "That's going to come down to our preparation now, really understanding how we all play in our different talent sets and stuff like that, and really moving forward and really challenging each other during practice. That's where it starts, during that competition in practice. That just transfers over to the game. If one person makes a play, I know for sure the next person will make that play. You just rise to the level of your competition. I think we're all capable of that."
Thurmond has the gravitas to make such a claim. He came to the Giants from the defending Super Bowl champion Seattle Seahawks, who were widely acknowledged to have the NFL's finest secondary last season.
The new Giant defender believes his new group can play as well as the one he left.
"Most definitely, if not better, in my opinion," Thurmond said. "Just the talented guys (we have). In Seattle, we didn't have two first-rounders out there (as the Giants do in Amukamara and Rodgers-Cromartie). It was a bunch of guys that were later-round picks but who have first-round caliber abilities and stuff like that. We do have that potential and we just have to prove it this year."