Center Jon Halapio said in the postgame locker room that the energy of the team is "just different."
Only winning can do that, especially considering Daniel Jones has the Eli Manning-like quality of never getting too high or too low. The rookie quarterback picked up his first win at MetLife Stadium on Sunday with a 24-3 victory over the Washington Redskins. He is now 2-0 as the Giants climbed back to .500 on the season.
It didn't come without his share of rookie mistakes. Jones threw interceptions on back-to-back series in the second quarter, a period that had plagued the Giants over the first three weeks, but went back to the sideline the same as if he had just thrown two touchdowns.
"His message was just get back out there and that kind of stuff is going to happen," Jones said of Manning. "Making sure moving forward we'll address the problems, but we're moving forward and worry about the next play. Those were his thoughts."
That's the stuff general manager Dave Gettleman and coach Pat Shurmur envisioned when they drafted a quarterback in April with a two-time Super Bowl MVP already on the team.
IT WAS OVER WHEN: Safety Jabrill Peppers returned an interception, his first of the season, off rookie Dwayne Haskins for 32 yards and a touchdown with 1:19 left in the third quarter. It increased the Giants' lead to 24-3 and came on the Redskins' ensuing possession after Jon Hilliman fumbled near the goal line. Up to that point, the Giants looked like they were going to have to grind out the victory after a dominant start. Instead, they sucked any Washington momentum out of MetLife Stadium and cruised to victory. It was one of four interceptions on the day for the Giants. Rookie Ryan Connelly started things off with one on the first drive of the game, and Janoris Jenkins closed the door with two in the fourth quarter.
"I watched extensive film because I wanted to take the challenge of guarding Vernon Davis real personal," Peppers said. "I recognized the set, I knew they liked the over routes out of that formation. I trusted my gut, slipped underneath it, he tried to get it out, I switched my arm and saw nothing but daylight in front of me, it had to be six."
Afterwards, Shurmur pulled Peppers aside.
"I said that's one of the reasons you guys brought me here," Peppers said. "I'm going to make you look good, that was the basics of what I said."
JUST WHAT THE DOCTOR ORDERED: Every week, defensive coordinator James Bettcher and his staff write a prescription for each player. It is to be taken daily in the hopes of helping that player improve individually to further the goals of the group. After the Giants allowed a league-high 70 points in the first half over the first three weeks (and only 24 in the second half), Bettcher said if he had a "magic pill" for the dichotomy, he would have already given it. He concocted something this week because Washington managed only a lone field goal for the entire game.
"I'll let the team that has to scout us figure that out," Shurmur said of what they did differently on defense. "We just made some tweaks, some things that I thought helped us, and those tweaks played out. Those tweaks worked today."
GALLMAN DOES A "HELL OF A JOB": Life behind a generational talent like Saquon Barkley can be challenging, but Wayne Gallman was ready for his moment. Barkley, who is out indefinitely with an ankle injury, told Gallman moments before the game when he was getting taped up that he had tweeted out that he was going to go off in his first start of the season.
"I don't know why he does some of the things he does," Gallman said after the game.
Gallman said it with a laugh, but he knew then that he had to show up. And he did. He scored on the first two drives of the game – one receiving and one rushing – en route to over 100 yards from scrimmage, which Barkley does on an almost weekly basis. The challenge now is for Gallman to do it again next week and possibly the next couple.
"I think he did a hell of a job," Shurmur said. "Everybody out there had a few bad plays, but he stepped in with a heavy load and did a really nice job. I'm pleased with what he did."
LINEBACKER INJURIES PILE UP: The Giants, who were already playing without defensive co-captain Alec Ogletree (hamstring) and Tae Davis (concussion), lost two more linebackers on Sunday. Connelly ran the huddle for Ogletree before he suffered a knee injury and was carted off early in the fourth quarter. Lorenzo Carter, an outside linebacker, also was forced to leave with a neck injury.
REINFORCEMENT COMING AT WR: Golden Tate will return to the team this week after serving a four-game suspension for violating the NFL's policy on performance-enhancing substances. Tate was signed in the offseason and will be eager to make his Giants debut.
"We'll get him back in and get him going," Shurmur said. "I think that group has done a good job of acting like a village, and everybody trying to do their part. We had a lot of substitutions in there and getting guys in there. I think (wide receivers coach) Tyke (Tolbert) does a good job of making sure guys are in for the right plays, but then when they are in there for just basic plays, knowing what they are doing. So, we'll get him back in the mix and get him going."
WHAT THE WIN MEANS FOR THE GIANTS: With Philadelphia improving to 2-2 on Thursday night, the Giants are tied for second in the NFC East at the season's quarter pole. Next up for Big Blue is a visit from the Vikings before a quick turnaround to face the defending Super Bowl champion Patriots in Foxborough the following Thursday night.
"As you build a team, it takes offense, defense, and special teams," Shurmur said. "We certainly cannot turn the ball over like we did on offense, especially when you're in that run-it mode. Those are two fumbles that are two scores. Against a team that's got more fire power than they had today, those are killers. There are so many things that we can build on, but I think as a team today, my challenge to them was to play the first snap of this game like they played the second half snaps in the Tampa game. I thought our guys responded to that. Great team win."
WHAT THE LOSS MEANS FOR THE REDSKINS: Washington made an in-game switch at quarterback from veteran Case Keenum to rookie Dwayne Haskins, the third of 11 quarterbacks drafted this past April. Keenum's four drives on the afternoon resulted in an interception and three punts. Haskins entered with 6:35 left in the second quarter and produced a field goal right away. However, the second half included three interceptions and two punts.
"I think the decision was Case had a pretty good injury on his foot," Redskins coach Jay Gruden said of Keenum appearing on the injury report this week. "I thought he looked pretty good on Thursday. Friday, I thought he did some good things. Just today in the game, he missed some throws he normally would make and I thought Dwayne might give us a spark there at the end of the half. Got us a field goal there, but in the second half we were pretty much inept on offense in all phases."
So will it be Haskins next week at home against the Patriots?
"I'm just worried about tonight, first of all," Gruden said. "Tomorrow, we'll worry about tomorrow. Tomorrow, we'll re-evaluate."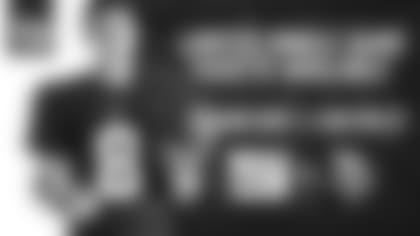 Limited tickets on sale for Giants vs. Vikings
See the Giants take on the Vikings on Sunday, October. 6 at 1:00 PM ET