Now it's starting to feel like football.
Training camp rolled on today at the Quest Diagnostics Training Center, where the New York Giants put on the pads for the first time this year. Here are the standouts from Saturday's practice:
CB Julian Love: Notre Dame's career leader in pass break-ups added another to his tally today. He got a hand on a Daniel Jones pass intended for wide receiver Russell Shepard on the left sideline. On the play just before that, he came up with a fumble recovery. Love, a fourth-round pick, looks to be a factor in the secondary as the staff utilizes his versatility playing inside and out. He is also learning from Janoris Jenkins, who is one off the NFL lead for most pass break-ups since 2012.
"Rabbit is a good guy," general manager Dave Gettleman said, using Jenkins' nickname. "He's a good person. He's a good man. He wants to win. He's not stupid. He knows that these young kids, these young corners, you know DeAndre [Baker], Sam Beal, Corey Ballentine and Julian Love, they have to grow up quick. He's more than happy to help them along."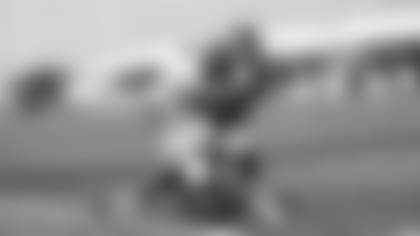 CB Corey Ballentine: The third of three cornerbacks drafted by the team this past April, Ballentine had the lone interception of the afternoon. He read the play perfectly, paused in the middle of the field, and made the pick look easy. He ran it back with the rest of the defense following him.
DL Dexter Lawrence: Throughout the spring, linemen had to watch (and listen to) all the skill players talk trash about their touchdowns and interceptions. That was when they were in shorts and no contact was allowed. Things are different now. Lawrence, a 6-foot-4, 342-pounder with speed, was at the top of everyone's list of players they wanted to see first in pads. He didn't disappoint. The first-round pick, along with many of his teammates in the front seven, constantly clogged things up for the offense, which worked heavy on the run game to start practice.
TE Evan Engram: After missing most of the spring, Engram is having his workload managed by the training staff this summer. However, he did participate on Saturday and caught a touchdown from Eli Manning during seven-on-seven drills in the red zone. He led a good day for the tight ends, which also included touchdown catches from C.J. Conrad and Garrett Dickerson in the same period. Engram's presence is good news for the passing game, which has seen a handful of receivers go down this week.
RB Rod Smith: Don't sleep on the former Cowboy who scored two touchdowns in a game against the Giants in 2017. Signed in May, Smith is an intriguing player in a room led by Saquon Barkley. He showed why today, making a nice move to reverse field for a big gain on a run. The crowd at practice noticed and gave him some oohs and ahs.