EAST RUTHERFORD, N.J. – Today was golden for the Giants, who brightened their prospects on both sides of the ball with a pair of transactions.
They signed free agents Golden Tate, a former Super Bowl champion and Pro Bowler who is one of the NFL's most productive wide receivers this decade, and defensive end Markus Golden, who has 19.0 career sacks and experience in coordinator James Bettcher's defense – as does the third newcomer the Giants welcomed today, defensive tackle Olsen Pierre.
"I'm excited about my new start. This should be fun," Tate said. "I've always admired this division (the NFC East). Growing up, you always saw this division on T.V., no matter what part of the U.S you lived in. I like to call this America's division.
"I've always admired the New York Giants. I have a picture – my mom's trying to find it – but it's a picture of me wearing a little tykes New York Giants helmet, shoulder pad set. I've always admired the organization from afar. It's a blessing to be a part of it. I could never have imagined having an opportunity to play for the Giants. I'm looking forward to wearing this emblem proudly."
Golden is similarly excited to wear Giants blue.
"Anytime you can play for the New York Giants organization with its rich history, you want to jump at that opportunity," he said.
The Giants also re-signed cornerback Antonio Hamilton, who was a steady special teams contributor last season.
Tate, 5-10 and 197 pounds, is entering his 10th pro season. He has played in 137 regular-season games with 100 starts for Seattle, Detroit and Philadelphia, and has played in at least 15 games in each of the previous eight years. His 611 receptions tied tight end Jimmy Graham for 11th among active players at the end of the 2018 season. Tate's 7,214 yards are 19th and his 38 touchdown catches are tied for 28th among active players.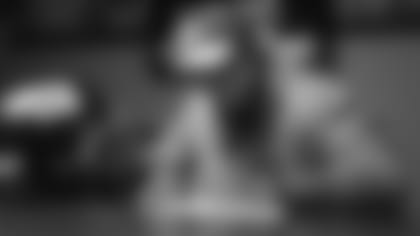 He has played in 11 postseason games with eight starts, and has 35 catches for 382 yards and three touchdowns,
Tate, who will turn 31 on Aug. 2, was a member of the Seahawks team that crushed Denver in Super Bowl XLVIII (in MetLife Stadium), and he was a Pro Bowler in his first season with the Lions in 2014 when he had career-high totals of 99 receptions for 1,331 yards. It was the first of four consecutive seasons in which he caught at least 90 passes, and one of three in which he exceeded 1,000 yards.
Last year, Tate played seven games for the Lions before being traded to the Eagles, with whom he played another eight games, plus two in the playoffs. He totaled 74 receptions for 795 yards and four touchdowns. Tate's highlight in Philly was catching a fourth-down, two-yard pass from Nick Foles for the game-winning touchdown in an NFC Wild Card Game in Chicago.
Tate entered the NFL out of Notre Dame as a second-round draft choice (60th overall) of the Seahawks. After catching 21 passes in 11 games as a rookie, Tate's receptions total steadily rose, to 35 in 2011 and to 45, 64 and then 99 in the following three seasons.
Tate will instantly become a leader on the receiving corps. His 611 catches are roughly double to the total of the other receivers likely to be with the Giants when the offseason conditioning program begins next month (Sterling Shepard leads the way with 190 receptions).
"I'm going to teach all of our guys every piece of knowledge I can find," Tate said. "This game has been great to me. I always thought I want to leave this game a lot better than it was when I came in. That includes me teaching what I know. If I can help the guys around me to play their best, I have a feeling that's going to help our team collectively and it's going to help us win more games.
"I'm excited to get in the room with a bunch of young talent and with guys I admire. I'm excited to share knowledge, get a feel for those guys, build a relationship with them and just ball out. I have a feeling there's going to be a lot of opportunities for all of us. Let's just play ball and see what happens."
Golden, 6-3 and 260 pounds, was also a second-round draft choice (No. 58 overall), by the Cardinals in 2015, Bettcher's first season as their coordinator. A proven pass rusher, in 2016 he played all 16 games and led Arizona with 12.5 sacks (tied for third in the NFL) and 19 tackles for loss. The following year, Golden started the first four games before suffering a season-ending torn ACL. He returned in 2018 to play in a new system and had 2.5 sacks while starting all 11 games in which he played.
"Since the end of the season, my knee has been feeling much more normal," Golden said. "Last season was rough for me, trying to build myself up when I was not fully healthy. No excuses. That's why I'm glad I'm going to be able to prove myself with the Giants. I'm going to lay it on the line to help the team, no matter what. I'm more motivated now to get out there and prove to everyone in New York I can still ball."
Golden also had 11 tackles while starting two postseason games as a rookie. He joins safety Antoine Bethea and Pierre as former Cardinals who became Giants this week.
"Coach Bettch is a great guy," Golden said. "Anybody who's ever been around him and played for him will tell you they love to get out there and play for him if they had another chance to. To be able to come out here and play for Bettch, I had to jump at the opportunity.
"Coach Bettch is going to let you get after it. We play to win. When you're on the field he's going to call aggressive plays, and you're going to be able to hunt and go get after the quarterback. Stopping the run, setting the edges, everything is physical and downhill and that's what I like about it. I'm glad I'm getting the opportunity to play for him again."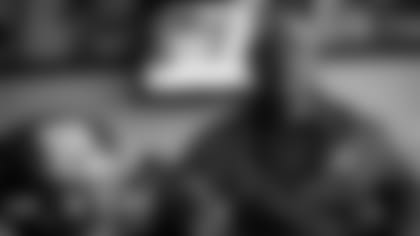 Pierre, a 6-5, 293-pounder, played in 24 games with eight starts for Arizona in 2017-18. He had 44 tackles (30 solo), 5.5 sacks (all in 2017, when Bettcher was the coordinator), nine tackles for loss and one forced fumble.
Pierre entered the NFL as a rookie free agent with the Chicago Bears in 2015. He spent time on the Cardinals' practice squad that year, and was on the active roster but inactive for every game in 2016. Pierre made his NFL debut on Sept. 10, 2017, and collected his first sack three weeks later against San Francisco.
Pierre is a New Jersey native who played at Rahway High School. He played in 40 games with 36 starts at the University of Miami, where he had 96 tackles and 2.5 sacks.
Hamilton is entering his fourth NFL season. He was awarded to the Giants off waivers on Sept. 2, 2018, a day after he was released by the Oakland Raiders, with whom he spent his first two seasons.
Hamilton played in 13 games, exclusively on special teams, for the Giants. He had six tackles (five solo). Hamilton was inactive vs. New Orleans on Sept. 20 and spent the season's final two games on injured reserve with a quad injury.