​Former Giants linemen high on OL Coach Marc Colombo
During his 152 games in a Giants uniform, which included two Super Bowl victories, Chris Snee earned a reputation as one of the toughest players ever to wear it.
Still, Marc Colombo scared the you-know-what out of him when they were at Boston College, Snee recalled recently to Paul Schwartz of the New York Post. When Snee made his official visit to Chestnut Hill as a high school senior, one of the first people he saw was Colombo, who was assigned to him.
"I remember being in his dorm room, we went to dinner, we came back, hung out in his room,'' Snee told The Post about Colombo, who played a decade in the NFL and took over as the Giants' offensive line coach this offseason. "Sitting there, like 1:30 in the morning, we're watching TV and he says, 'How about we order some Chinese food?' And I said, 'I'm not really hungry, we just had a big steak.' And he goes, 'We're ordering Chinese food!' I was like, 'OK.' We sat there, we didn't say a word.''
The intimidation isn't the only thing Colombo brings to the Giants.
"The fact he's played at a high level and guys, once they hear his message and how he delivers it, I think they'll buy in right away and they'll respect that,'' said Snee, a guard who modeled his physical, unrelenting style after Colombo. "That respect will happen right away. He'll demand that respect and he'll get it. I do expect this group to get much better. There's so many coaches and so many guys trying to change the way the game is played, as far as the offensive line goes. But to me, you can't replace physicality, that requirement. That will be demanded by Marc and he'll get it."
Add Shaun O'Hara to the list of former Giants greats who think the team's offensive line will be better this year. Colombo will be a major reason why.
"Plus, he's a tough son of a gun,'' the former Pro Bowl center and Super Bowl XLII champion told Schwartz. "He's got the Boston accent, he's got his gruffness, it's a good fit from a culture standpoint, from a philosophy standpoint, and he'll be good with those guys.''
To read Snee's and O'Hara's full comments on Colombo, CLICK HERE.
NFL commits $250M over 10-year period to combat systemic racism
The NFL announced it is growing its social justice efforts through a 10-year total $250 million fund to combat systemic racism and support the battle against the ongoing and historic injustices faced by African-Americans.
"The NFL and our clubs will continue to work collaboratively with NFL players to support programs to address criminal justice reform, police reforms, and economic and educational advancement," the league said in a statement. "In addition to the financial commitment, we will continue to leverage the NFL Network and all of our media properties to place an increased emphasis on raising awareness and promoting education of social justice issues to our fans and help foster unity."
That time the 1986 Mets helped the Giants cause a false start penalty against Washington
The New York Mets clinched their second World Series title on Monday, October 27, 1986. That same night, the New York Giants defeated Washington, the first of 12 consecutive wins en route to their first championship in the Super Bowl era. As the Mets recalled on their Twitter account yesterday, when they took the lead in Game 7, Giants Stadium erupted and caused a false start on the Redskins. Watch below.
This AP photo shows fans watching the World Series on mini television sets during the Giants game.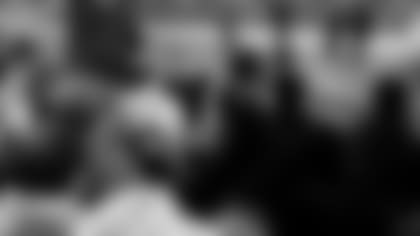 Giants App
Download the Giants' official app for iPhone, iPad and Android devices