Three Giants.com writers share their biggest takeaways from the team's 24-3 victory over Washington.
John Schmeelk: At his postgame press conference, Pat Shurmur talked about some of the tweaks the Giants made to their defensive game plan heading into the game against the Redskins. After watching the coach's tape, two things jumped out to me. The Giants played more zone defense and blitzed far less than they did in the first few games of the season.
It is possible that some of those changes were reflective of the fact that the Giants had the lead for much of the game. It is similar to the changes the Giants made in the second half against the Buccaneers in Week 3, when they were far less aggressive in the final two quarters in bringing extra men after the quarterback.
Talking to Michael Thomas after the game, he spoke about how it can take time for a defense to find its identity. There are so many new pieces, young and old, playing prominent roles on this defense. Dexter Lawrence, Markus Golden, DeAndre Baker, Jabrill Peppers, Ryan Connelly and Antoine Bethea were all new starters at different points this year.
As valuable as offseason work can be, sometimes it takes time against live opponents in regular season games for a group to figure out its identity and what works. Thomas believes that this group is learning about itself and some of the changes they've made can help extend this superior level of play deeper into the season.
It is to coordinator James Bettcher's credit that he is willing to go away from what his defense traditionally calls for to use a strategy that better fits his current personnel. We'll learn a lot against Kirk Cousins and the Vikings this week, and then Tom Brady and the Patriots the week after, when we see how sustainable these changes are. So far, so good.
Dan Salomone: Pat Shurmur was asked if this is where he envisioned his team when he entered the season. "This is where I hoped we'd be after today, 2-2," he said. "We will figure it out from there." It's cliché. It's coach speak. It's also true.
No one knows where this Daniel Jones magic carpet ride is going to take the Giants, but you pick up wins any which way you can in this league and never apologize for them. Banking on a kicker to miss a 34-yard field goal is never ideal. Facing a team with its veteran quarterback on a bad foot and a rookie first-round pick making his NFL debut in relief won't happen every week. In the end, it doesn't matter. As Hesh said in "The Sopranos," a hit is a hit is a hit in the music business. In the NFL, a win is a win is a win.
The opposite is also true. A loss is a loss is a loss. The Giants lost five games by three points or fewer last season, including on Graham Gano's 63-yard field goal with one second remaining in Carolina. A year before that, the Giants lost on Jake Elliott's 61-yarder in Philadelphia. No one took away the Lombardi Trophy from the Eagles for that, nor did they give one to the Giants. Take the win, make the corrections, and move on to the next one. Rinse. Repeat.
Lance Medow: It's rare in the NFL that you get to face an opponent hurting as much as the Redskins were entering Sunday. Washington was a winless team that was down two (technically three if you take into consideration left tackle Trent Williams' holdout) starting offensive linemen in center Chase Roullier and right guard Brandon Scherff, its top wide receiver in Terry McLaurin, and its top tight end in Jordan Reed. On top of that, the Redskins changed quarterbacks during the game, replacing veteran Case Keenum with this year's first-round pick Dwayne Haskins, who was making his first career regular-season appearance. Every team is banged up in some capacity as the season progresses, so this isn't a case to make you feel sorry for the Redskins, nor take credit away from the Giants' win. It's to emphasize when you have these type of opportunities in the NFL, you have to take advantage and that's exactly what the Giants did Sunday.
The offense capitalized on several Washington penalties that extended drives. Five of the Redskins' 12 penalties were on the defense (all on members of the secondary) and all five led to first downs. On the defensive side of the ball, three of the Giants' four interceptions came off a rookie quarterback, including one that was returned for a touchdown. The Giants scored 14 points off four Washington turnovers and that was a difference-maker. You can never predict the injury bug, but in this case, it benefited the Giants and they capitalized by cruising to their first home victory of the season.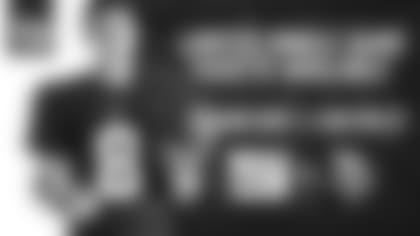 Limited tickets on sale for Giants vs. Vikings
See the Giants take on the Vikings on Sunday, October. 6 at 1:00 PM ET