NFL.com ranks top 5 all-time Giants plays vs. Buccaneers
The Giants and Buccaneers will face off at Raymond James Stadium this week on Monday Night Football.
The Week 11 matchup will be the 25th all-time meeting between the two clubs and the 24th during the regular season. The two teams met in the NFC Wild Card Game in the 2007 playoffs, as the Giants went to Tampa Bay and defeated the Bucs 24-14, which jumpstarted their run to a Super Bowl title.
The Giants have had some memorable moments against the Buccaneers over the years, from the playoff meeting mentioned above to the last-minute win in Daniel Jones' first NFL start.
"I think each game is different and we've got to prepare for this game this week," Jones said Wednesday about his history against Tampa Bay. "Like I said, there are things we'll look to to see how they prepared for us in the past. But beyond that it's really about preparing for this team this week and getting ready to play our best."
NFL.com ranked the top five all-time Giants plays against the Buccaneers, which can be found in the video below.
1. QB Daniel Jones made his NFL debut against the Buccaneers in Week 3 of the 2019 season. Jones threw for 336 yards, two touchdowns and no interceptions in this game while running for an additional two scores, including this game-winner late in the fourth quarter. The Giants would win the game, 32-31.
2. WR Plaxico Burress made an impressive one-handed catch on a seven-yard pass from QB Eli Manning for a touchdown, which gave the Giants an early 7-0 lead in the Week 8 matchup back in 2006. The Giants would go on to win the game, 17-3.
3. QB Eli Manning threw a deep pass to WR Hakeem Nicks for 50 yards to set the Giants up deep in Tampa Bay's territory late in the fourth quarter. A couple of plays later, RB Andre Brown punched it in from two yards out to give Big Blue the 41-34 victory in Week 2 of the 2012 season.
4. QB Phil Simms connected with WR Stephen Baker from 30 yards out for the game-winning touchdown with just 16 seconds remaining in Week 13 of the 1991 season. Giants won the game 21-14.
5. CB R.W. McQuarters recorded a late fourth quarter interception of Buccaneers QB Jeff Garcia in the 2007 Wild Card Game to seal the 24-14 victory for the Giants.
Daniel Jones set to face Tom Brady-led team for 3rd time
The Giants and Tampa Bay Buccaneers, the defending Super Bowl champions, will meet Monday night in Raymond James Stadium. Despite losing their last two games, including a 29-19 defeat Sunday in Washington, the Bucs lead the NFC South with a 6-3 record. The Giants, winners in two of their previous three games, come out of their bye at 3-6.
Jones is 0-2 against Brady-led teams. On Oct. 10, 2019, in his fourth career start, Jones threw one touchdown pass and three interceptions in a 35-14 loss to the New England Patriots on a Thursday night in Gillette Stadium. Brady did not throw a scoring pass, but the Patriots shut out the Giants in the second half to pull away for the victory.
The quarterbacks matched up again in Brady's first season in Tampa Bay in 2020. In a Monday night game in MetLife Stadium on Nov. 2, an eight-point Giants halftime lead dissolved into a 25-23 defeat. The Giants pulled to within two points with 28 seconds remaining on Jones' 19-yard touchdown pass to Golden Tate. But the potential tying two-point conversion pass to Dion Lewis fell incomplete.
"That was a tough loss, a really tough loss," tight end Evan Engram said. "It came down to that crazy two-point play at the end – a little controversy there, but it was just a crazy game. That was a Monday night, too, so going to run it back again. It's going to be good."
Jones and Brady each threw for two touchdowns in the game. But while Brady did not commit a turnover, Jones threw a pair of second-half interceptions that Tampa Bay converted into 10 points.
"When you look at that game, it was back and forth, it was a four-quarter game down to the end," Jones said. "We made plays, they made plays. I think when you look at it, there were a couple of costly turnovers in the second half that hurt us, and you see how important those plays are in a game that goes down to the wire. So, we've got to do a good job protecting the football and making plays when they come. There are things we'll be able to learn from how they played us and how they game planned and what we were able to do. We'll certainly look to that game."
Andrew Thomas returns; Saquon Barkley practices
Left tackle Andrew Thomas, who has been on injured reserve since Oct. 19, returned to practice Wednesday and hopes to play in Tampa. Thomas missed four of the last five games with ankle and foot injuries.
"We expect him to be on the field with us this week, at least starting practice with us," coach Joe Judge said.
Saquon Barkley, sidelined since Oct. 10 with an ankle injury he suffered in Dallas, participated in both of the Giants' walk-throughs today.
"We'll see how he progresses with the team throughout the week of practice," Judge said. "That will obviously give us the answer we need as far as him going to the game. Couldn't give you an answer yes or no right now, but we will be able to have him out at practice with us."
Linebacker Lorenzo Carter and kicker Graham Gano were not with the team today. "(They) have a stomach bug type of thing, so we kept them out of the building to keep it away from everybody else." Judge said.
Joe Judge Report: Finishing the season strong
Check out the video below to view Head Coach Joe Judge discusses finishing the season strong following the team's bye week in this edition of the Joe Judge Report.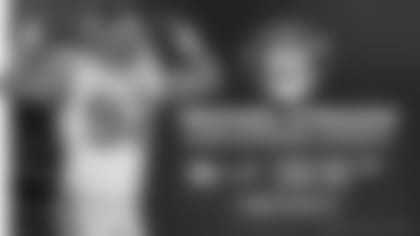 Tickets for Michael Strahan Ceremony
Limited tickets are available for Michael Strahan's jersey retirement game on November 28th