EAST RUTHERFORD, N.J. –** When the Giants released their initial 2013 depth chart last week, 29 of the 30 positions (including special teams) had one starter listed. The exception was running back, where David Wilson and Andre Brown were both part of the first team.
It is widely assumed that Wilson, the team's first-round draft choice in 2012, will start most, if not all, of the games. But today he told reporters it's not necessary for either player to be designated as the starter.
No-Name Linebackers motivated](http://www.giants.com/news-and-blogs/article-1/Linebackers-motivated-by-no-name-status/37505634-6f62-4716-b5fb-e70ee9745e51)
Linebackers Coach Jim Herrmann sets expectations for the linebacker corps...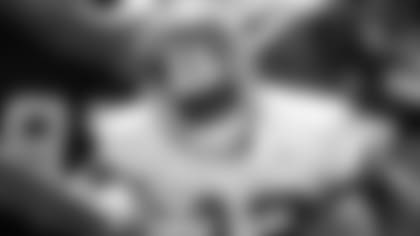 Photos: Training Camp Practice](http://www.giants.com/photos/photos/Training-Camp-Practice-Photos---804/8954d7c2-8815-48cc-b1c9-a50d4e376061#start) "We're both going to contribute," Wilson said. "The depth chart is a political thing, something that they have to put out there so the fans and other teams will know. You know, like I said, it's mostly for the media.
"Regardless of who's in there, we've just got to all prepare mentally and physically in camp. Going into those games and showing the coaches what we can do and what we've learned and how we've grown over the year. Then roles will be put in place more, I say permanent but not permanent, but more based on the offense as far as what we know we've got to do."
Wilson and Brown might have to split carries just to remain strong and fresh. In the last four seasons, the now-departed Ahmad Bradshaw averaged 208 carries. The two backs vying to replace him have never borne that kind of workload. Wilson had 71 rushing attempts as a rookie in 2012. Brown had 73 of his 75 career carries.
Brown said each back has prepared to get significantly more rushing attempts this season.
"We have to work on our conditioning and (running backs) coach (Jerald) Ingram … said that we were going to get a lot of carries, it's a lot different," Brown said. "We have to increase our conditioning and make sure that we're ready to go into the 15, 20-play drives where he doesn't want to see us tapping out … and ready to come out. If the guy's hot, he wants that. It's going to keep the offense moving. (We are) just making sure that we're in shape and being able to carry the load."
Wilson and Brown know they must prove they can handle more responsibility.
"I understand that and it's an opportunity," Brown said. "We're looking forward to it. We worked hard this offseason and we're excited about the opportunity we have and we're ready to go out there and just show what we've got. Show that we're effective backs and we can be efficient in this offense and they need productive backs in this offense. We're just ready, we're going to step up to the talent."