EAST RUTHERFORD, N.J. – Today was just like any other Wednesday for Eli Manning. He attended team and unit meetings. He practiced. After showering and dressing he stood before a horde of reporters at his locker. As always, he was composed and guarded. His demeanor, facial expression and words were pretty much the same as they are when the Giants are in the midst of a winning streak. They provided no indication the Giants are winless and he leads the NFL with eight interceptions.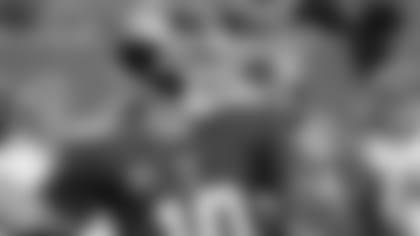 View updated Depth Chart On Sunday, the 0-3 Giants will be in Kansas City to face the 3-0 Chiefs, who have yet to commit a turnover and lead the NFL with 15 sacks.
As the quarterback and a team captain, Manning helps establish the mood in the locker room and on the field, perhaps more than any other player. He insists he's confident in himself, his teammates and the Giants' ability to end their slide.
"I think our confidence is good," Manning said. "I think guys are excited and looking forward to changing things. We feel we have a great opportunity to change things around and get some momentum. We can't change the start of the season, but we can start right now and change the ending. That's all we're focusing on right now."
After the 38-0 loss last week in Carolina, Tom Coughlin emphasized to the players the importance of staying together, working as a team and avoiding finger-pointing. Manning has taken that message to heart.
"I think we have to stick together," Manning said. "If anything is going to change and we're going to get back on track, it's going to come from us playing well as a team and sticking together and having each other's back. I think the guys realize that and understand that and have done a good job of staying confident, staying strong, and understanding the only way to fix this is by us looking in the mirror and fixing it."
"That's all we have," said safety Antrel Rolle, another captain. "That's all we have at this point is to stay together. I don't think there's an option for us in this locker room. I think we all understand what we have to do at hand. I think, as an individual, we need to take care of ourselves and collectively we need to come together better as a team. You know, just play for the guy beside you. I think we all understand that."
The players may look in the mirror, but they also look to the quarterback. Manning has led the Giants out of numerous difficult situations in the past. And while everyone on the team must play at a higher level, only Manning plays the game's most important position.
But Manning refuses to alter his cool deportment and put more pressure on himself.
"All I can do is go out there and do my job," he said. "Get the offense prepared. Have a great understanding of what we're going to do. Have a great understanding of what this defense is all about and try to get us into good plays and play smart to put us in a situation to win the game in the fourth quarter. You have to be careful trying to do too much, or make too many plays which end up hurting your team."
Tom Coughlin and the players emphasized that many games, 13 to be exact, remain to be played. An 0-3 start is new territory for this group, but the Giants have dug their way out of adversity before. Two seasons ago, they became the first team to win a Super Bowl after enduring a four-game regular-season losing streak.
"We've been through stretches where we have lost a few in a row," Manning said. "We're going through a stretch where we haven't played our best football and we've come out of it. It might be in the middle of the season, at the end of the season, we understand you go through little phases. Right now, we're in a tough phase and we have to break out of it. The only way to do it is our preparation and our commitment and our team coming together and start playing better football."